Congratulations, you're engaged! It's time to capture that beguiling chemistry between you and your love, however, this can be difficult for even the most modelesque couples. No need to stress, Jonathon Dakarai of Apollo Fotografie is here to share with you 13 lucky tips for executing a natural and successful engagement shoot.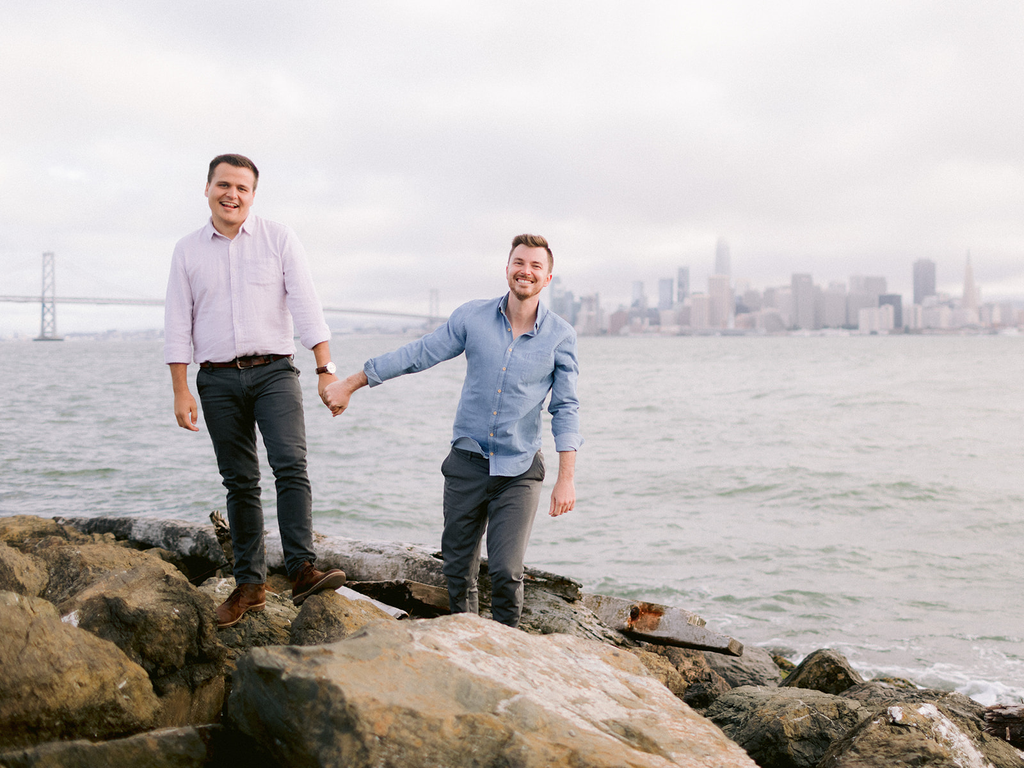 1. Connection Is Key
On the day of your shoot, spend the morning doing something with your partner. Chemistry plays a major role in how a couple's photos are going to turn out. I always recommend that you and your partner spend time prior to the engagement session doing something that bonds you in some way. Try to have fun with it and think of it as an activity that you're partaking in together, rather than a chore or something to argue about. Also, if you can, try to take a half-day at work so that you're not rushing into your session together. 
2. Be Comfortable
Wear something that you're comfortable in! If you're uncomfortable in what you're wearing, it'll show in your photos. Wear something that makes you feel confident and that you can easily move in.  
3. Lighting Is Everything
If you can influence the time of your session, schedule your session an hour or two before sunset. It's better to shoot in softer light, so even shooting in overcast will produce a beautiful outcome. Similarly, on your wedding day, make sure to plan to escape right before sunset for a similar set of photos in your wedding garb.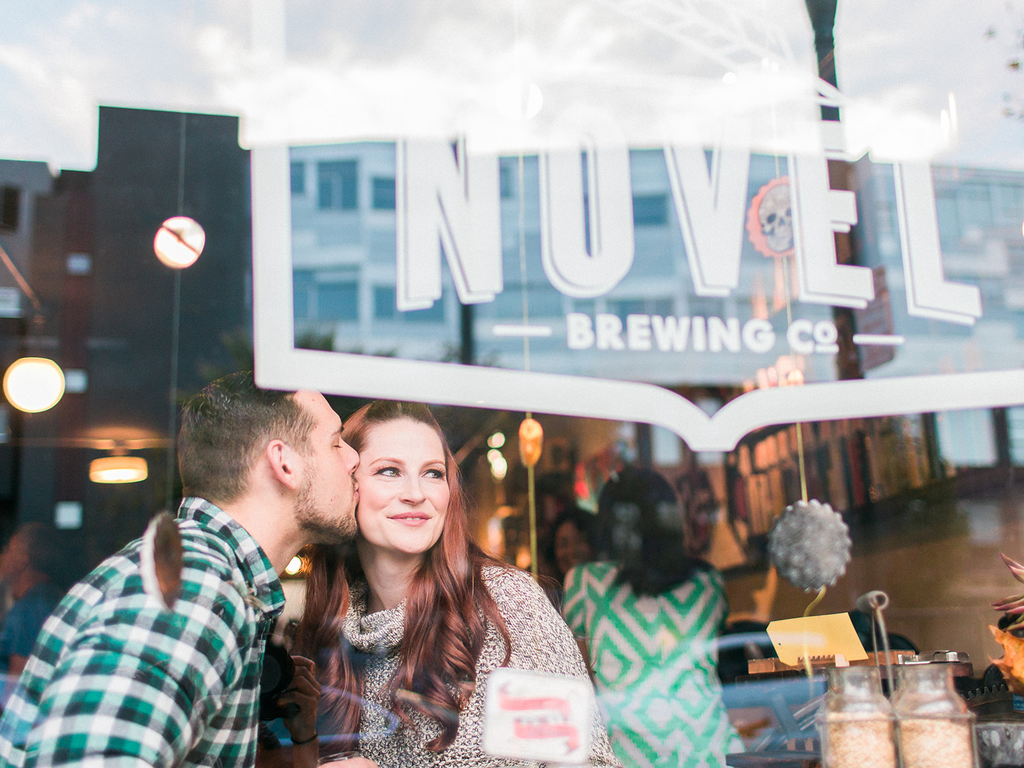 4. Style Your Session
If you feel comfortable playing with fashion, incorporate chic and fun elements into your engagement session wardrobe! This could mean coordinating your outfits that set the scene stylistically or it could be as simple as incorporating a prop like a piece of furniture, coffee, or visiting a pretzel stand during your session. Come up with an activity that expresses your personality as a couple. If you love to cook, do an in-home session and incorporate your kitchen (or rent a cute airbnb for aesthetics). If you're an outdoorsy couple, go on a hike with your photographer and have them capture your dynamic. The more natural you feel together, the cuter your photos will turn out!
5. Choose the Right Outfits
Some photographers have rules on patterns, black, white, red, or anything in between. Personally, I say "screw it!" If a polka dot skirt is your thing, you should totally go for it! My one rule that I tell couples is just not to be literally "matchy-matchy." You want it to look like you're going to the same party together, not like you're the same exact person. I usually recommend bringing three different looks: elegant, casual, and fun! And, if there's some crossover between your colors, that's awesome too!
6. Don't Give Your Photographer a Pinterest Board to Replicate
This is potentially a controversial point, but hear me out. As long as you're hiring a photographer you love for *THEIR* work, why on earth would you give them a Pinterest board of other photographers' images to replicate in your session? First off, this is going to make your photographer feel like you don't trust them. Secondly, right off the bat, it creates "forced" and inauthentic moments between you and your fiancé, instead of capturing the genuine moments as they occur. As an alternative to the Pinterest board approach, take the images you love from your own photographer and let them know which images are your favorites and also why you love them. Your photographer is going to love you when you tell them all your favorite photos!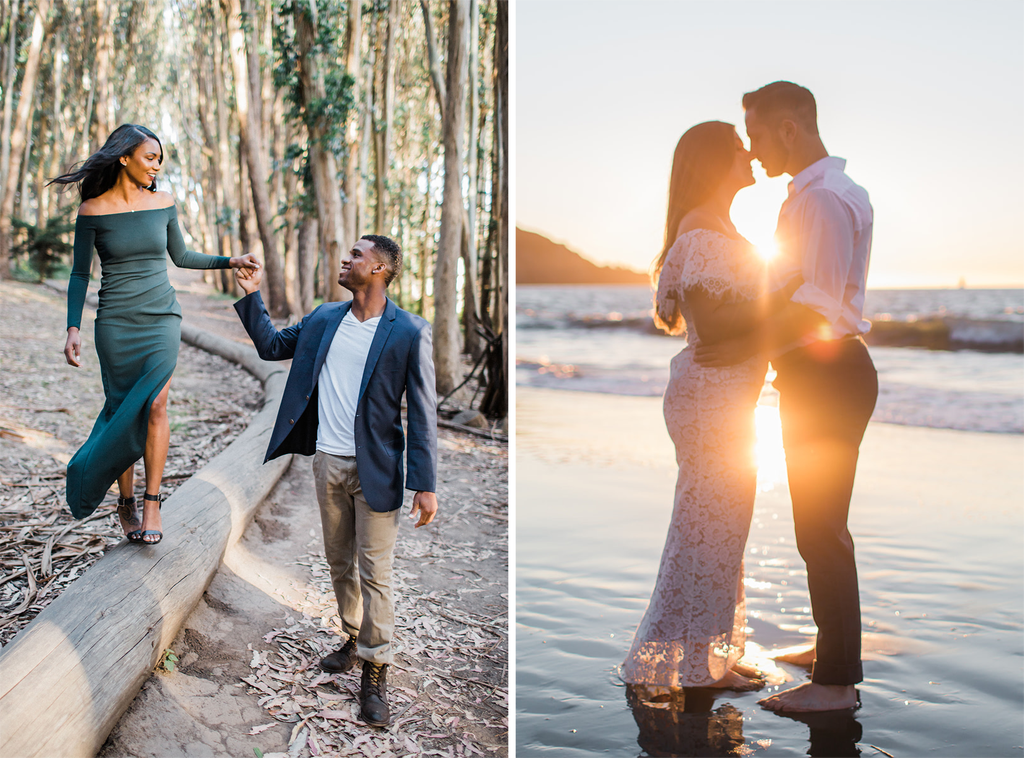 7. Take the Path Less Traveled…Literally.
Choosing the right location is one of the most important factors I stress when working with my couples on crafting their perfect session. As a general rule of thumb, you don't want super busy or distracting backgrounds. In order to achieve this, the first step is to choose a location that generally has more space to wander and get lost in. However, the second piece, and possibly most important, is to choose the right day of the week for your session. Saturday's on popular locations are very different than the same location a Monday or Tuesday afternoon. During busier times at certain locations, it may be completely impossible to get a "clean" background free of other people. 
8. Get Ready for Your Closeup
To get those sweet tender close up shots of you and your fiancé, you'll want to prepare physically for them. For the ladies, getting your eyebrows tweezed, hair styled, fresh manicure, and putting on the make up you love is critical. For the gents, having a fresh haircut and trimmed beard is equally as important!
9. Check Yourself Before You Wreck Yourself
During your engagement shoot, small details matter! Make sure to show up with freshly pressed/ironed clothing with little to no wrinkles. Also ask your photographer to hold onto your keys, wallet, phones, and other bulky items that are in your pockets to make sure there are no tiny distractions in the final set of photos.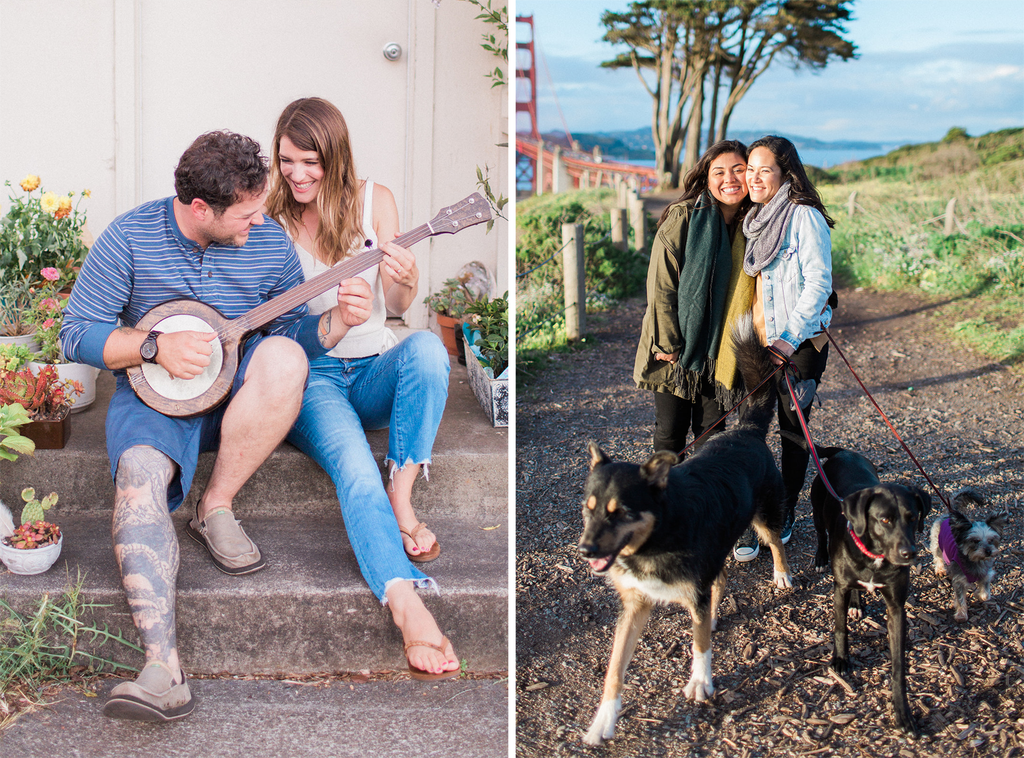 10. Did We Mention…PETS?! 
Bringing your most loyal friends into your engagement photos is a wonderful way to personalize them. A lot of couples nowadays opt to incorporate their fluffy children into the session and it's also a wonderful way of staying comfortable during the shoot (Thank you emotional support animals!). If you decide to bring them, my one recommendation is to also bring a pet sitter (friend of family member) who can keep an eye on them. You're not going to want them in every photo and please never leave them alone in the car while you shoot.
11. Set Realistic Expectations
Everyone nowadays is hypercritical of what we look like, the angles we love, and also our personal "flaws." No matter what photographer you hire, make sure to set your own expectations of the session before you start shooting. I like to tell my couples there are going to be some photos they love, some photos they hate, and a lot of in between photos. Having a solid dozen photos to choose from is what you're really aiming for from an hour long session. If you have a near "perfect photo" but there's something you don't like about it, ask your photographer how much it would cost to do advanced retouching on it. My most common photoshop requests are for acne, slimming underarms on women, removing elements from backgrounds, or removing stray strands of hairs. These are all relatively easy fixes to make! 
12. Communicate With Your Photographer
If you have a particular photo idea during your session that you want to take, let your photographer know *DURING* the shoot itself. I can't speak for all photographers, but I know from my own style that I prefer a natural and journalistic approach. Sometimes I have a couple that quote, unquote, "loves," our journalistic style and when I do their engagement photos and they don't have a lot of photos of themselves looking at the camera, they're upset. Looking directly at the camera smiling together is not inherently a journalistic approach to engagement photography. So, if you realize you've taken none of these photos with your photographer, simply ask them to do a few before your session is over. These types of photos are a piece of cake to take!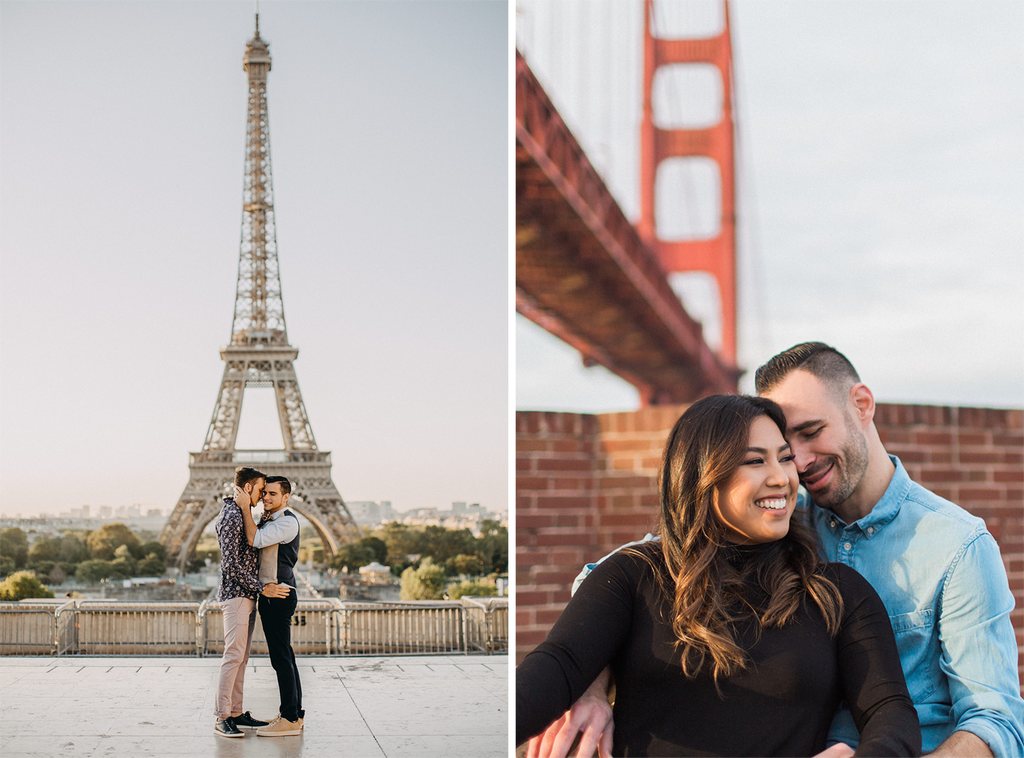 13. Print Your Photos
Displaying the photos on your wedding website and social media is just the beginning! Use a couple of your favorite photos on your Save the Date cards or print them and do creative things with them on your wedding day. You could also make an engagement book from them and use that as a guest book for your guests to sign as they enter into your wedding. For my engagement photos with my husband, I printed my favorites on canvas and gave them as Christmas gifts to our parents so they could hang in their hallways. The possibilities are endless!
---
All photos courtesy of Apollo Fotografie