7 Bridal Accessories to Complete Your Wedding Day Look
Refine Your Personal Bridal Style
You've finally said yes to the dress! Congrats! The time has come for you to add a bit more personal style to your wedding day look. From gem encrusted headbands to sweeping statement veils and embroidered jackets, we've rounded up some of the hottest bridal accessories to help accentuate your natural beauty, and complete your wedding look in style.
Chunky Headbands & Hair Clips
Channeling the Gossip Girl spirit of Blair Waldorf, and conjuring your inner goddess, 2020 calls forth the glam-worthy and fabulous power of a tiara, or crystal abundant headband. Whether your gown is bold and makes a statement, or laid back and relaxed, a headband or some stylish hair clips will emote a timeless elegance that's both ornamental and functional for keeping down those flyaway hair pieces.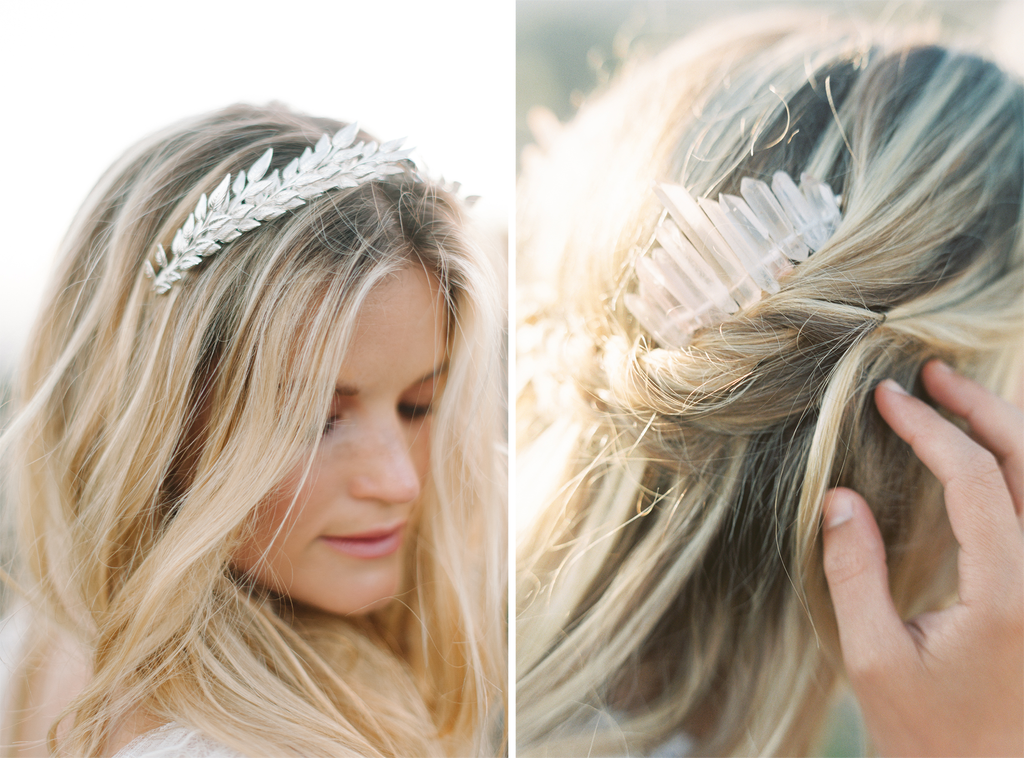 Statement Veils
It's hard to deny the air of mystery and intrigue of a wedding veil. Plain and simple no more, classic and iconic forever. Long and dramatic two-tiered veils have made a comeback. Get flirty with pearls or draped in a veil lined with luscious lace. A veil is the ultimate bridal accessory that can absolutely take your look to the next level.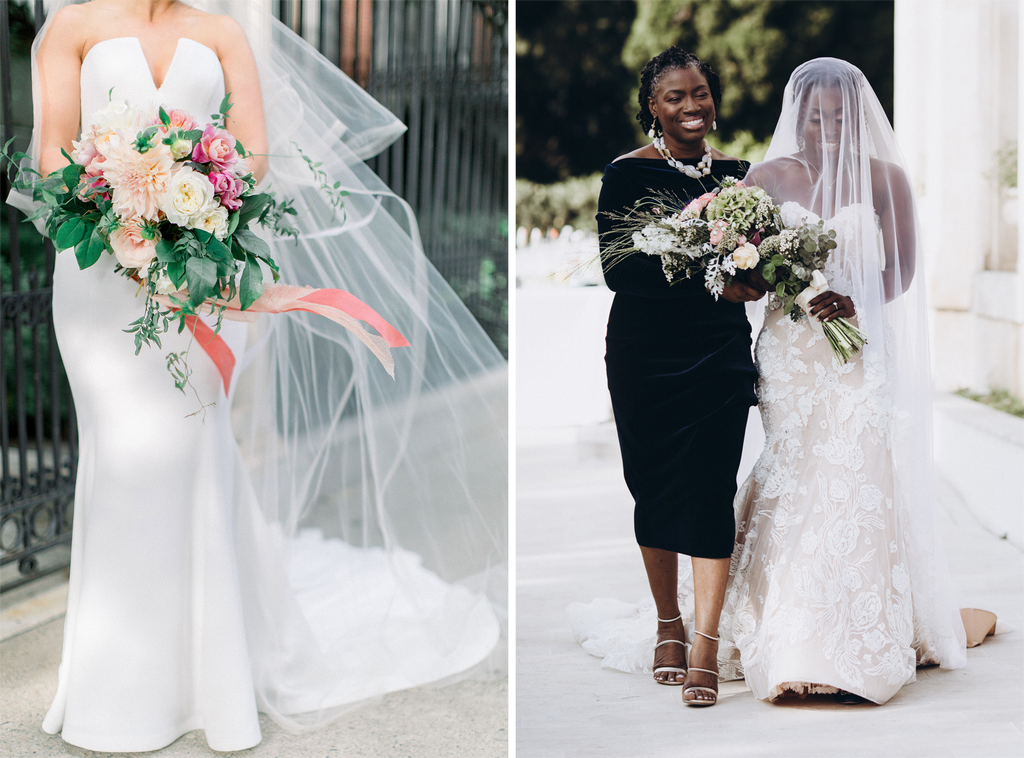 Playful Bows
Bows are a gorgeous way to know that your dress not only drapes beautifully on your front, but you can also trust that your gown has your back. A bow can either help you make a bold statement with your look, or they can simply uplift the elegance of your attire. Whether you choose a dress with a bow already attached, or select a decorative waistband that features a bow, either way you're sure to look even more stunning.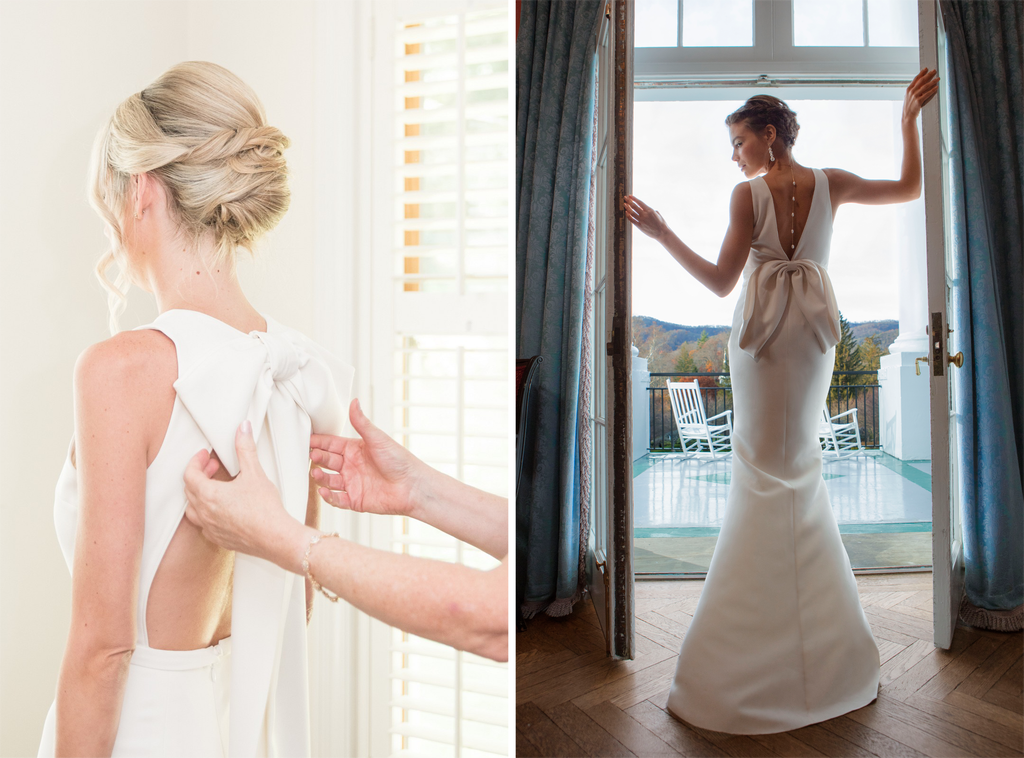 Hats
Hats can add another element of unexpected mystery to your bridal gear. Whether a floral lined black top hat or a large brimmed white hat, this head covering accessory can accentuate your gown in a glamorous and stylish way that's true to you.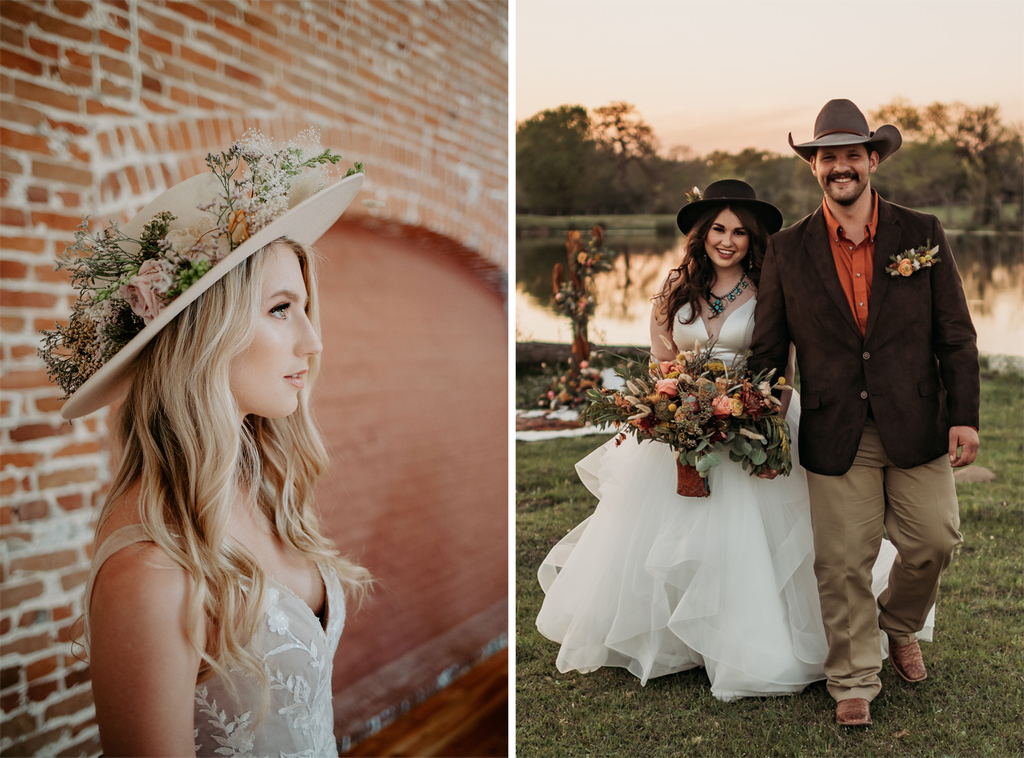 Jackets
Whether you're being wed during cooler months or in a house of worship that requires shoulder coverings, a jacket, wrap, or shawl can be a simply sweet way to keep warm and stay stylish. With brides going a more nontraditional route these days, a leather or jean jacket embroidered with your new title may be more fitting for an edgier or more rustic theme. Jackets or shawls can act as an easy transition from ceremony to reception, and can keep you warm on the outdoor reception dance floor.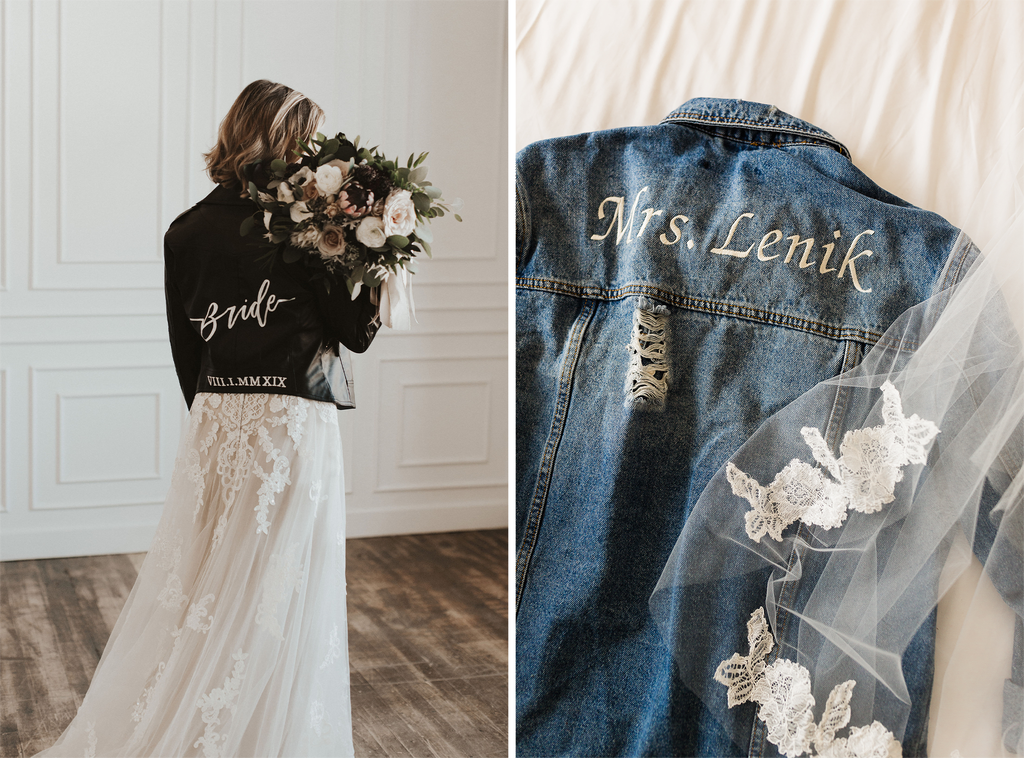 Shoes
A true fashionista would want her shoes to be just as glamorous as her wedding gown itself, and they should be! Depending on the order of things, you may want to choose the shoes you wear on your wedding day before your very first dress fitting so that your gown can be tailored to your height on the day of. When choosing a shoe, consider both the venue and your personal style. Know that you may be standing for longer than usual so you want a shoe that's not only comfortable and romantic, but functional. No one wants to be caught in the mud at their outdoor ceremony because of their stilettos!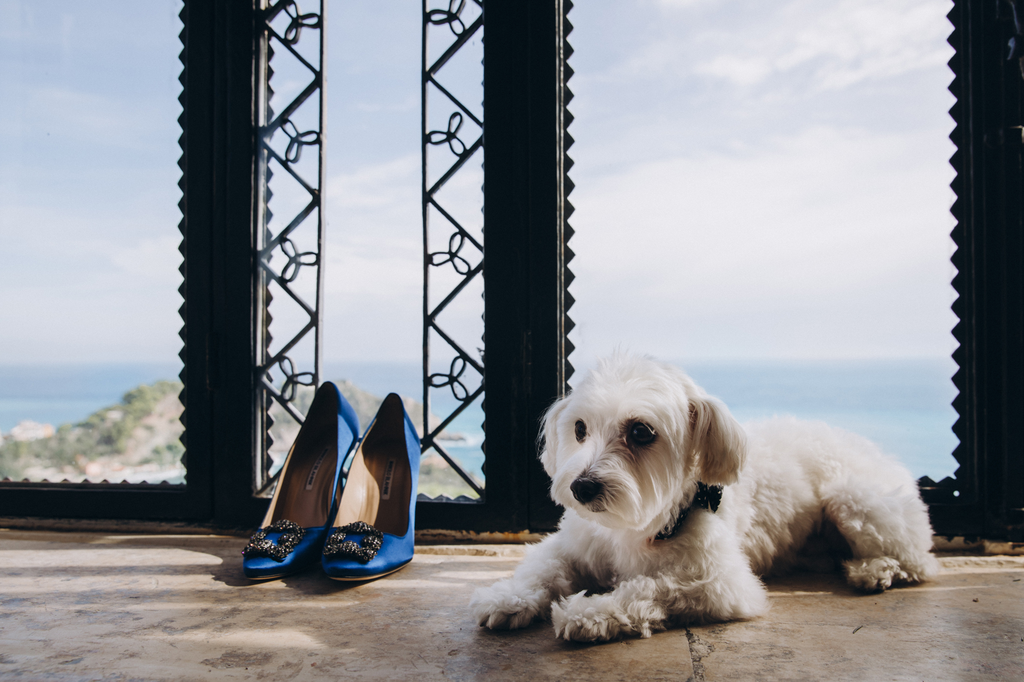 Clutches
You may not carry a bag with you most of your wedding day, but the reception may call for a few makeup touch ups, or a stick of gum to keep your breath fresh for kisses for your spouse. A beautiful clutch that goes with your gown can hold all of those day-of-essentials.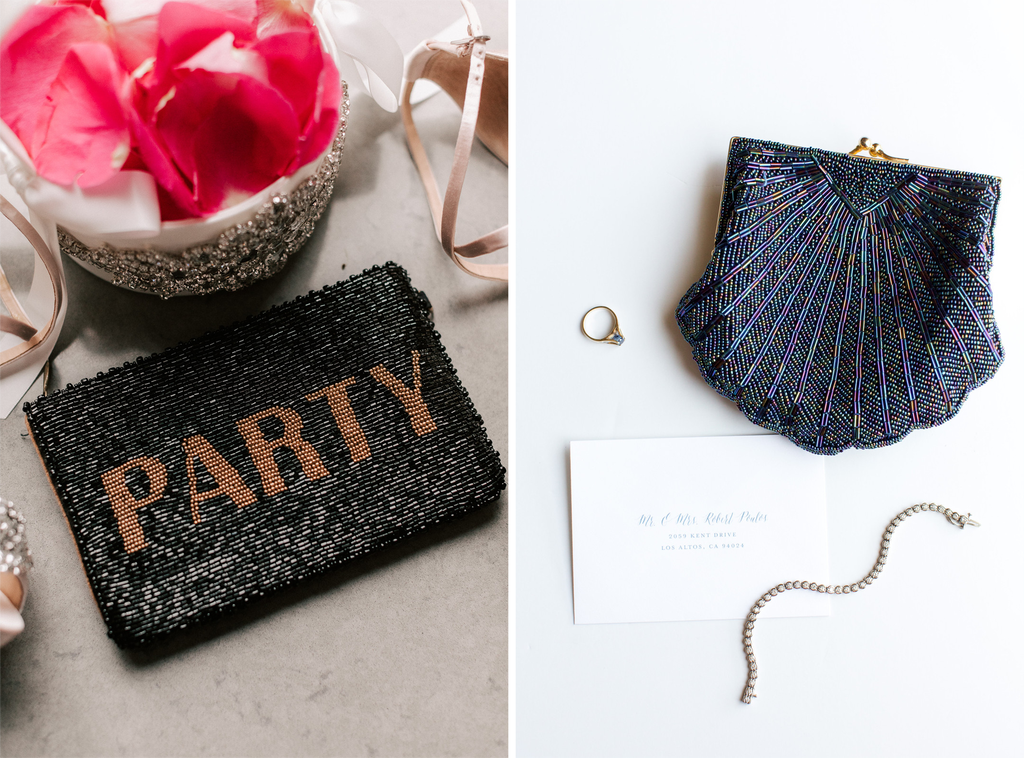 ---
Hero photo courtesy of Petula Pea Photography