We're all about stunning weddings at The Aisle Guide—and, when it comes to swoon-worthy nuptials, nothing makes an impact quite like the right setting. While design and décor can certainly do a number on an old ballroom or transform an outdated space, nothing can replace the innate beauty of a naturally striking backdrop…and no place is more familiar with naturally striking backdrops than the City of Light itself. Today, then, we're sitting down with Founder & Creative Director of Luxe Paris Events, Billy Folchetti, to talk 7 reasons Paris should be at the tip-top of your list of destination wedding locales (as if saying "oui" in the city of love wasn't reason enough). Read on, Francophiles—this one's for you.
---

1. Iconic Backdrops vs. Dime-a-Dozen Wedding Photos
We have all had the pleasure (I'm using that word lightly) of flipping through the wedding albums of our friends and family. Short of perhaps a moment with your bestie or one of those inevitable photos that made the cut because, well, there was an open bar, wedding photos can be pretty basic. Rather than a classic portrait at an unexciting venue, a shot of you climbing in the limo, or sweet smiles captured at the altar after the ceremony, why not get lost in a new city with your photographer?
The best part of Paris is its surprises—the hidden gems. While a shot or two near the tower is practically a "must do," Paris offers some of the most beautiful architecture, streets, doors, and courtyards of any city in the world. Dripping in an unmistakable and endlessly romantic aesthetic, a simple stroll down the street in Paris can make for an iconic shot—ultimately turning your wedding album into something that looks more like a coffee table book.

2. A Selective Guest List vs. "The Cousin you've met twice"
We all know planning a wedding can be a series of daunting tasks, but the guest list is certainly one of the most stressful—whether it's trying to manage the cost per plate, or expanding your guest list simply to avoid hurt feelings (like those of that random cousin you never really met…because, let's face it, Mom will inevitably put photos on Facebook from the big day). A destination wedding is the perfect excuse to keep your guest list trim while sparing the feelings of those who don't get an invite.
3. Parisian Glam vs. "Your Local Hotel"
Whether you have visited Paris in person or not, we all are aware of the beauty and grandeur that the City of Love offers. When deciding on a venue, rather than being limited to yet another stale hotel ballroom or an overdone estate, Paris offers some of the most stunning venues imaginable. Think: gold-gilded walls once a part of Prince Roland Bonaparte's private dining room, or a centuries-old chateau with impressive gardens.
Whether you are aiming for a lavish party with hundreds of your nearest and dearest, or an intimate gathering for a group of 10, the private event spaces in Paris are nothing short of divine. You don't have to worry about draping the room or hiding unsightly ballroom carpets (why are they always so bad?) and the impressive setting offers an experience for your guests to cherish for years to come. In Hemingway's words: "Paris is a moveable feast."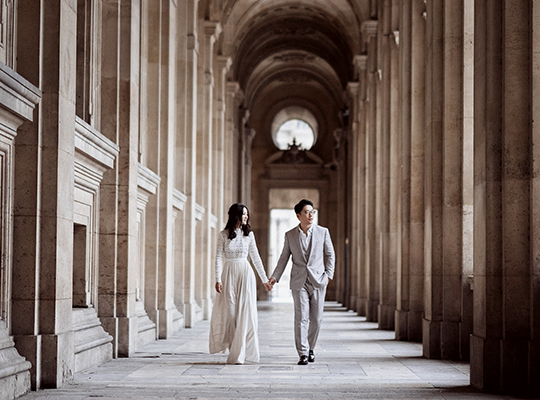 4. A Fresh Cultural Experience vs. "All-inclusive, Includes Americans"
The words "destination wedding", for an American, often conjure ideas of the Caribbean, Mexico, or some other place with plenty of sand, sun, and well, Americans. All-inclusive beach resorts can be nice, but if you are really looking for a romantic destination, why not try one that leaves you and your honey-to-be immersed in an experience that is totally new—culture, cuisine, wine, world-renowned sites, and the opportunity to dabble (together) in an actual language of love. Paris places all of this at your fingertips.
5. The Connoisseurs of Cuisine vs. "Chicken or Beef"
In all the years I have been planning weddings, even at the best of the best venues, the food is often a struggle. The classic chicken or beef "check box" makes most of us cringe, and—unless your budget is through the roof—your drink package will likely leave you and your guests thirsty (or worse, with a serious mal de tete). While buying a great bottle of French red, or an amazing stinky cheese at your local retailer might cost you an arm and a leg, in France, it's the norm. Menu options are higher quality and oftentimes you get beaucoup for your buck.
6. A Marry-moon vs. "All that for Just One Day?"
Rather than spending what could be an amazing love-filled vacation budget on a single day, why not make it an experience that stretches out over multiple days or even weeks? Hosting a destination wedding allows you to step away from day-to-day life and responsibilities and puts you and your fiancé in "vacation mode"—lessening the stress, upping the fun factor, and getting you to your honeymoon faster. Plus, once you have "hopped the pond" you are much closer to more exciting and adventurous or romantic destinations. A destination wedding is both exotic and romantic before you even walk down the aisle!
7. "The Up and Coming vs. "The Who's Who"
Due to the history, style, and charm of Paris, its wedding market is on the rise. The creative environment in the city is bustling, and professionals from all over the world are attracted by the opportunity to create something new and different in such an inspiring place. The market in Paris is new in comparison to the stateside industry, which allows you to find professionals who are not only creative and cutting edge, but open to negotiation and excited to help you execute the day of your dreams. Clearly, having a motivated and imaginative team behind your big day is vital, but it's even sweeter when prices are competitive and the quality superior.
With unparalleled food and wine, a full-on cultural experience, gorgeous venues, and reasonable prices what's not to love about getting married in Paris?  We happen to think it's the perfect place to invite your loved ones to in the name of celebrating your big day.
Thinking of saying oui to tying the knot in the City of Love? Reach out to Luxe Paris Events to ensure you have the ideal team in place to make your wedding day (or week) exceed, not only your expectations, but your guests' as well.
---