Unless you've been existing in Pinterest and planning-free isolation, you've probably noticed the recent reappearance of flower crowns in modern weddings—a growing trend that we don't see stopping anytime soon. In fact, over the past few years, I've noticed that flower crowns are among the most requested items in my clients' floral lineups.
As planners, we know that what's trending today is often dead-in-the-water tomorrow, but the staying power of the flower-crown trend had us curious. Where did the bridal flower crown originate, and what caused its modern revival? So, we did some research to learn all about this oh-so-dreamy bridal trend.
The Wedding Flower Crown has woven its way through many cultures in world history. Here's a few of our favorite highlights:
The Ancient Laurel Wreath
Greek laurel halos were awarded to victors in both athletic competitions and poetic meets in ancient Greece. Along that same vein, in Rome they were awarded as trophies for martial victories. While modern bridal flower crowns are usually complete halos, ancient laurel wreaths were horseshoe shaped.
 

Chinese Wedding Crowns
In China, a bride typically wore an orange-blossom flower crown to represent fertility. (Because an orange tree blossoms and bears fruit at the same time, donning an orange-blossom crown during the wedding ceremony was thought to help the bride bear children).
 

The 1960s Flower Child
Ah, some of us remember those days better than others. But the flower crown saw a huge surge in popularity in the '60s among American hippies–they represented peace, love and happiness…man.
 
Modern times has seen the modern revival of the Bridal Flower Crown. With boho-chic being a huge style trend right now, we see silk flower crowns being donned at music festivals and sold at mainstream stores. As boho-style weddings simultaneously become more and more popular—voila!—you get a like totally groovy reappearance of the flower crown. But don't limit the bridal floral crown to just boho weddings, it's a great accessory for brides and weddings of all styles from tropical to earthy to classic. So, today, we've pulled eight of our holy-gorgeous flower-crown favs.
Pure Romance
Timeless and understated, we love the simplicity and smaller size of these ultra-romantic crowns, complete with tiny peach and coral spray roses.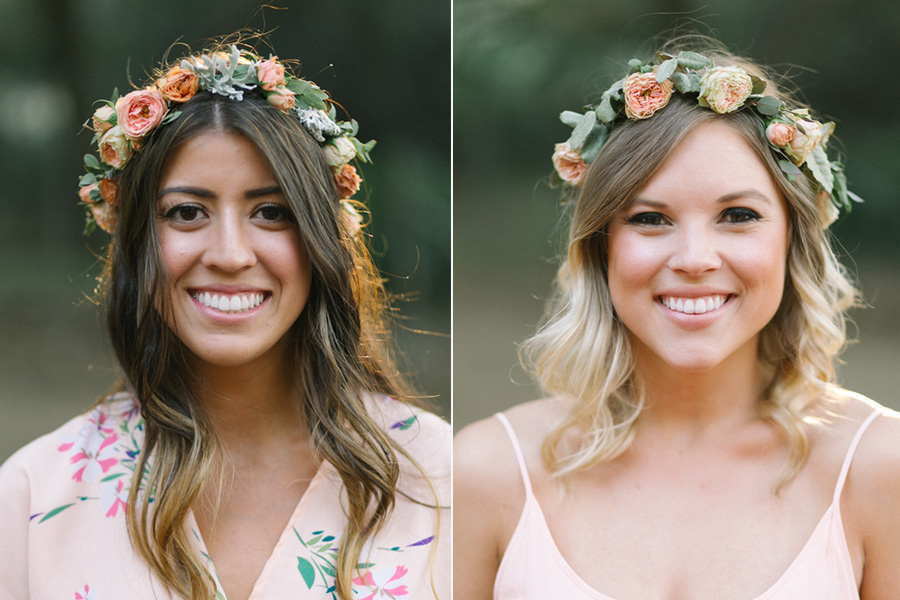 Bold Elegance
A little bit structured and a little bit wild, deep coral, peach and cranberry roses make for a dreamy combination that pops (like whoa) against the bride's chocolate locks (can someone say princess hair?).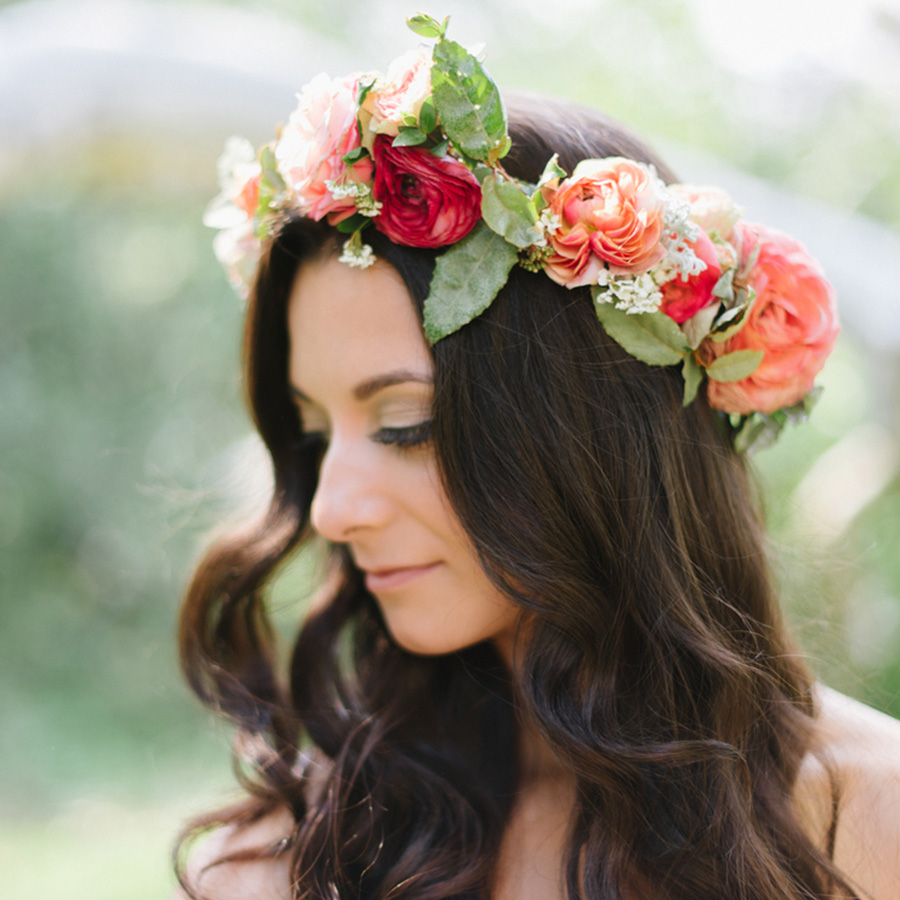 Modern Boho
A crown of sprawling mini wax flowers makes for a non-traditional take on a flower crown that we love, love, love.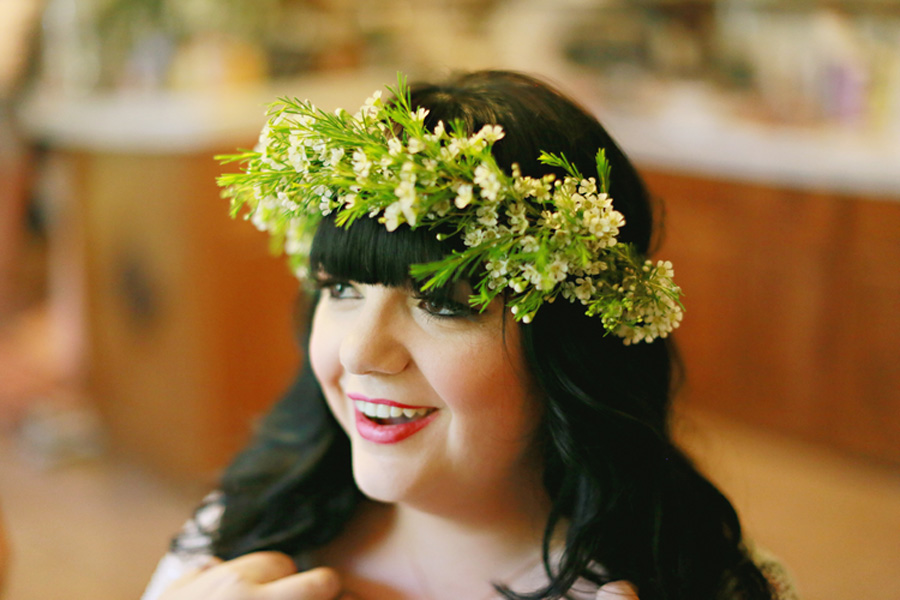 Tropical Masterpiece
We love how these bridal flower crowns add a wild and visually interesting touch to an understated gown. Saturated purple orchids alongside soft peach ranunculus and bright greenery also make for a sophisticated color palette that wedding guests won't soon forget.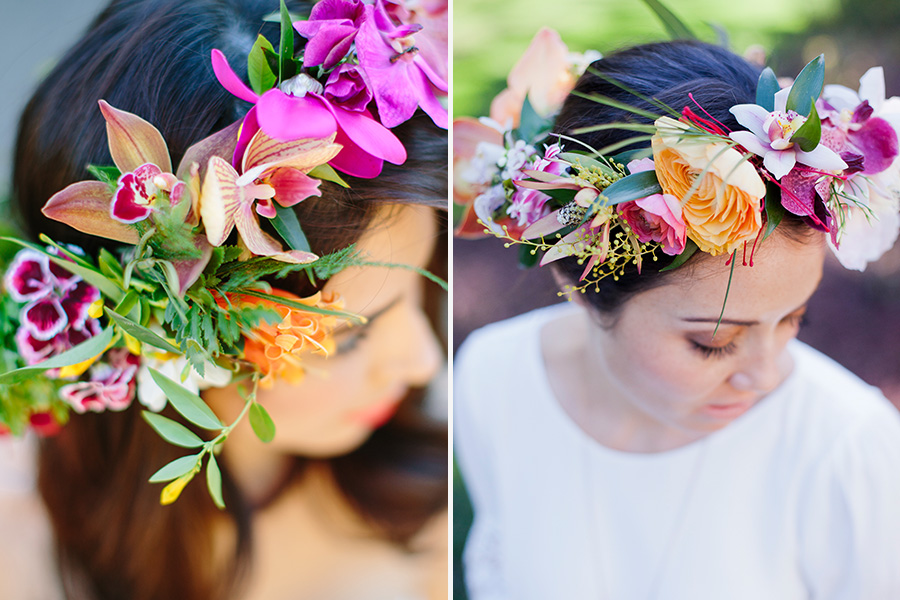 Timeless Beauty
The perfect piece for a bride wanting to add a little something extra to a classically romantic look, this flower crown constructed of wax flowers totally has us swooning.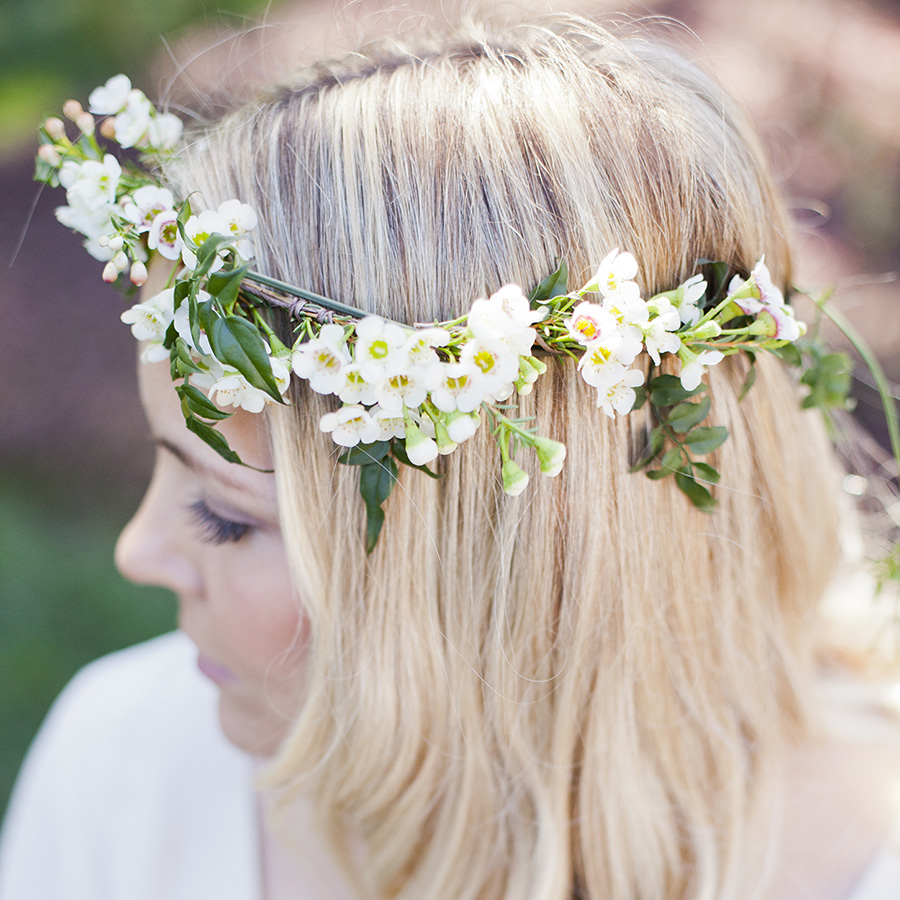 Statement Piece
We don't like to pick favorites, but we may have saved the best for last with this beauty. A semi-crown of vivid orange ranunculus and sage placed on the side of the bride's hairline makes for a modern twist on the classic flower crown that we can't take our eyes off of.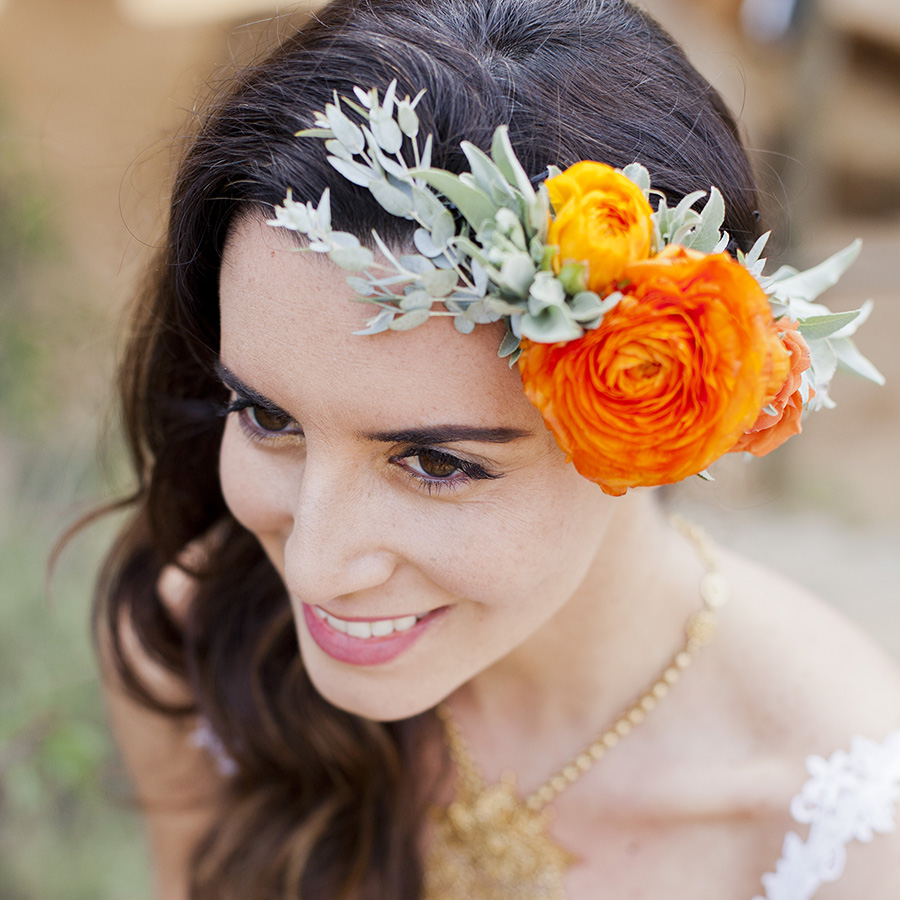 ---
Hero photo courtesy Joielala