If you're thinking of postponing your late 2020 wedding due to concerns over COVID-19, you're not alone. A recent survey shows that 66 percent of couples across eight countries are rescheduling their vows to a later date, with 52 percent choosing to wed in 2021, and 8 percent not sure of their new date. 
But just because you have to delay your wedding for a bit doesn't mean you can't have some fun when it comes to announcing your decision! With that in mind, we've rounded up some creative ways to let guests know you're planning to say I do at a later date.
Send Out a Change the Date
Couples are getting clever with their wedding postponement announcements, using phrases such as "Celebrate on a New Date" or "New Date, Same Wedding." Since time is of the essence, it might be best to send these cards digitally so guests can change their travel arrangements and plan ahead.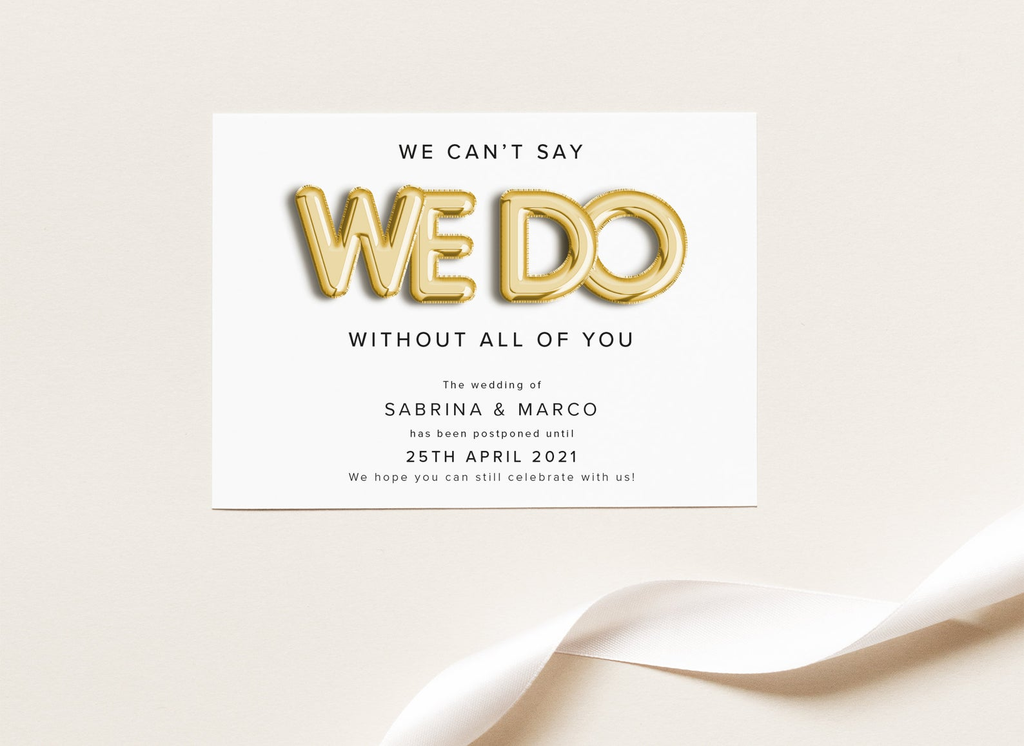 Create a Corona Care Package
Katharine Phillips of Katharine Phillips Event & Design suggests making a care package with two Corona 7oz. splits and limes with a note that says "When life gives you lemons but you needed limes..." and including the new wedding date.
Make a Video
Appear on-screen with your fiancé to break the news, but make it as upbeat as possible, recommends Amy McWaters CEO at Gifts Australia. Simply say that circumstances beyond your control have forced a postponement and let them know that you'll keep everyone updated as soon as you have your new date set.
Throw a Party
Katharine recommends turning your original wedding date into a virtual announcement dance party with the DJ being Spotify's new Group Session feature (which is in beta mode) and friends and family can try to guess the new wedding date for some sort of prize.
Mail Out Mini Calendars
Create custom printed calendars using a picture of the bride and groom for the cover, says Marie Kubin of Rent My Wedding. Then add pages with the original wedding month and the new wedding month. Put a red X on the original date, and a green circle around the new date.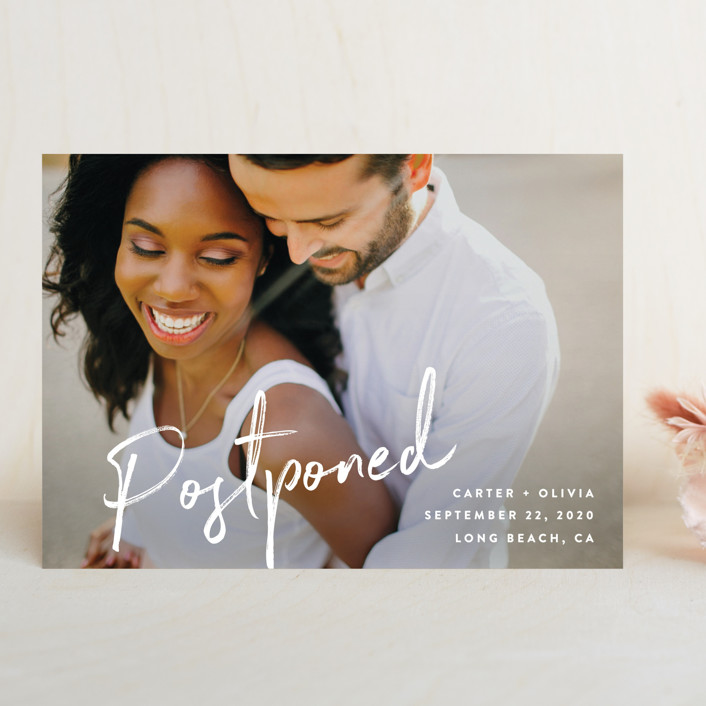 Take Photos
For couples that have decided to go through on their nuptials but postpone the reception to the following year, hire a photographer for an hour to take photos for the new reception date announcements. "It'd be cute if they could get masks like these so when they kiss with them on, it can say their established date on the side," says Katharine.
Have Fun
Some couples have embraced a creative and humorous way to announce their wedding postponement by using the words "just roll with it" on top of a picture of a toilet paper roll, playing off the toilet paper roll shortage at the beginning of the pandemic. You could send the creative wedding postponement card along with a small pack of toilet paper rolls to make the announcement even funnier.
---
Hero photo courtesy of