Decoding Wedding Dress Codes
Tips for Determining Digs with Wedding Planner Jason Rhee
We are beyond excited for today's article because it touches on a subject we all have trouble with: wedding dress codes. When it comes to how to decide on a dress code for your wedding, there are a number of things to consider—from venue to weather to guests' interpretation of your wording. To help you on your quest to properly describe your desired wedding-day digs, then, we sat down with Jason Rhee of Rheefined Company to decode dress codes. Read on for Jason's top tips!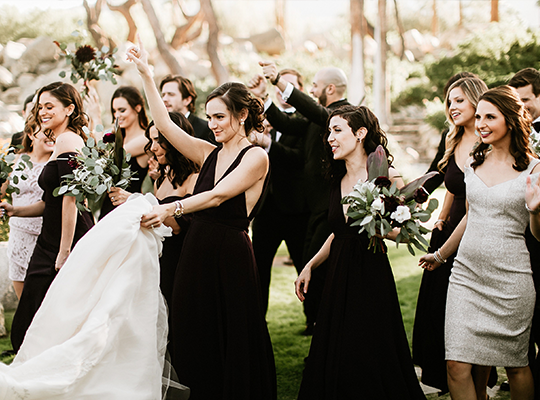 My Top 3 Dress-Code Tips for Guests:
 
Dress codes can be perplexing, because everyone has their own interpretation. "Semi-formal" to someone from the East Coast may be "Formal" to someone from the West. Culture, location, and individual interpretation play a huge role in decoding dress codes. So, when all else fails, I always look up the location/venue.
I'm a huge advocate of showing your own style while still being appropriate, so—casual or not—use your clothes and accessories to represent yourself!
Dress comfortably, and consider the weather. Comfortable doesn't have to mean casual, though—it's about choosing an outfit that fits within the dress code and that makes you feel confident. There's nothing worse than fussing with a collar that's bugging you all night or, for ladies, wearing heels that are excruciating for a four-hour affair.
My Top 3 Tips for Communicating Dress Code on Your Invitations:
 
Your wedding dress code must be printed on your invitation or readily available on your wedding website. It never hurts to be specific. Your guests actually appreciate the information rather than showing up blindsided or embarrassed.
Use your bridal party and family to spread the word to your guests—especially if the dress code is important to you. Also, be sure you confirm the dress code you choose with your venue—especially for private clubs (most private clubhouses don't allow jeans, and some may require women wear dresses).
Stick with standard dress-code terms. It's tempting to be creative, but unless you're giving examples or additional info, keep your dress-code wording standard so as not to confuse your guests.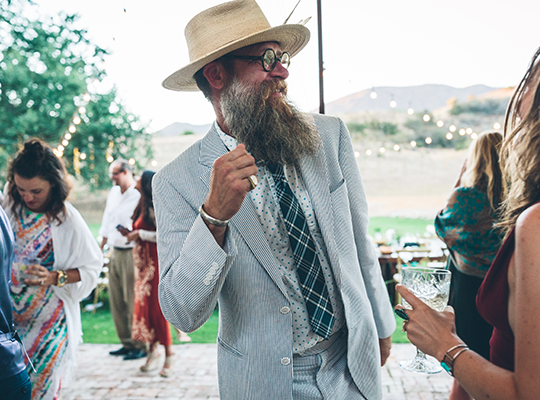 Wedding Dress Codes, Decoded:
Casual/Beach
Men: Nice jeans or khakis. Always avoid "stylish" rips/holes and any embroidery/acid washing on jeans. Polos, a casual button up, a crisp clean t-shirt, and cardigan all work great for a casual or beach wedding. For the beach, avoid your best pair of shoes—stick with a loafer, clean sneaker, or no-logo sandals. Shorts are risky; however, if the weather/theme permits, I love to wear a dress/suit short with button-up, vest, and tie.
Women: Daytime dress/sundress or nice jeans/khakis and a blouse. Usually casual means to avoid heels—wedges might be okay depending on the location and weather. Be sure to check to see if the ceremony site is on sand or grass so you can plan your footwear accordingly. And, as always with weddings, don't wear prominent logos. (The couple of the hour don't want to see a giant Adidas logo in their photos.)
"There's also 'Beach Casual' and 'Beach Formal.' Beach formal means men should wear linen suits, loafers, lighter digs–and women should stick to resort/summer dresses." 
Cocktail
Men: The main rule of thumb for this one is, if you need to go one way or the other, go more formal than casual. (You never want to show up underdressed for a wedding.) Wear a nice dress shirt or polo, tucked into a dark denim or dress pants. Always wear a belt unless you are wearing a buttoned-up cardigan or vest. Ties are optional. Nice shoes or a clean darker sneaker with no crazy prints or patterns are both great footwear options.
Women: You can never go wrong with a cocktail dress, but for the non-dress ladies, a dressier romper or blouse works well. I would definitely go with a nice heel for Cocktail attire.
Formal
Men: A nice, crisp, well-fitted suit. Always wear a tie or bowtie. Sweater vests work as well. Dress shoes are a must.
Women: Opt for a nice dress and heels, or (for non-dress ladies), stick with dressier fabrics (like silks). Accessories are a great way to glam up a look and add some sparkle to ensure your outfit falls within the "Formal" category.
"Fit and pressing are key. No matter how expensive your bespoke suit, if it's wrinkled or the hemline is too long, you'll look a hot mess. Be sure to have your outfit professionally tailored and/or dry-cleaned prior to the event if necessary."
Black Tie
Men: One word: Tuxedo. You must have a tux. A suit, no matter how dark, is not black tie—I've actually made this mistake in the past. You don't have to always stick with black—there are some great options for navy tuxedos out there right now—but definitely dress it up with your accessories. Dress shoes are a must. Avoid sneakers all together—it doesn't matter how stylish or expensive they may be, they're not appropriate for a black-tie affair.
Women: This is the time for the gowns, ladies! If you don't have a black-tie gown, consider renting one through any one of the great online gown-rental options there are out there now. Be sure to rock a pair of heels if you can stand it. If you're not a dress-wearer, opt for the classic Diane Keaton look (like a total boss).
---
Hero Photo Courtesy of Brian Leahy