Don't Ditch These Details: Pro Advice for Your Holiday Party
You'll Be Entertaining Like an Expert in No Time
As a newly engaged couple, entertaining now or down the road when you're married is something that will blend both of your personalities and bring together new family and friends. Wow your guests with a fun and festive holiday party with these pro tips for entertaining!
Set the Tone
From formal black tie to fun and relaxed, invitations to a party will set the tone and your guests' expectations. Even simple email invites can be dressed up by adding a pop of color, changing up your font, and adding a photo. People love receiving mail, so a fabulous paper invitation with embellishments and a themed stamp is a welcomed change.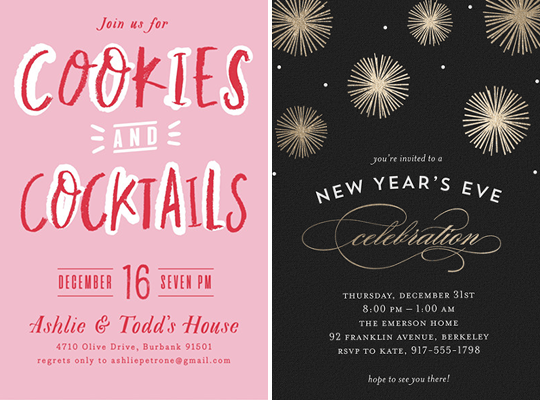 Trust the Pros
Part of being a good host is knowing where to buy good quality products. Regardless of how good of a cook you might be, infusing the menu with good quality pre-made foods from a local caterer or specialty store will leave your guests wanting to know your secret! It will free up some of your time, too!
Get Comfortable
Lounge furniture is huge for weddings and events. Renting some festive furniture and creating a comfortable lounge area can be a great addition to your holiday party. An empty patio or outdoor space can be filled with furnishing to fit your theme, whether that be something modern or vintage, the possibilities of renting furniture are endless! Accent your seating options with fun, colorful pillows and throws.
Cocktails & Champagne
Holiday inspired signature cocktails and non-alcoholic mocktails are a great way to infuse your personality. Fun flavors, creative garnishes, and holiday accents like beverage napkins and straws add little pops that take drinks from ordinary to memorable.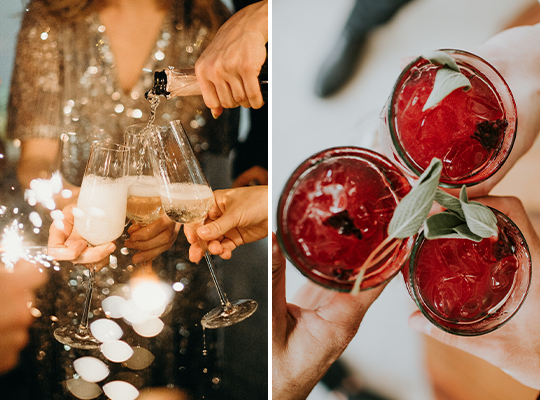 Make Memories
Create your own photo booth setting! From Christmas trees to festive mantles with candles and holiday décor, you have built-in backdrops for memorable photos. Put out a polaroid camera and packets of film to give them something special to take home. To top the celebration off, create your own holiday party hashtag! Before you know it, you'll be trending.
Sweet Treats
Many of the wedding pros we spoke to had the same advice—like wedding favors, take-home holiday treats will be a big hit. Themed cookies, candies, or sprits are for sure crowd favorites. But, to add a more personal touch, try gifting a collection of family holiday recipes, fun shaped cookie cutters, or ornaments.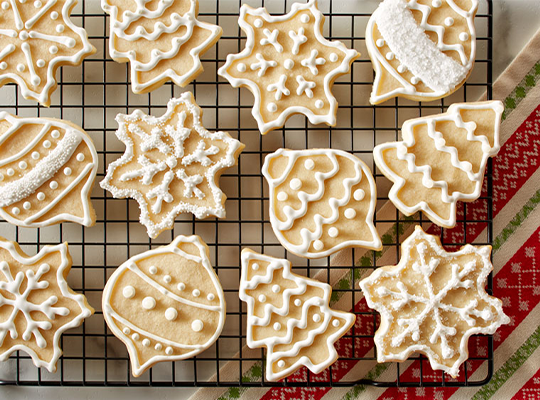 Adding a few simple touches from our planning pros will have you entertaining like an expert in no time!