Congratulations! You've just received an invitation to your best friend's wedding and are so excited. Although, being the fashionista (or -isto) that you are, you're unsure of what to wear. You look back at the invitation for guidance and it reads "ranch-formal attire," but you have no idea what that even means. As time goes on and more progressive couples get married, the traditional wedding guest attire rules have drastically changed. Don't fret! We've compiled some of the most helpful dos and don'ts of how to dress properly for an upcoming wedding no matter what the invitation suggests.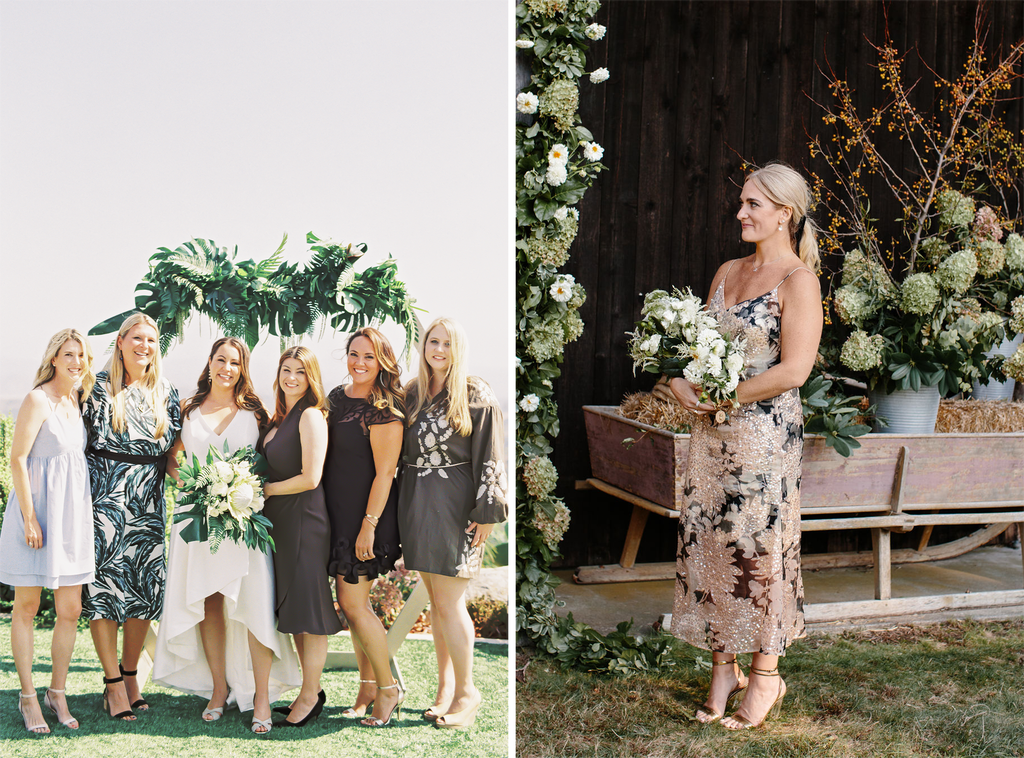 Do:
It may be a bit confusing to try and figure out what "beach-formal," "rustic," or even "dressy-casual" means, although if you dress formally and stick to neutral tones for a daytime or morning wedding you really can't go wrong. When in doubt, for an evening wedding a little black dress or (LBD) and a nice shawl or neutral tights could fit the mood. For guys, a nice black suit or tux will do the trick any time of day, just be sure to accessorize appropriately and wear some really snazzy shoes.
Consider the location & bring layers.
This is why layers are so, so important. If you know that any part of the wedding is going to be held outside, have something you can throw over yourself. You never know when that perfect storm cloud may roll in, and you don't want to let it catch you off guard. Also, in certain venues the doors may be left open, or the air conditioner may just always be set on high blast. In this case, you don't want to be that nagging person who's wrapped in a very thin shawl and is complaining all evening about how it's just, "a little too nippy outside."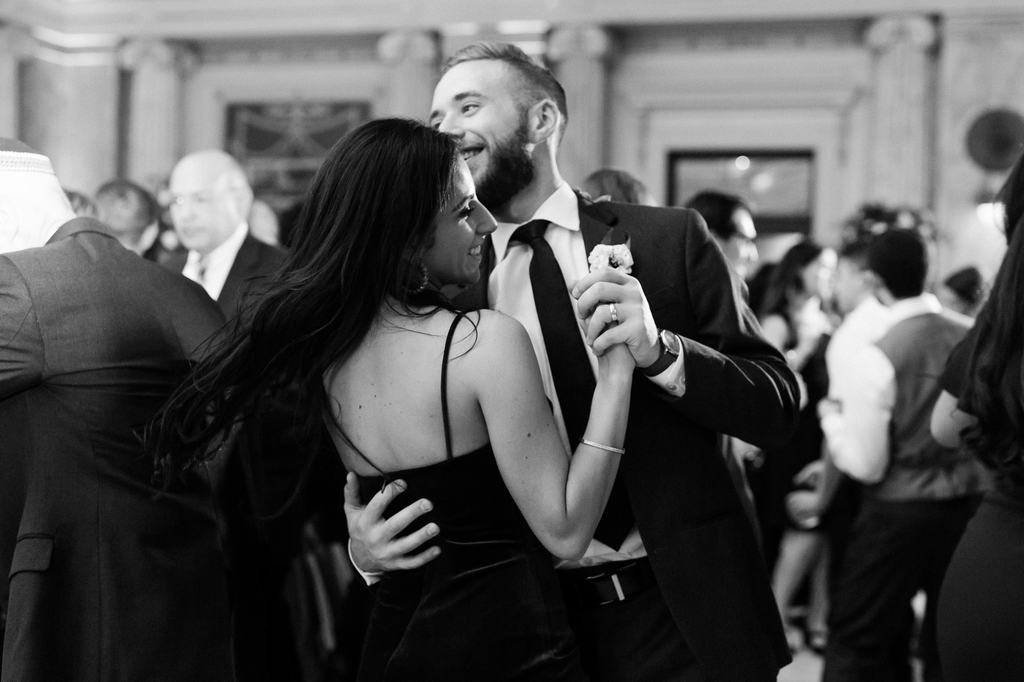 Comfort is key. Choose a comfortable, yet formal shoe.
Sure, those brand new, thigh-high, 5-inch heeled boots may be made for walking, but maybe that's not necessarily what they should do. One of the main components of 'dressing your best as a wedding guest' is to dress comfortably. That doesn't mean wearing a t-shirt, flip flop sandals, or sweatpants. It means dressing formally, but wearing a flat shoe instead of wearing a heel, or a lower heel if you absolutely have to. It may be helpful for you to break in your shoes before wearing them to a wedding so that you can break onto the dance floor and show everyone your hot new dance moves.
Choose bold accessories.
When dressing in neutral tones or black, attention to detail is key. As far as jewelry, pick a metallic and go with it. The sky's the limit. Just don't go overboard. If your jewelry alone makes enough noise to echo through a cathedral with the force of sound similar to a mass choir, you may want to keep it simple and choose something quieter. Outfit embellishment ideas can come from the clues on the invite. Say beach-formal could inspire more bohemian accessories, whereas a black-tie formal affair, may call for a more classic cufflink or pearl necklace.
Pamper yourself.
Go get your hair done, get your nails done, get your chin waxed, or get your makeup done at the beauty counter in the mall. This is a day to celebrate, and the spotlight may not be on you, but you'll want to remember looking like your best self. So splurge a little, you deserve it. 
Don't:
Ask too many people's opinions, specifically the bride and groom.
It's not helpful to get too many people's opinions on your outfit for this day. They've placed their recommendation on their invitation suite. Remember it's not about you, it's about the two people who are dedicating their lives to one another. So dress to impress, maybe consult a stylist, but don't worry yourself into oblivion over one formal event. Chances are you'll attend another at some point!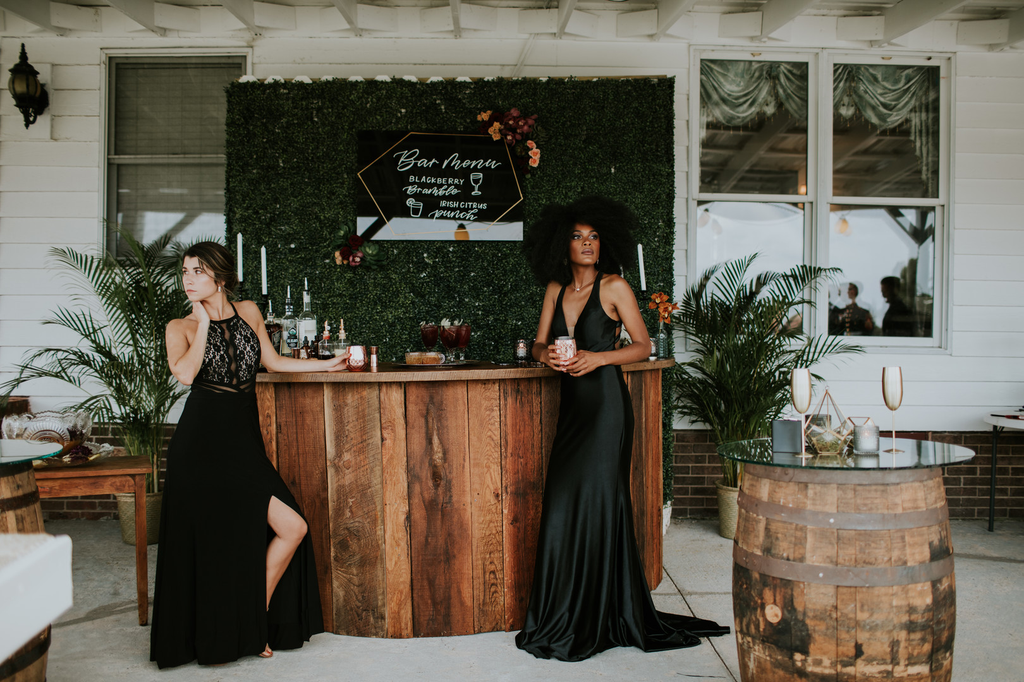 Wear certain colors or obviously casual clothing items.
Colors like white or red may not be appropriate unless called for specifically on the invitation. Pick a neutral tone and stick with it. There are so many colors to choose from! Also, though we've noted that comfort is key, wearing jeans is not a good look—unless specifically called for in the invitation. Wearing the same color as the bridesmaids is a common mistake you may have made, just remember, it's okay. Just try not to do it again.
Wear something too revealing.
A good rule of thumb is not to wear anything sheer, or with rips and holes, even if they're intentional. A tasteful and very small hole may be alright, but you have to consider your audience. Cleavage happens, but don't make it the focal point of your outfit. If you have to accentuate something, consider going to a makeup artist and telling them you want something bold and new, or get your nails painted with nail art in the theme of the wedding.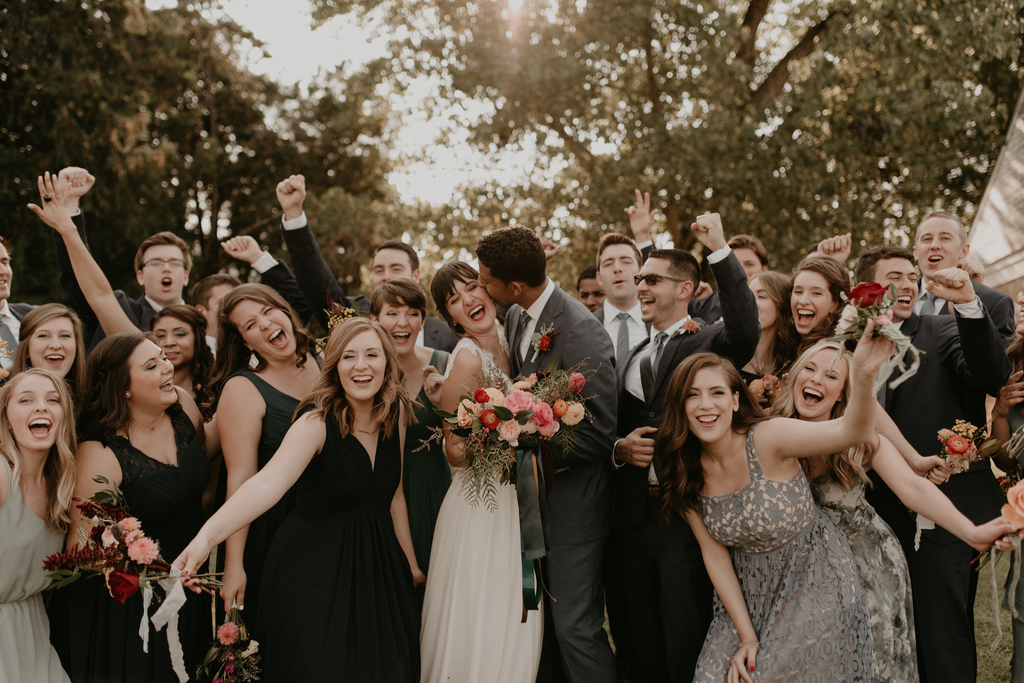 Go overboard.
Anything in excess can be sickening. If your accessories are too loud, or your favorite cufflinks are so shiny they make your eyes hurt when you look at them, don't wear them to the wedding. Your obsession with bangles can wait. Your tie that also works as some type of electric do-dad can wait. Doing too much will get you nowhere, so keep it as simple and stylish as possible.
Be disrespectful.
This goes beyond not wearing anything white or revealing. Remember the rules of the invitation and abide by them. You want to look your best, so this is not a time to get competitive. Yes, you want to show your great aunt Sally that you can wear a bold print suit, but now's not the time. If you're going to a wedding from a different culture than yours consider doing research or asking some friends. This wedding is for you to have a great time without working people's nerves, so do that. Have fun, celebrate love! But please, do it in style and with grace.
---
Hero photo courtesy of Indi Soul Photography