Ah, food trucks at weddings—one of our all-time favorite trends. Food trucks are such a fun, quirky way to add some personality and pizazz to your wedding, but we'd be lying if we said they didn't have their fair-share of pitfalls, too. Today, then, we're breaking the top three pros and cons of food trucks at weddings—read on if you're considering four-wheeled fare for your affair.
PRO: Adds Character
We're starting with the most obvious. There's nothing that adds character to a wedding like a cute, quirky food truck. They're a great way to add color to your venue, and they make for amazing photos (think: a couple in their wedding-day digs holding hands in front of a hot-pink ice-cream truck). If you're marrying at a venue that lacks character and color, consider bringing in a food truck or two for the reception—they'll really help to fill the space and add some personality to your affair. 

PRO: You're Supporting Local
One of our favorite parts about food trucks at weddings is that you're supporting a local vendor and a small business. We're all about supporting our local communities and small business owners in any way we can, so we love when an engaged couple opts to book that local grilled-cheese truck or those locally born-and-raised brothers-turned-pizza-chefs. 
PRO: Less Expensive
Food trucks tend to cost less per-person than an up-scale, three-course plated meal would—so they're a great way to cut back on budget while adding character and quirkiness to your wedding. Plus, food truck servings tend to be larger and far more tasty than typical ballroom wedding fare, so your dollar often goes further when it comes to satisfying guests. After all, a massive cheeseburger from that local food truck will cost less and taste better than that bland steak-and-caesar dinner you so often see at weddings.

CON: Lines Can Be Long
This one is a biggie that many engaged couples don't realize when it comes to food trucks at weddings. Think of how many guests you'll have in attendance, then imagine all of them lining up behind a single food-truck window. See what we mean? We recently attended a wedding where we waited 45 minutes in line for food at a food truck (talk about a post-cocktail-hour buzz kill). To help combat this, we recommend hiring at least two food trucks for weddings with 75 guests or more. Plus, this gives your guests a wider range of food to choose from. We also recommend having passed hor d'oeuvres and cocktails going around while people are lined up—just so they have something to tide them over as they wait.
CON: Dietary Restrictions Can Be Harder to Accommodate
Because food trucks often specialize in one main menu item (grilled cheese, pizza, Australian hand pies, kabobs, etc.), they can sometimes be a little less accommodating when it comes to dietary restrictions, simply because they don't have the ingredients or capacity to accommodate these requests. Talk to the chefs you're considering hiring beforehand to ensure they'll be able to offer a vegetarian option and preferably a gluten-free one as well.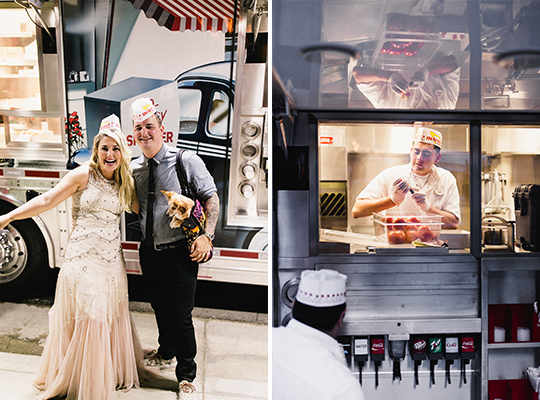 CON: Venue Logistics Can Be Tricky
Food trucks aren't exactly the smallest car on the block, so, if you're getting married at an isolated location or on a lakefront estate that sits at the bottom of a windy mountain road, for example, getting the food truck to the venue and parked in a convenient area can be tricky. You'll want to work with your wedding planner ahead of time to ensure your venue can accommodate a food truck—and be sure it's able to park at or near the reception.