Incorporating fresh, local, and seasonal foods into your reception adds pops of color and fabulous flavors to any wedding or event. Get ready for autumn with these fresh menu ideas for a fabulous fall feast!
Seasonal Spices
What started out as a spice blend in grandma's pumpkin pie, pumpkin spice has been mass-marketed into all kinds of foods and given fall flavors a bad rap. On their own, cinnamon, nutmeg, ginger, and cloves can all add punch to a various selection of fabulous fall foods. But other warming spices, like allspice and chilies, herbs like sage, rosemary, and thyme, and flavorings like honey and maple, will all add variety to an otherwise traditional treat. 
Creative Cocktails
Whether you're into craft beers, small-batch distilleries, or wine, fall has something for you! A majority of breweries of all sizes offer some type of fall-inspired craft beers. Looking at local sources can offer a guest experience unique to your wedding or event. Rich, full-bodied red wines pair incredibly well with the bold flavors of autumn.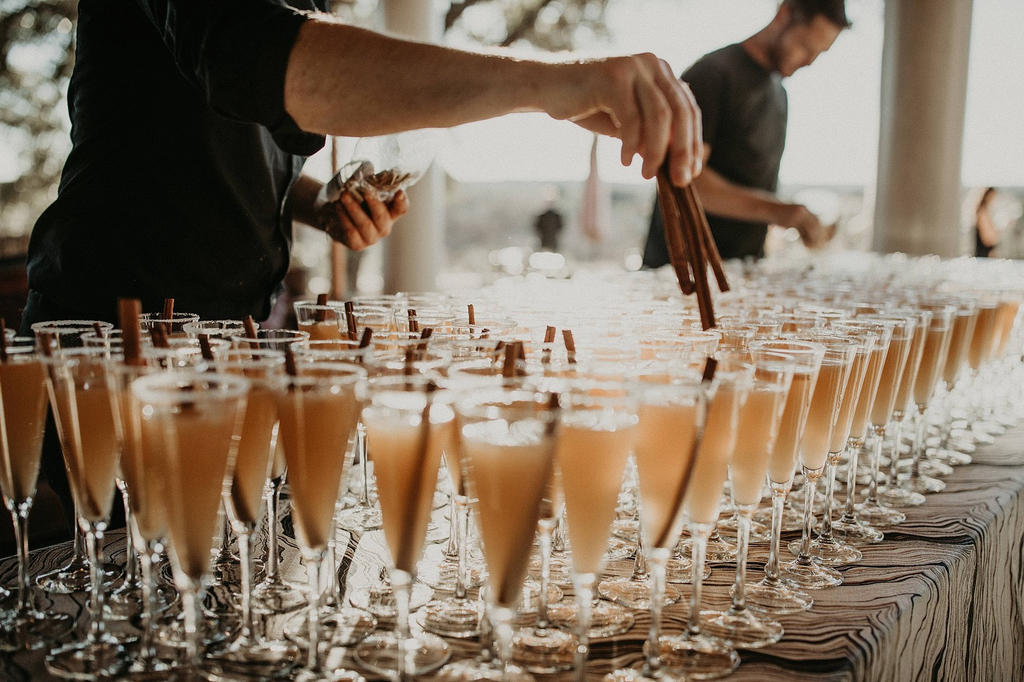 If a signature cocktail is more your style, there are endless options. One of our favorites is an Apple Cider Mojito. This pairs a seasonal favorite, apple cider, with an unexpected pop of fresh mint and spiced rum. If you're a little more traditional or a bourbon fan, a Maple Bourbon Old Fashion can be a great option. You simply make a traditional Bourbon Old Fashion adding a shot of pure maple syrup.
Small Bites
If you haven't tried a Pear, Brie, and Caramelized Onion Quesadilla, you don't know what you're missing! Sweet seasonal pear slices, creamy, rich brie, and the roasted flavor of caramelized onions blend together perfectly in a crunchy griddled flour tortilla.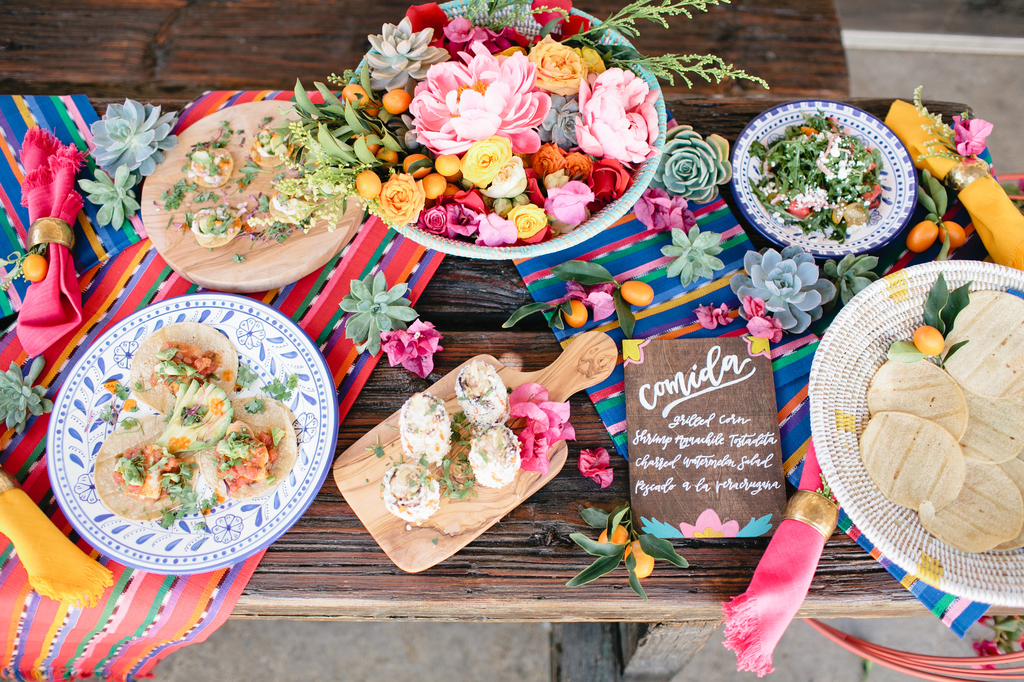 Corn might be one of the most iconic foods of fall. Bite-sized corn fritters combine light, fluffy fritters with the textures of corn. You can also incorporate smoky bacon or spicy peppers; they can be sprinkled with powdered sugar or served with a spicy dipping sauce.
Traditional tomato bruschetta is passed around at practically every cocktail reception. But, for the fall, tomatoes can easily be replaced with pears and pancetta, kale and white beans, or even butternut squash and apples.
Cheese Boards were made for fall! From full-flavored cheeses to cured and smoked meats, the options are endless. But, the addition of fruit and nut studded bread, pumpkin butter, or seasonal fruits ensure your cheese display is far from average.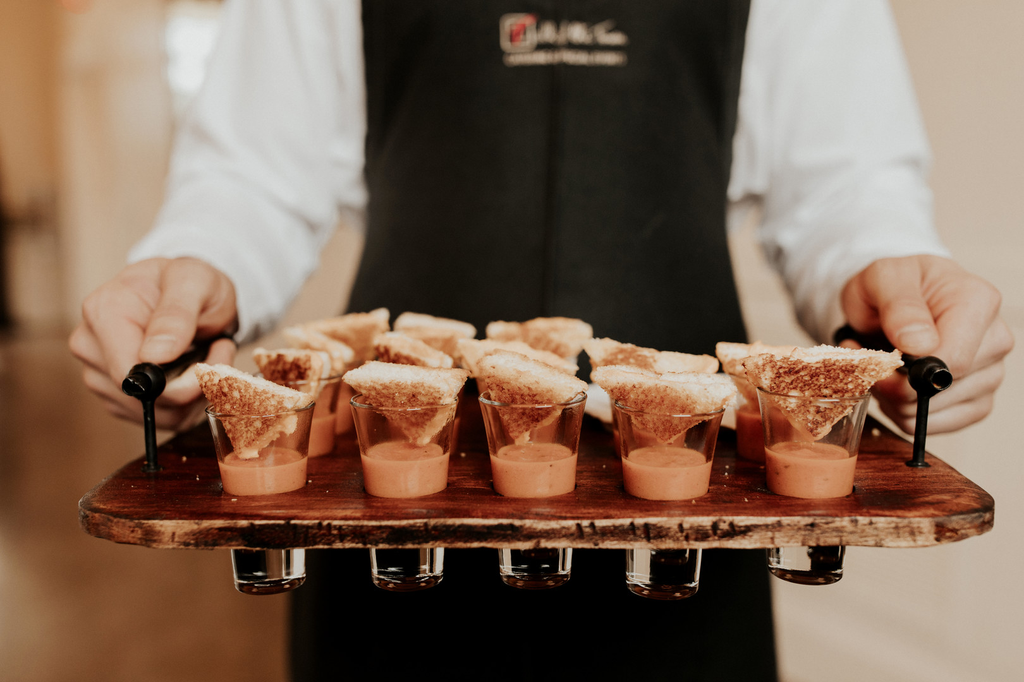 A crowd favorite is always soup shooters. Tomato soup with grilled cheese usually tops the list. Still, fall flavors like gingered carrot, or sage and butternut squash are a yummy alternative.
Salad
Nearly every wedding reception across the county includes a salad. Any of the soup shooters mentioned could make an excellent swap for a salad course, especially in colder climates. But, beyond that, simple baby greens or a caesar salad could get a touch of autumn with the addition of items like dried cranberries, spiced nuts, pomegranate, or blue cheese. Greens like arugula add a peppery punch, as do dressings like a tart apple cider vinaigrette or warm bacon dressing, which pairs well with a traditional spinach salad.
Main Course & Side Dishes
Pork is a great seasonal favorite for the main course. Pear chutney, roasted mushrooms, maple syrup, garlic and rosemary, and even course whole-grain mustard pair well with any number of protein selections.
Meat-eaters and vegetarians alike will love hearty autumn favorites like hand-cut pasta with roasted pumpkin, broccoli rabe, and toasted hazelnuts, or layered butternut squash lasagna and creamy risotto with any number of seasonal vegetables.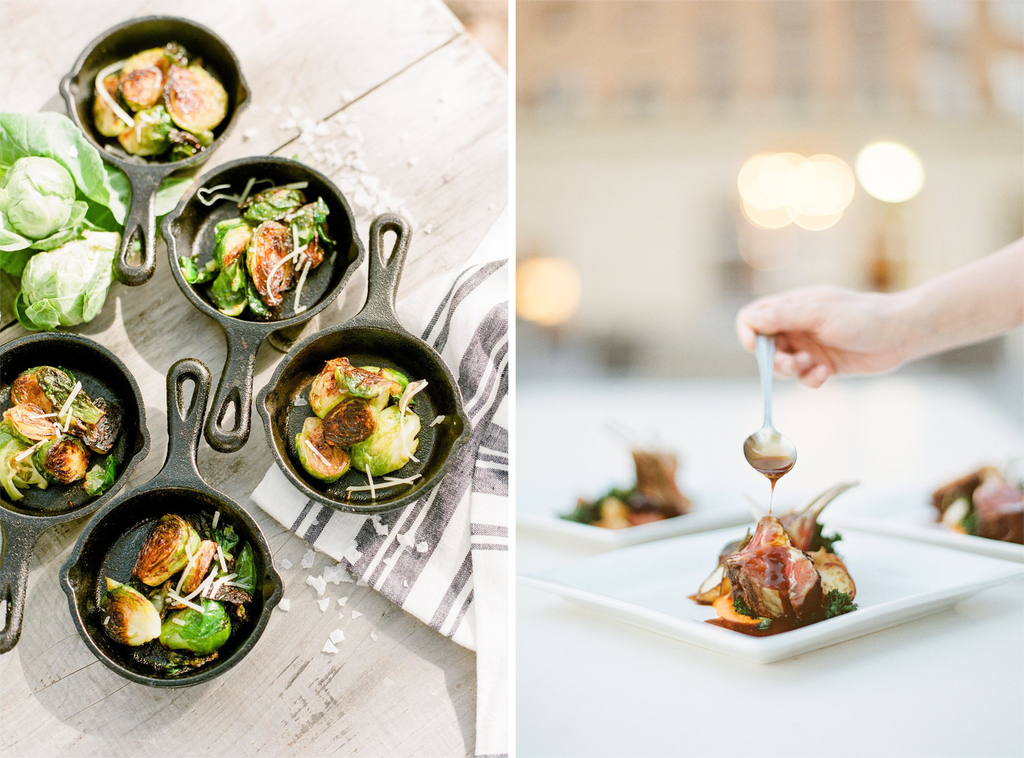 From simple roasted rainbow carrots to maple-glazed acorn squash, brussels sprouts, mashed sweet potatoes, and wild rice, the options for fall-inspired side dishes are never-ending.
Dessert
If you happen to be that rare breed that doesn't like cake, fall's got you covered. Nothing says fall like an apple or pumpkin pie. Honestly, cakes can get an autumn makeover, too—spice cake, carrot cake, and harvest-inspired fillings can make your cake a seasonal success. And, the options don't stop there! Donut walls with sweet apple cider or maple bacon donuts will surely be a crowd-pleaser.
Autumn harvests share an abundance of foods that can be incorporated into every aspect of your event. Whether you're planning a wedding, event, or want to put a twist on your family gathering, a little twist on the traditional will make for a fantastic feast!
---
Hero photo courtesy of Ariel Min Photography