Getting The Biggest Bang for Your Buck: Floral Edition
How to Get the Most out of your Mums and Meconopsis
Rightfully so, 99% of couples planning their wedding say flowers play an incredibly important role in their wedding décor. The costs of personal flowers for your family, aisle décor for your wedding ceremony, centerpieces for your cocktail reception and then dinner to follow can add up quickly. If you have not properly thought out flowers for your big day, it can break your bank.
So, how do you get the biggest bang for your buck? How do you invest wisely? Here are a few tips to keep in mind as you start counting pennies toward each and every petal:
Go With A Pro
Working with skilled professionals can actually be considerably more affordable than DIY. Have those (sometimes) hard and honest conversations with a florist and be open to creativity. Talk frankly about your budget, ask for recommendations to make it work and concentrate focal points where your eyes and those of your guests will be on most.

DIY Is Not Always The Way
On the surface, DIY looks less expensive. When you start drilling in, however, things can start to look a lot less rosy. And fast! With a florist, you see a proposal, followed by detailed invoice with line by line pricing and a big bottom line. When you choose to do it yourself, you'll inevitably start buying bits and pieces as you go and spending a little at a time. Over the course of your wedding planning and without the expertise of years of experience, those receipts can really add up. And, keep in mind that you're not only investing your time and energy in coming up with design ideas, shopping for supplies, putting everything together you're also at risk of taking precious time away from enjoying your wedding day to set it all up.
How Many?
Size matters, especially when it comes to your wedding flowers and budget. Everything grows exponentially! The more people you have in your wedding party, the more bouquets and boutonnieres you need. Likewise, the more wedding guests you invite the more centerpieces you need. When thinking of how many of those you want closest to you when you say "I do" to the family and friends you want to raise a glass to your future with, consider the impacts to your budget, especially with florals. The first way to get the Pinterest centerpiece of your dreams is to need fewer of them.
Focus
Beginning with your wedding ceremony, take a look at where all eyes will be and when, besides on you, of course! If budget is a concern and you are looking to make it go further invest in things that will make the biggest impact to most important views. Stand at the beginning of your wedding aisle and focus on where you will exchange your vows. Focus on enhancing the spaces approximately 4' on either side of each of you. Not only will the florals in this space create the dramatic and memorable impression you're looking for, but they'll also appear in all of your photos.
On the other hand, your guests will be spending a minimal amount of time during the cocktail reception. Fair to assume they'll be more focused on the conversation, cocktails and the tasty bites to eat your caterer designed for you. Consider whether you need those small vases on the cocktail tables or the festive rounds on the bar top. An investment in your reception tables centerpieces, where guests will spend three to four hours of their evening, will make a far greater impact.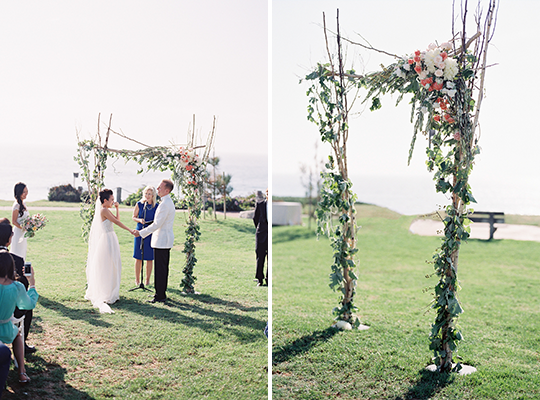 Let Me Call You Sweetheart
From a purely financial standpoint, a sweetheart table may be the best way to go for you and your fellow newlywed. Investing in a long head table and adding intricate décor can add up quickly. A sweetheart table can easily become a beautiful focus of attention at the front of the space. Dress it up with a luxurious linen to make it unique, add candles and - hint - repurpose your bouquet or ceremony flowers - and turn it into an affordable showstopper.
Reuse and Upcycle
Need a little enhancement to your ceremony structure? Pull those swags of flowers you might have used at your cocktail hour forward to your reception and make them part of your sweetheart table décor. Weather permitting, arrangements from your guest tables can begin their life as ceremony décor, accenting your aisle or flanking your ceremony structure. As we mentioned earlier, Repurposing your bouquet and those of your wedding party can also enhance your sweetheart table, gift or cake table.
Invest in flowers that will hold up well and arrangements that are easily moved if you plan on using for multiple purposes. Without a floral designer around, the last thing you want to ask your bridesmaids or groomsmen to be doing is figuring out how to rebuild those designs on the fly.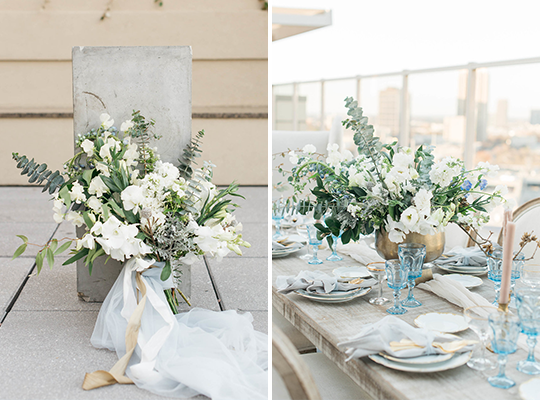 Prop It Up
Using props as part of your tablescape can also help stretch those dollars. From fun unique table numbers, to centerpieces designed in grand and unique vessels and side props the florists will likely want to take back, all help the budget for flowers go just that much further.
Stay Seasonal
Most people will tell you that almost all flowers are available all year round, from somewhere in the world. These days, with just about everything available to us at the push of a button on our mobile devices, this is true. But, it can come at a price.
Using local, seasonal flowers can definitely help your budget. More readily available and sometimes sourced from local or regional growers, you can find different flowers in the same colors or achieve similar designs using blooms at better prices when they're in season.
In the end, be honest with yourself about going DIY. If you decide to hire a florist, be sure to have open conversations with them about your ideas, your budget and try to trust in their expertise. Their reputations rely on their ability to help you have a beautiful wedding and keep you on budget, so they're just as invested in your business with them as you are in your beautiful wedding day.
---
Hero Photo Courtesy of Jenna Joseph Photography