Jewish Wedding Traditions With A Unique Twist
5 Ways to Add Personalization to the Age-Old Traditions
Jewish wedding traditions have been around for thousands of years, and truthfully, in that time, very little has changed. Today's Jewish couples, like any other couple getting married, are looking for personalization in their wedding. Personalizing your wedding reception is easy, from boho chic to rustic, traditions still blend easily. But, the wedding ceremony takes just a little more work.
Before The License
When it comes to a Badeken, or veiling ceremony, there is typically very little you can change. But, for the groom's Tisch, more and more speeches are being read from smartphones, and small-batch specialty whiskeys are replacing old standards.
Sign Here
As the family gathers for the signing of the ketubah, there is room for a lot more personalization. Ketubahs have become incredible works of art. Online offerings that reflect the couple's home décor and personal style are easy to find.
Pro Tip: Having a ketubah mounted on a rigid surface for displaying under the chuppah works best. However, be sure not to place it on the frame as the glass prevents the couple from signing.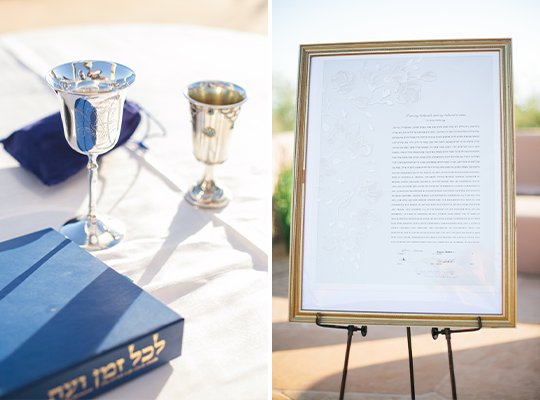 Under the Chuppah
Chuppah, which literally means covering in Hebrew, is probably the most recognizable element of a Jewish wedding. This is a portion of the wedding ceremony where very little is prescribed, unlike many other ritual elements. Chuppahs can be personalized much like a ketubah. Couples may honor senior relatives by using a family tallit, or prayer shawl. A handmade lace or macramé covering can add a touch of vintage styling. Many couples are choosing to work with a local artisan to design a personalized piece of art to be hung in their home after their wedding. From acrylic chuppah bases, to living trees or simple bamboo poles, there are as many possibilities for suspending the covering as there are couples being married. Chuppahs suspended from a ceiling add a fantastic modern styling and bring in a lot of personality.
Pro Tip: Early in the planning have a conversation regarding who will be standing under the chuppah with the officiant and the couple. Adding parents, grandparents, and the wedding party takes a considerable amount of space. Making this decision before working on the layout and décor selections will simplify the planning.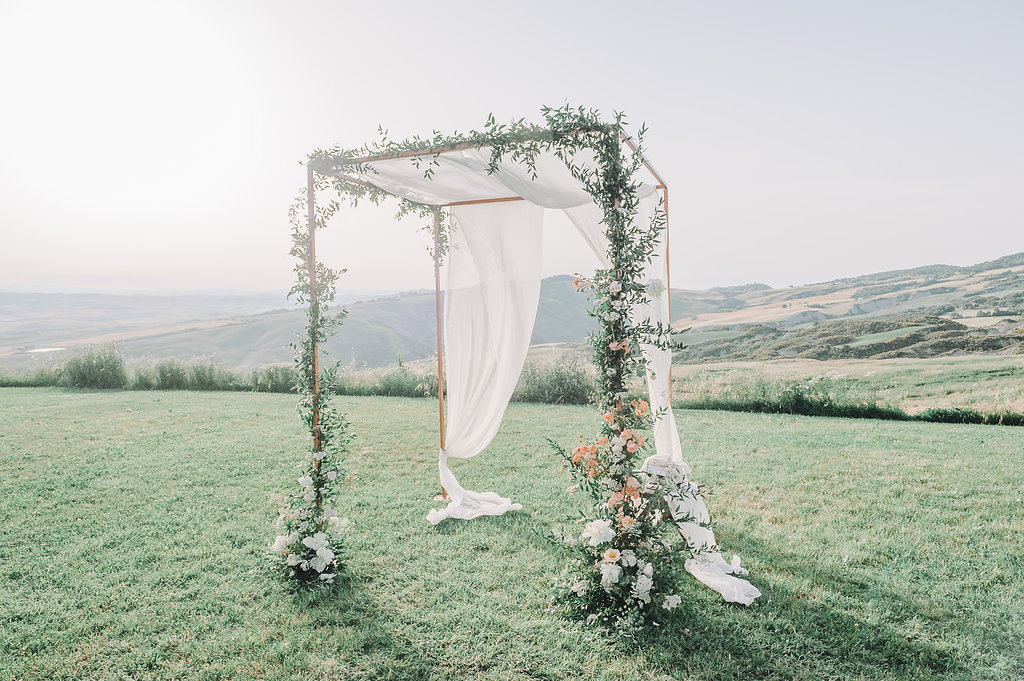 Seven Blessings
The Seven Blessings or Sheva Brachot is another area for personalization in a Jewish wedding ceremony. Modern Jewish couples are often opting to have members of their family or wedding guests take turns reading one of the blessings. This adds a little bit of personality and includes people who may not otherwise be part of the wedding day.
Mazel Tov!
Another very recognizable portion of a Jewish wedding is the groom stomping on a glass and everyone hollering "Mazel Tov!" This is another opportunity for personalization. There are dozens of options where the wedding glass can be fused into beautiful, personalized artwork. While creating a mezuzah is a more traditional option, fusing glass into sculptures, Kiddush cups, photo frames, and candlesticks have become more modern interpretations.
While a majority of the Jewish wedding ceremony is age-old and steeped in tradition, there is still a lot of room for personalization.
---
Hero Photo Courtesy of Tatyana Chaiko