Our Favorite Winter Wedding Invitations from Minted
Stunning Stationery for Snowy Affairs
When it comes to event design, nothing's quite as fun as choosing your stationery suite—it sets the tone for your entire affair (and, really, who doesn't love pretty paper?). Combine that with a winter wedding (our favorite!), and we're ready spend hours sorting through samples and fixating over fonts—with some hot cocoa in hand, of course. Today, then, we're offering up some seriously swoon-worthy winter wedding invitation inspiration from Minted, one of our favorite places to shop all-things pretty paper. Read on for our top picks from their stunning collection of winter wedding invitations . 
For the classic winter wedding. (Hello, timeless and chic.)
Nothing says wintertime like a wreath—and we love the super-sweet-meets-tres-chic vibe of these Wreath wedding invitations from Minted. They manage to convey a classic winter symbol while still remaining modern and clean. We love the idea of taking inspiration from these and creating an entire winter wedding aesthetic centered around an updated version of an old classic: chic metallic holiday wreaths. Pair this with classic serif fonts for an extra timeless touch. (Pro Tip: These invites in black with gold foil feel particularly wintery...and stunning).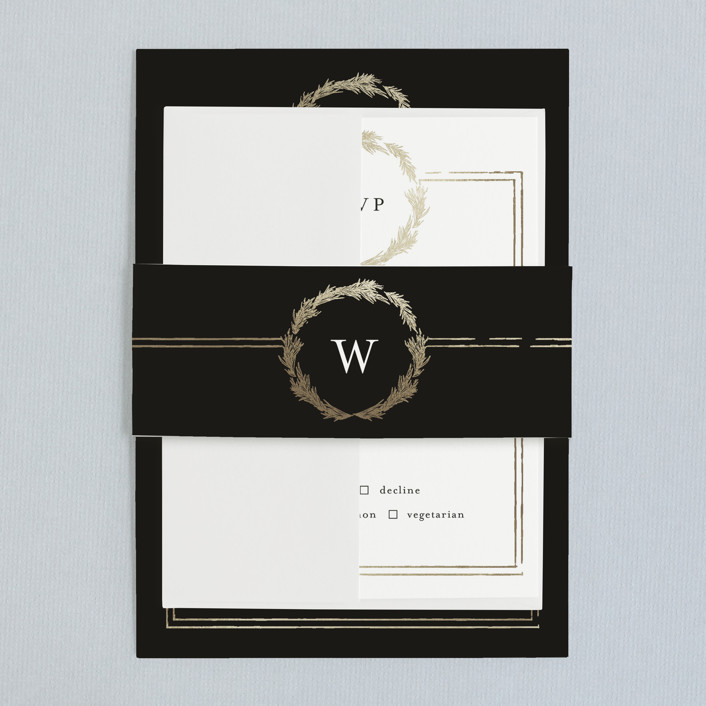 For the mountain winter wedding. (Did someone say cocoa in a cabin?)
As far as we're concerned, few things on Earth compare to a warm, welcoming, s'more-roasting mountain affair. If you're celebrating in the trees this winter, you might love these pine tree-inspired invites from Minted. They're perfect for everything from a chilly wedding in the snowy High Sierras to a far-away forested affair. We also love Minted's 'Blue Ridge' wedding invitations for a modern mountain winter wedding—the clean-lined design offers an updated take on a classic down-home cabin vibe.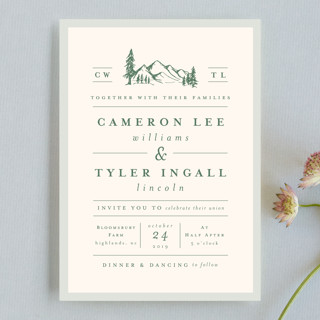 For the metallic winter wedding. (Celebrate with sparkle.)
Whether it's a pop of shine, or an entire palette of it, nothing feels more celebratory for a winter wedding than metallics. We're obsessed with these 'Ethereal Wash' wedding invitations from Minted for a snowy winter wedding. We love the idea of pairing sky-blue hues with decadent golds for an updated take on a winter palette—the warmth of the metallic works especially well to add a touch of something lavish to an icy color palette. We can see an entire wintertime wedding inspired by this dreamy combo of hues. We also love Minted's 'Modern Chevron' Foil-Pressed wedding invitations for a clean-lined winter wedding featuring an array of metallics (brass and bronze and silver, oh my!).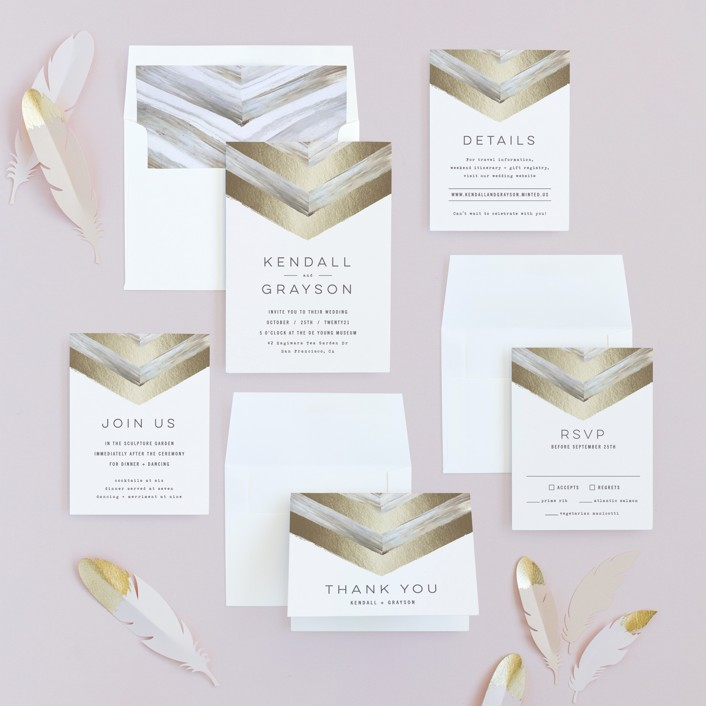 For the city-chic winter wedding. (Rooftops and cocktails, anyone?)
We love the aesthetic of both the 'My Type' letterpress wedding invitations from Minted as well as their 'Avenue' letterpress wedding invitations. Or, for the modern minimalist, we're obsessed with Minted's 'La Linge' letterpress invites. The clean, classic serif fonts—combined with the upgraded look and feel of letterpress—make for a perfect invitation for celebratory rooftop weddings and city-chic affairs. (Plus, in our eyes, winters weddings are all about decadence—and nothing says decadence like touchable texture on your stationery suite.) Letterpress or no letterpress, though, we love big, bold serif fonts paired with clean-lined designs for city-chic winter weddings—if you agree, you'll love Minted's foil pressed wedding invitations and their super fun 'Basically' wedding invitations.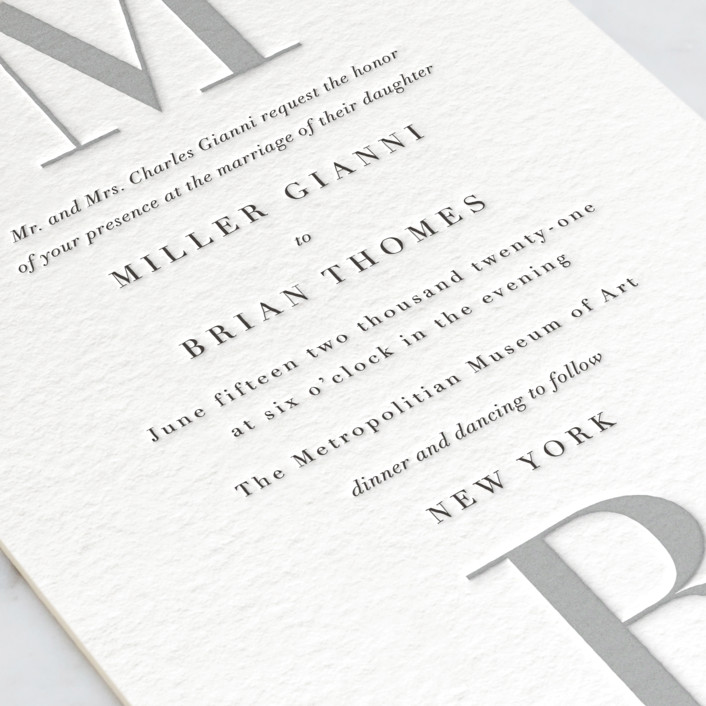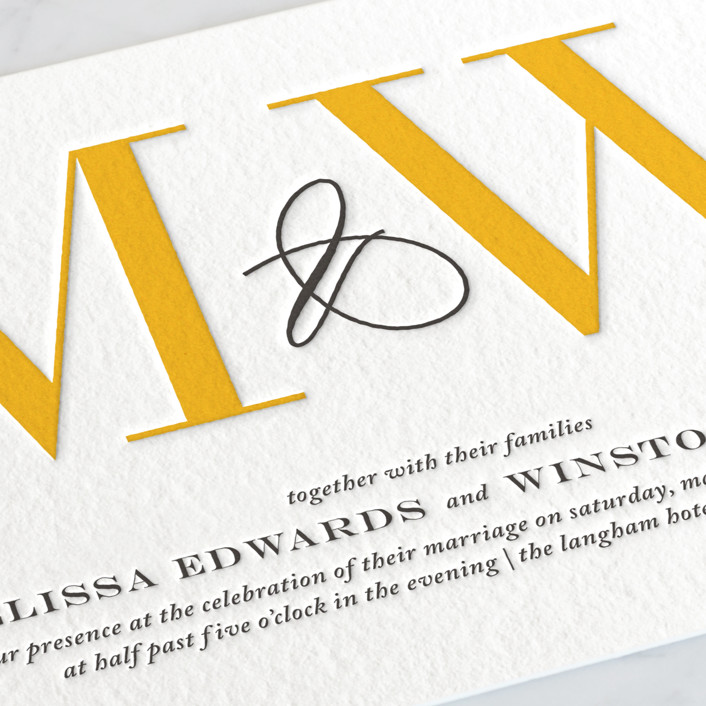 *In the spirit of full disclosure, this post contains affiliate links, which means we may get commissions if you decide to purchase anything from any of these companies. We only recommend products that we love ourselves and that we think you'll love, too.