Plated Dinner Service vs. Buffet—Which Is Right for You?
Know the Pros & Cons Before Making a Decision
One of the biggest discussions couples have around wedding planning is what will be served for the wedding reception. It's one of those family discussions where everyone feels very strongly about having a plated dinner service versus having a buffet. The wedding reception makes up between 48–52 percent of the average wedding budget. A lot of which will depend on your preference of food, liquor, and type of dinner service you decide upon. Read on for the pros and cons of each to help you choose which is right for you!
Buffets
One of the biggest misconceptions surrounding a buffet reception is that it's less expensive than a plated dinner. Typically, caterers need to plan for extra food to ensure that there's enough of everything for each person, even if they're taking multiple portions, which will up the costs. A buffet can be made more affordable by picking extremely inexpensive entrées. Pasta entrées and multiple vegetable side dishes can create a menu that would be less expensive than a steak, chicken, or fish entrée.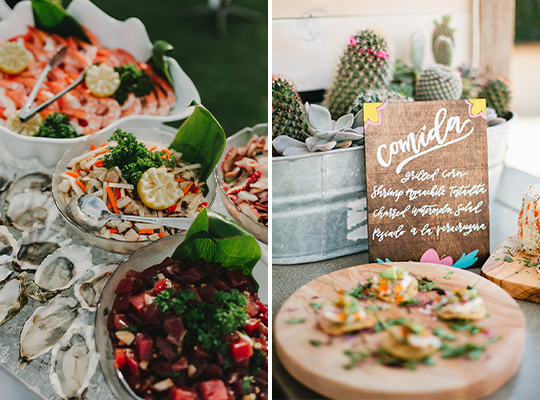 Consider the feel you want for your wedding reception. If you're looking for a reception where people are going to pack the dance floor, enjoy a photo booth, and party all night long, a buffet where service moves reasonably quickly with salad and entrées being served at the same time might be more your style.
A Plated Reception
If you're a foodie and want a more leisurely multicourse dinner, a plated dinner service might be a better fit for your reception. It allows your guests to select a specific entrée in advance, so they know what to expect. A plated entrée typically takes a little longer to serve and enjoy, often consisting of an appetizer or salad followed by an entrée and dessert.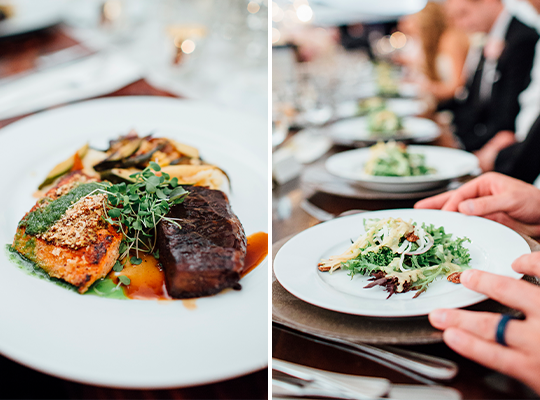 It might surprise some couples to know that often found when comparing the same protein for a plated reception versus buffet, the plated dinner service has proven to be less expensive. This is because caterers have a confirmed guest count and are able to control the number of portions of each item being served, therefore controlling their costs.
Mix Things Up
If you've looked at your style and preference but are still unsure about food service for your wedding reception, try mixing things up a bit! If a buffet is more your style and you want wedding guests to be able to get up and party, but you want a little more upscale feel, you have a few great options. Offering a pre-plated salad on tables or adding a chef attended action or carving station can dress up the guest experience while still giving them options to choose from.
Whether you're considering a plated or buffet reception, take a look at what elements of your wedding reception are most important to the two of you and build from there. Either way, your guests will surely have a wonderful time celebrating!
---
Hero Photo Courtesy Megan Welker