There's a question we hear all of the time from brides and grooms on a budget: Should you have a cocktail hour before your reception? A cocktail hour can act as a great bridge between your ceremony and reception, and it works to really set the mood for the rest of the event, but—from the cost to the logistics—it's one of the areas of a wedding that couples often consider doing away with. Today, then, we're breaking down a few scenarios to help you answer the ultimate age-old question: To cocktail or not to cocktail.
You should have a cocktail hour if…

You need time to take photos.
If you skipped the first look and need to spend a significant amount of time taking portraits and wedding-party photos, you'll definitely want to offer guests something to eat and drink while they wait. Cocktail hours are an absolute must for keeping the energy going while you're taking pictures. They also help ensure guests get a little food in their stomachs (and champagne to wash it down!). 
You need a buffer before dinner.
If your ceremony was earlier in the afternoon and it's way too early to head to dinner, a cocktail hour acts as a great buffer and helps buy you some time. If your cocktail hour outside, consider including some lawn or beach games to give guests something fun to do while they wait. Plus, games are a great way to encourage interaction between guests who don't know each other.
You just want a great cocktail hour!
Listen, planning a wedding should be all about what you want. If you love the idea of a great Bloody Mary bar and oyster station, or simply want your guests to enjoy another hour outside on the stunning beach before heading into your reception, then go ahead—plan the cocktail hour of your dreams.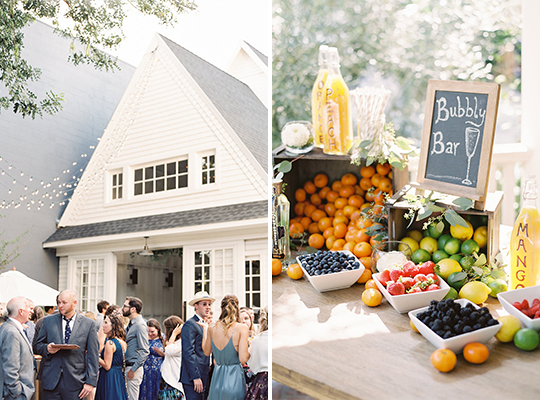 You can consider skipping or scaling back on cocktail hour if…

You're on a tight budget.
If you're on a tight budget and are looking for some places to cut costs, doing away with cocktail hour is an option. Keep in mind, though, if you're doing this, you should considering taking the majority of your photos beforehand so that guests aren't bored with nothing to eat or drink while they wait for you to take post-ceremony photos. PRO TIP: You can always scale back instead of skipping cocktail hour all together. Work with your bartenders or caterers to figure out a signature cocktail that feels celebratory but uses super inexpensive ingredients. Or, buy wine and beer in bulk and offer a pour-it-yourself option. Just be sure you have a wedding planner or coordinator who will transport, setup, and chill everything while you get ready for the ceremony.
You're on a tight timeline.
If your venue has serious time restrictions, then an extra hour for cocktail hour might not be in the cards for you. If you'd rather get the party started right away to maximize your time in the reception space, it's totally kosher to move guests straight from the ceremony into the reception. PRO TIP: If moving straight from ceremony to celebration feels abrupt, consider having a toast with your guests after you tie the knot, but before you head into the party. Have champagne service for guests at the very end of the ceremony as they're still in their seats, and give a short toast straight from the altar after you've said your I Do's.
---
Hero Photo Courtesy of Greg Finck