We tackle a lot of hard-hitting wedding planning questions on The Aisle Guide, but, today, we're tackling perhaps the hardest-hitting of them all: Should you wear a wedding veil? (Gasp!) If you're a bride to be who's going back-and-forth on this age-old question, read on for our complete breakdown of veil pros, cons, and some life-saving pro tips!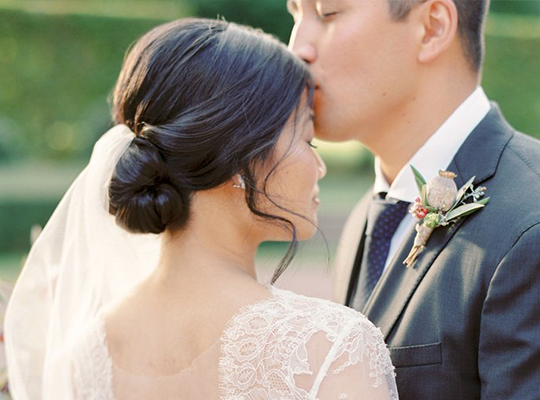 To Veil (Pros): 
It's iconic "bridal." Nothing says "I'm getting married" more than a veil. While there may be other occasions in your life to rock a white gown or a stunning crystal headpiece, there likely won't be one other time when wearing a veil will be appropriate. The number-one wardrobe complaint we hear post-nuptials from brides who decided to skip a veil is, "I wish I'd worn a veil!" Even brides who haven't dreamed of getting married their entire lives or have a more edgy fashion sense can sometimes end up regretting their choice not to rock this classic wedding-day accessory. 
It can complete a look. If your bridal gown is super simple, and you feel it just needs a little something extra, a veil can be the perfect accessory to tie your wedding-day digs together.
It makes for stunning photos. We've all seen those Pinterest-worthy images where a bride's veil is blowing in the wind, creating a dreamy, gauzy, drool-worthy scene. Whether it's trailing behind you in the sunset as you and your new spouse run down the beach in pure wedded bliss, or wrapped around your bare shoulders as you embrace, bridal veils often make for super stunning photo opps.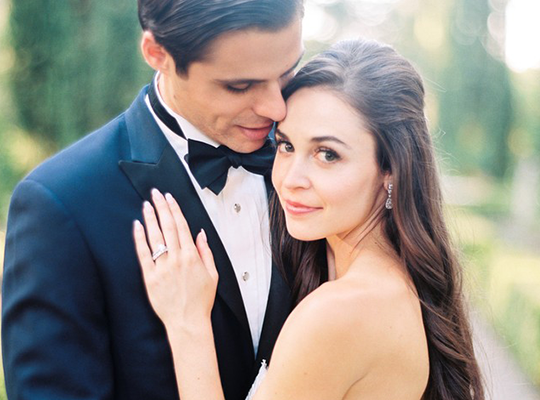 Not to Veil (Cons):
Windy weather can be a nightmare. If you're saying I Do in windy weather, a veil can be a serious hindrance. We've all seen brides who are forced to fuss with an unruly veil as they walk down the aisle—and this can make for less-than-ideal ceremony shots. (Getting married outside and still dead-set on rocking a veil? Check out our pro tips on veil weights below!)
It can be fussy. Consider what else you've got going on in your wedding-day digs. If you're rocking big pieces of jewelry, they can often (and easily) get caught in the fabric of your veil. The last thing you want is to go to tuck your hair behind your ear during the ceremony only to have your dainty diamond bracelet get caught in your veil.
It can compete with a busy gown. Some gowns can steal the spotlight all on their own, and you don't want to take away from that by adding a veil to a look that doesn't need one. Even the simplest of veils are often enough to overpower an intricate wedding gown. If you fell in love with your wedding gown because of the beading on the upper back, it probably doesn't make sense to opt for a veil that covers that. If you're not sure if a veil will overpower your gown or not, bring your dress to a bridal salon and try a few different veil options on.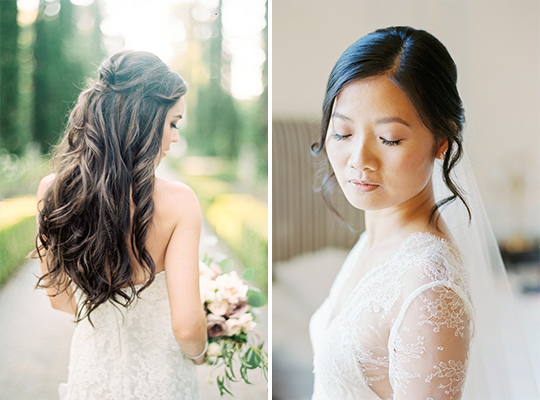 Tips From The Pros
Bring your veil with you to your hair trial. Going through a "mockup" of your bridal hair is super important (more on the importance of wedding-day mockups here). If you're planning on rocking a veil on your Big Day, be sure you bring your veil with you to your hair consultation and have your stylist pin it into your completed hair style as she would on the day of. You may find that you need to lower the placement of your updo or add a crystal headband over the top to get the completed look just right.
Be prepared with veil weights for outdoor ceremonies. If you're saying I Do outdoors, make sure you have your wedding planner or a member of your wedding party bring magnetic veil weights with them on the day-of (you can find these on Amazon, at a craft store, or can even make your own). That way, you can attach these ingenious accessories to your veil if it turns out it's looking like windy weather is on the horizon.
Make sure it's pinned in by a pro. Your hair stylist should know just how to pin in your veil so it holds tight for the ceremony yet is easy to remove for the reception without messing up your overall hair style. Most stylists will offer the option to stay on site through the ceremony for any necessary hair or makeup touch-ups for an additional fee. If you're worried about getting your veil out before your reception without messing up your hair, you may want to opt for this option.
Opt for a veil alternative if you're not ready to commit. Just not sure about the whole idea of a veil? We're all about the idea of rocking one of these bridal veil alternatives instead for brides who want to add a little something extra to their look without having to commit to a full-on bridal veil.