The definition of what it means to elope is constantly evolving over time. Elopements are no longer for simply marrying in haste for lack of familial approval—although that's still a valid motivation. Eloping can be an adventurous, romantic, and intimate alternative to a traditional wedding, especially during this time of the pandemic.
When choosing to elope it's vital to learn about each state or country's marriage license laws and protocol. We've rounded up ten of the most dreamy locations to elope, making sure you and your spouse never forget the daring and magical moments you'll make on your special day.
---
1. Among the Red Rocks
For a more rustic theme, and breathtaking views of colorful mountains under the vast sky, consider a red rock location for your elopement. Grand Canyon's Horseshoe Bend is a location for the more adventurous, allowing couples to wed on a 1,000-foot cliff in the desert. Moab, Utah, and Cathedral Rock in Sedona, Arizona also offer locations that contain their own unique Southwestern energy and beauty. Just be sure to secure a permit for a wedding outdoors.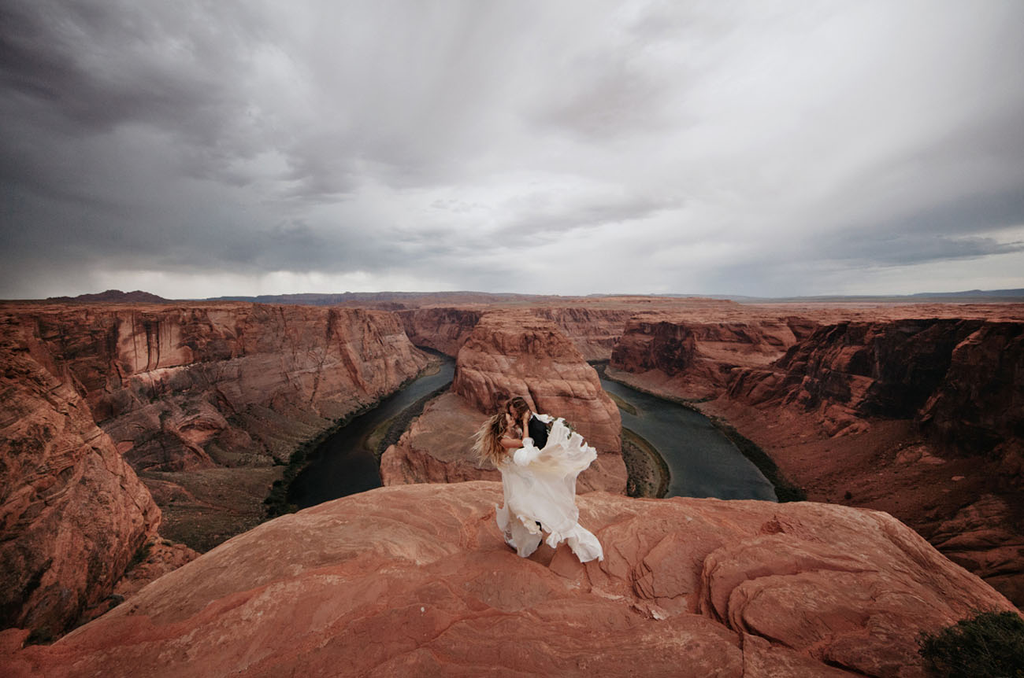 2. On a Sandy Beach
Marry in the sand and run into the water to celebrate! A beach elopement may seem like a cliché destination wedding idea, but it's cliché for a reason. Hawaii's Big Island contains 11 of the 13 climate zones in the world, so whether you choose to wed on a cliffside in Maui, amongst a mountain range in Oahu, or with your toes curled in the black sand of Punalu'u Beach between Pāhala and Nāʻālehu—you're in for a treat. Either way, a beach elopement can be whatever you want it to be—simple and homegrown or adventurous and daring. The sky or the ocean is the limit! 
3. An Island Locale
Another elopement idea sometimes located near the water is an island elopement. True wanderers may consider sealing the deal while frolicking in the lush, rolling hills of the Fijian Highlands, or while riding an elephant in the tropics of Bali. Jamaica is full of resorts who can provide an exceptional elopement as well. Never rule out a wedding location that works as both a setting for your nuptials and the honeymoon! 

4. At a Waterfall
Going for a more homespun hipster vibe? Consider getting married near the now Instagram-famous Blue Lagoon in Iceland. A land known for its waterfalls, geysers, fjords, and moss-filled canyons, Iceland is the perfect destination for picturesquely gorgeous elopement. A ceremony in Fjaorargljufur with cascading waters as a backdrop could lead to a hike down the mossy hills and some exciting honeymoon escapades at the Blue Lagoon. Be sure to book transport accordingly as sometimes various locales are a bit further than you may initially think.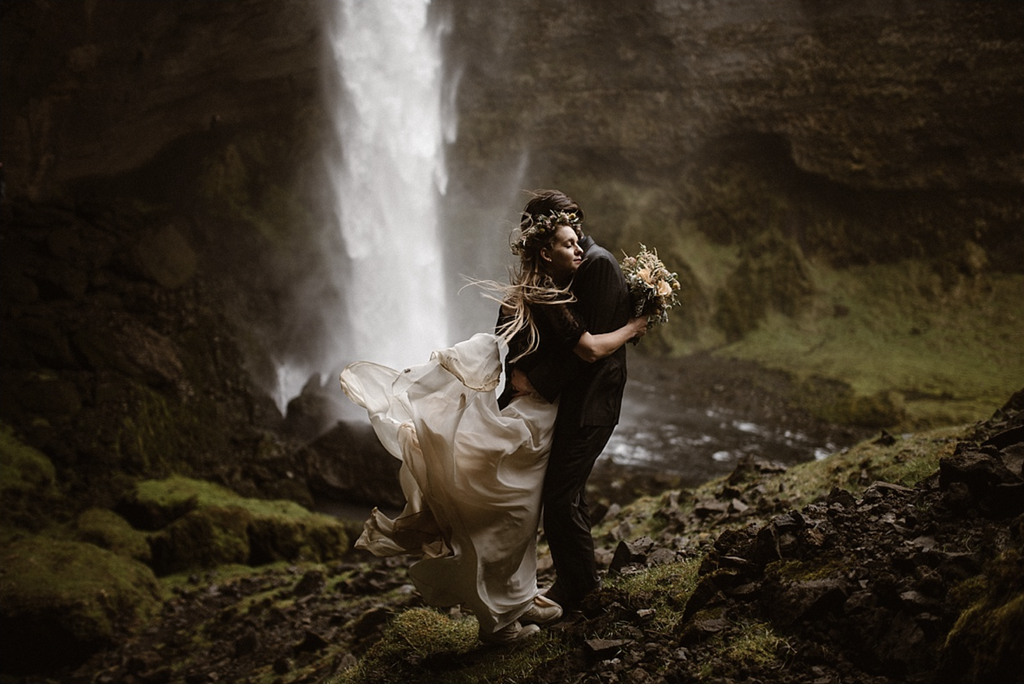 5. Distant in the Desert
Nature is your venue now. Some deserts are full of sandy slopes, while others may be dotted with cacti and plateau formations. Make sure your attire is fitting with the location. The El Dorado Dry Lake Bed in Nevada is a great option for the expansive sky and land formations. Joshua Tree National Park in California is also a popular location full of cacti and excellently rustic Airbnb options. Featuring some and magical night skies this location may be perfect for your bohemian or Old Hollywood style elopement. For a sandier option consider the breathtaking dunes of the Arabian Nights Village in Abu Dhabi.
6. Up in a Treehouse
If you and your spouse are up for a little travel, and a little whimsy, consider a wedding in a treehouse. For a specifically "fairytale" setting consider TreeHouse Point in the Pacific Northwest founded by Pete and Judy Nelson. With their feature treehouse being the Temple of the Blue Moon, you're sure in for a whimsical family affair. During the pandemic, they've followed specific CDC and WHO guidelines so their guests can continue to have a magical stay in the woods. 
7. On a Boat
When the moon hits your eye like a big pizza pie, that's amore! An elopement on a gondola is just as magical as it is chic. Whether it's on the waters of Naples Long Beach, California, or in the canals of Paris, this wedding on the water is sure to make some wonderful memories. Scenic shoreline views and gratuitous florals can make any boat elopement a classy and intimate affair—just make sure that everything's onboard before sailing away. Ensuring your destination has some type of sentimental value is key in choosing an awesome place to elope.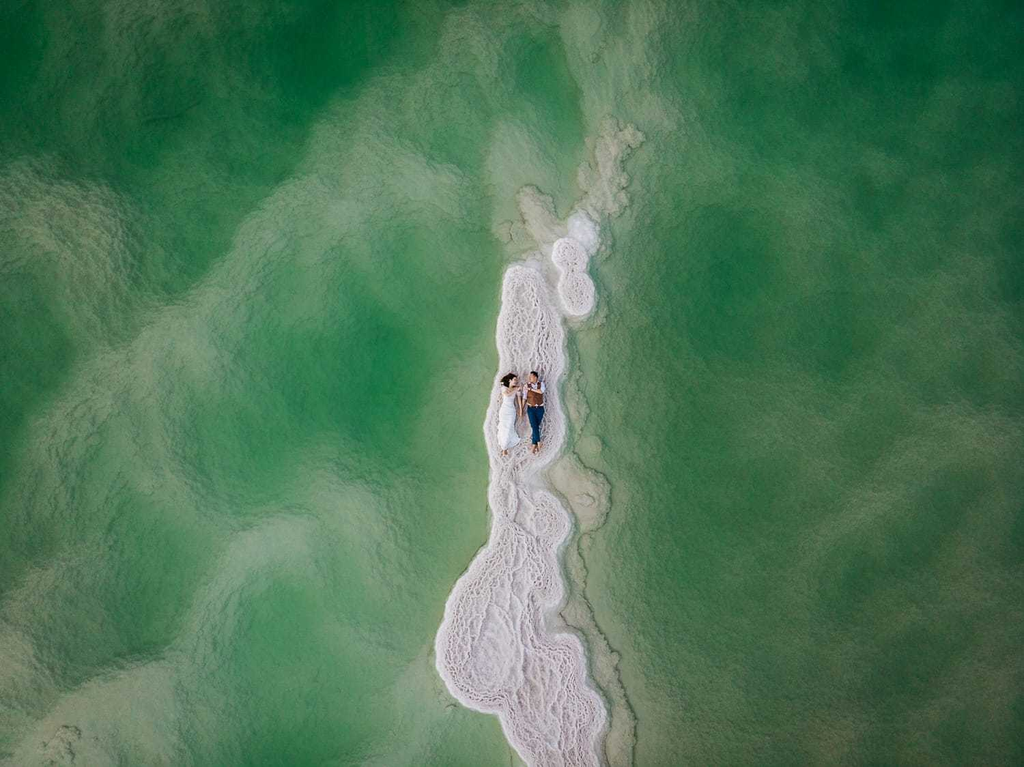 8. Hidden Away in the Trees
The foggy forests of Orcas Island are a moody and modern location for an elopement. With the fog rolling in on the eerie hills, old barns, and a true rustic bohemian ambiance the Washington adjacent location is homegrown, yet arrestingly gorgeous. Another tree-filled location is California's Sequoia National Park. Surrounded by giant ancient greenery, it's perfect for any campy or modern elopement. The diversity in topography makes Sequoia's giant granite slabs, meadows, and mountain views perfect for a post-nuptial photo shoot.
9. On a Lake
Ever thought about eloping seaside, or on a lake? Any of the Great Lakes or Lake Tahoe will do, but if you're looking to get really adventurous try eloping on the Sea of Galilee, or the Salt Flats of Bolivia for a bolder and more unique photo opp. Either way, any lakeside elopement is sure to be stunning. Be sure to check the weather and permit restrictions when planning a lakeside elopement.
10. In an Ice Cave
Let it go and sail into the unknown with an elopement inside of an ice cave! Whether it's the Big Four Ice Caves in Washington or Gljúfrabúi, Iceland a hidden waterfall inside a cave that looks like something straight out of the Disney film Frozen, an ice cave elopement is one of the wildest ideas out there. You may have to hike quite a ways in snow boots and other warming gear to get to these locales, but it's worth it for the stunning interiors of these caves.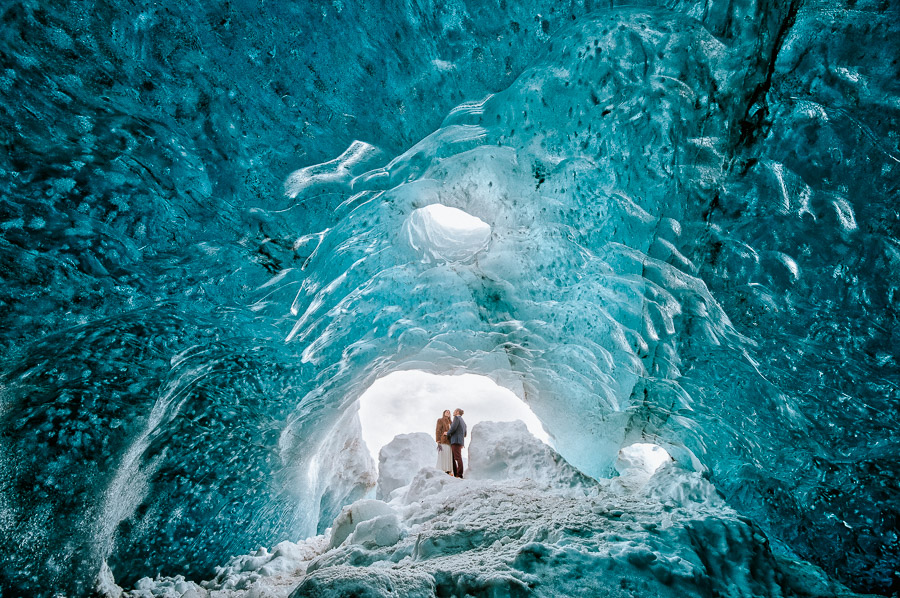 ---
Hero photo courtesy of Loft Studio