One of the things we absolutely love about the uprise of personalization at weddings (aside from the major upgrades we're seeing when it comes to food—goodbye, bland banquet dinners!) is the rise of out-of-the-box entertainment. From live sketch artists to surprise Bollywood dances, the bad DJ and dreaded electric slide of the past are being replaced with endlessly interactive, unique wedding ideas. Today, we sat down with Kate Swee of San Francisco and Los Angeles-based Entire Productions to talk her top four unexpected wedding entertainment ideas.
1. Paint by Numbers
When it comes to unique wedding ideas, I always love having live painting at weddings—this can be a wonderful moment for guests to peek at, and an incredible piece of art for the bride and groom to have following their special day. To make it even more special, we oftentimes suggest our clients opt for a "Paint By Numbers" interactive experience; the artist will sketch out an image outline prior to the event, and can guide the guests to contribute to the painting during the reception! That way, you still get a wonderful work of art, but one that all of your guests have had their hands on. Think of it as an updated take on a guestbook—such a personal experience!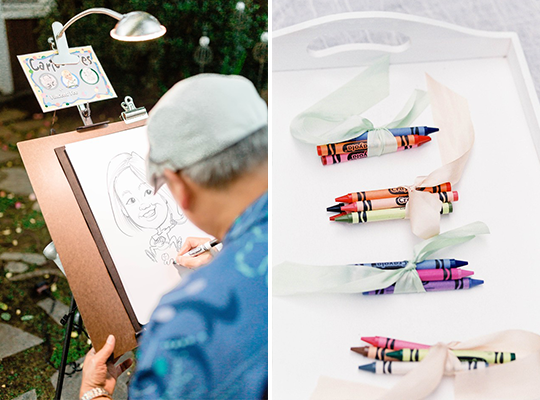 2. Live Sketches
Standard photo booths definitely had their moment—but I'd say, because of their rapid rise to popularity, they're starting to be on their way out. We're now finding that more and more couples are requesting things like live sketches instead. This could mean having a caricaturist or even a fashion sketch artist draw your guests in lieu of a typical photo booth experience. This will create an entertaining space your guests will want to flock to, and it will offer them something unique (and more special than a typical four-photo strip) to take home.
3. Unique Photo Opportunities
We're also seeing a rise in unique photo experiences—think: an Airstream "photo lounge" or refurbished Volkswagen Van photo bus in place of the typical photo booth you've seen a million times. I especially love that these updated takes on the classic photo booth add a little something aesthetic-wise to your overall event. Imagine photos of you and your spouse in front of a super hip Airstream trailer or VW van. In a way, photo experiences like these serve a dual purpose—they act as a photo booth for your guests and add a little something extra, decor-wise, to your event.

4. Surprise Performances
Last but not least, we're currently receiving lots of fun requests for surprise dances and activations (think: custom flash mobs, a full-on "Love Actually" strings/horns/flutes/gospel choir reenactment, surprise Bollywood performances followed by groomsmen/bridesmaids "dance-off contests," an interactive belly dancer). You name it, it's possible! Recently, we had a groom with 12 groomsmen (yes, you read that right!) who wanted to surprise his bride with a dance for their reception but had no clue as to how to get this started. Thankfully, we were able to set him up with a choreographer, dance lessons for him and his buddies, and a step-by-step tutorial video—our artists will even travel onsite the day before the wedding for a last-minute rehearsal! I can't wait to see that come together.
---
Hero Photo Courtesy of Kerry Jeanne Photography