Want to celebrate your nuptials with pride? Get married in the midst of some multicolor magic by embracing a rainbow theme and celebrate your love in a whimsical way. As Pride Month comes to an end, we're remembering that love is love all year round by highlighting some gorgeous rainbow wedding inspiration.      
An All-Inclusive Invitation Suite
Help set the tone and let your wedding guests know that they're in for a beautiful ride. Rainbow themed invitations are an excellent way to be creative with your wedding theme. Consider matching your invite suite colors with your wedding website's theme and colors as well for cohesive and clear branding.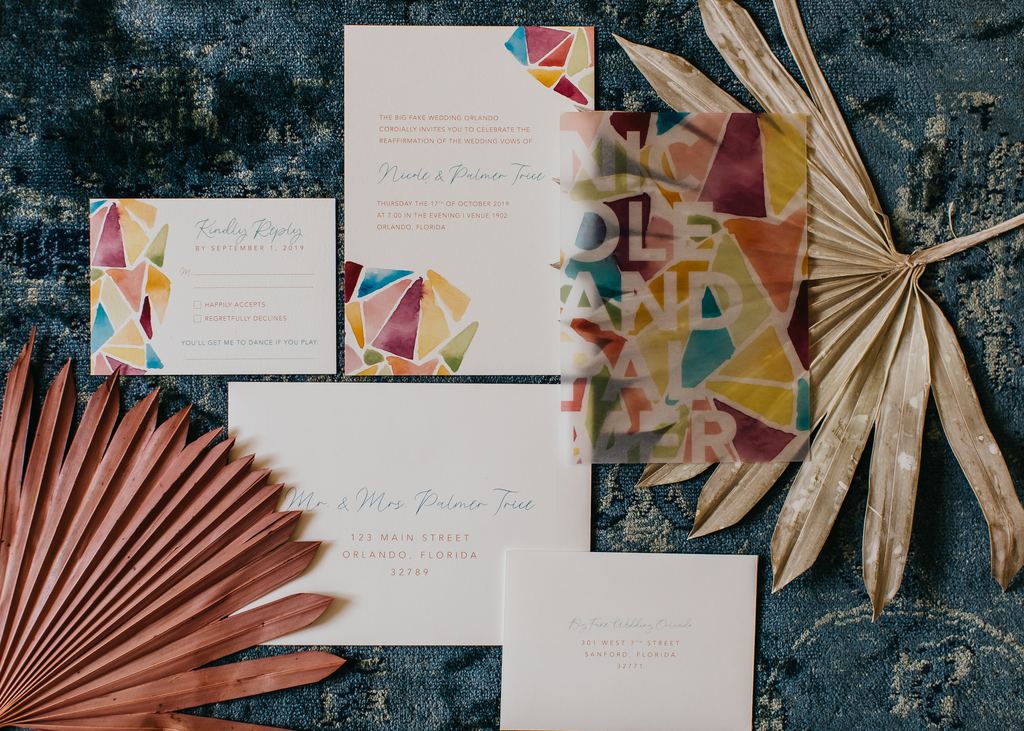 Bold & Bursting Balloons
Whether you're trying to dress up an altar where vows will be read or you're looking for a great way to spice up a reception venue, balloons are a great way to infuse some whimsy into your wedding day. Going along with the rainbow theme, dress a balloon arch or bouquet up with bells, whistles, special ribbons, and any other trinkets that match the theme of your celebration!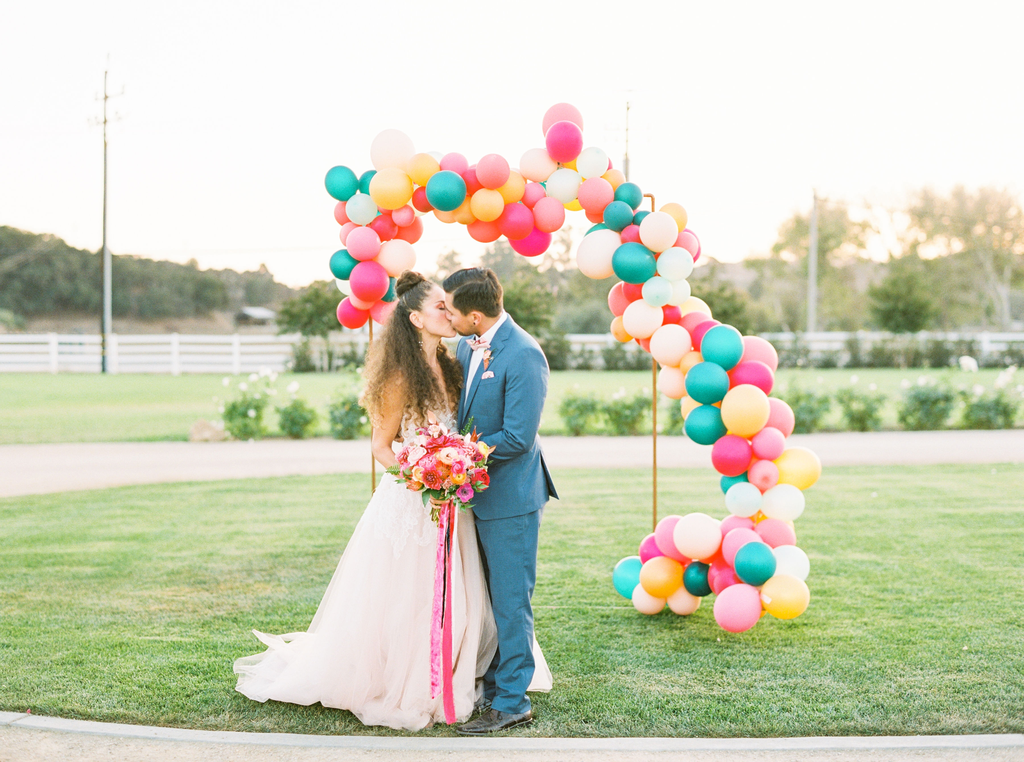 Fabulous Foods
From cake to charcuterie boards, the ideas for rainbow food inspiration are almost endless. Whether you and your spouse have a sweet tooth or not, from a color-filled candy bar to rainbow inspired entrées, there's something out there for you! When thinking about a rainbow wedding cake, if you're not so inclined to go bold or go home, consider getting your cake frosted in a simpler buttercream or fondant design with a multi color interior for a surprise to your guests.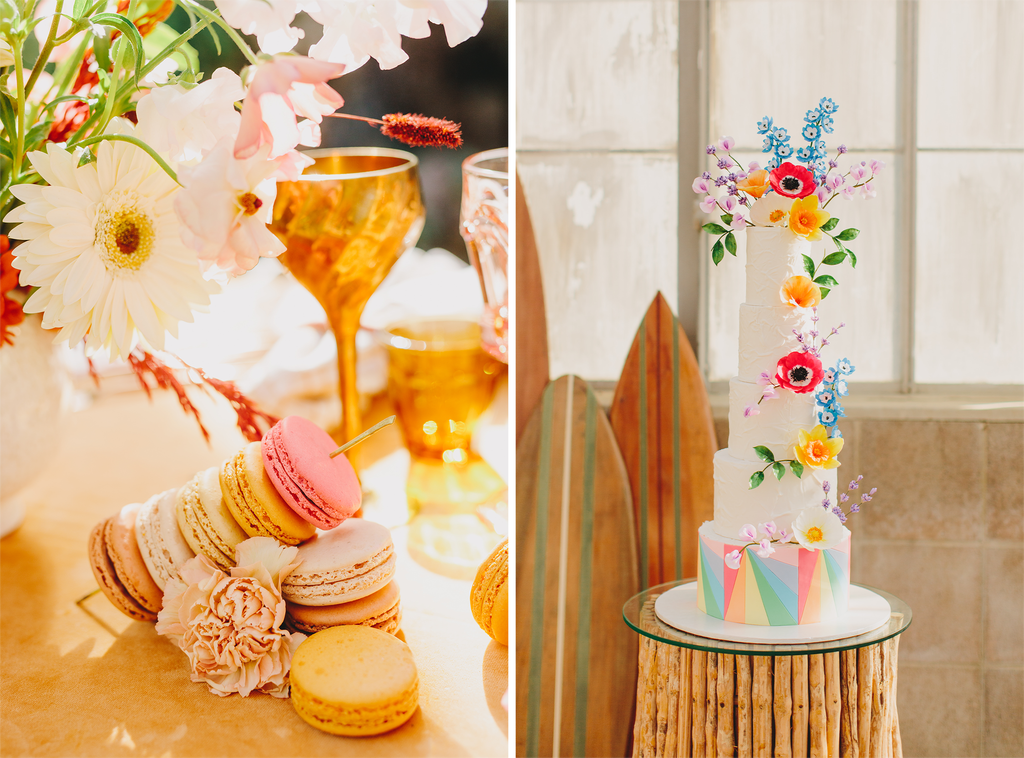 Eat & Drink With Pride
Create an unforgettable sweetheart table with a magical rainbow backdrop, or use linens, balloons, or flowers to help it stand out. Hang rainbow banners above your reception hall for a continuous colorful flare. Also, punch up the party with featured rainbow colors for tablecloths or table runners and place settings.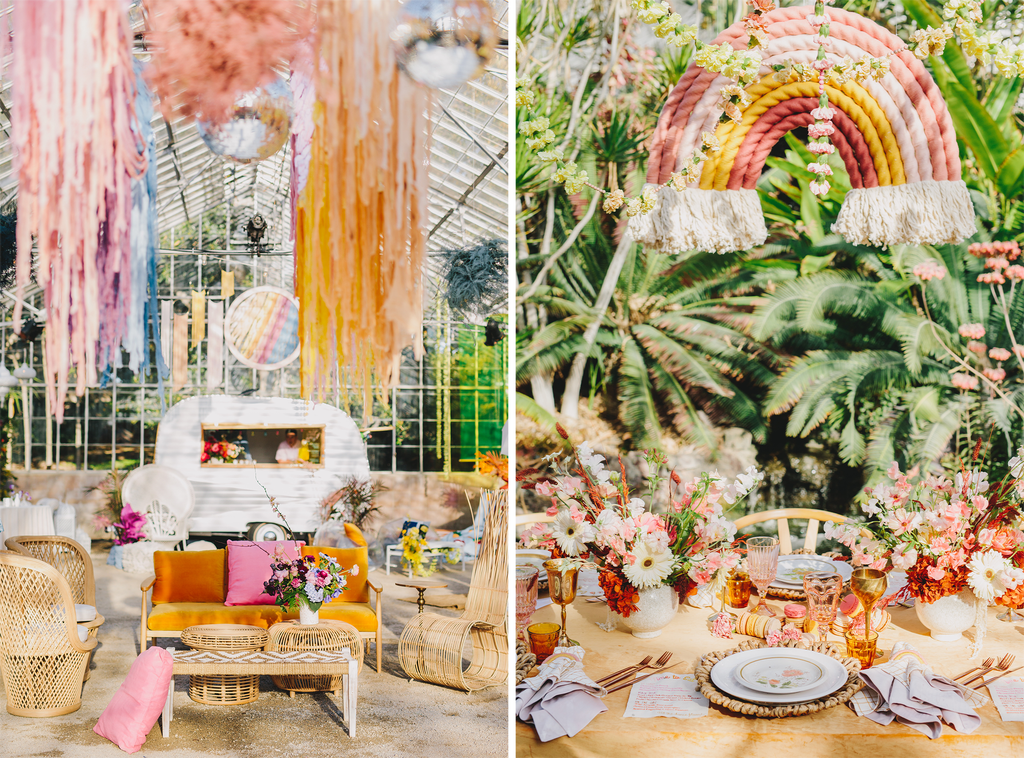 Fanciful Florals
Boost your bouquet game by carrying a multicolor floral arrangement down the aisle. Hand dyed blooms or a muted and natural gathering of colorful flowers can make for an outstanding wedding accessory. You won't want to throw it away, but the lucky person who does catch the bouquet will be forever grateful.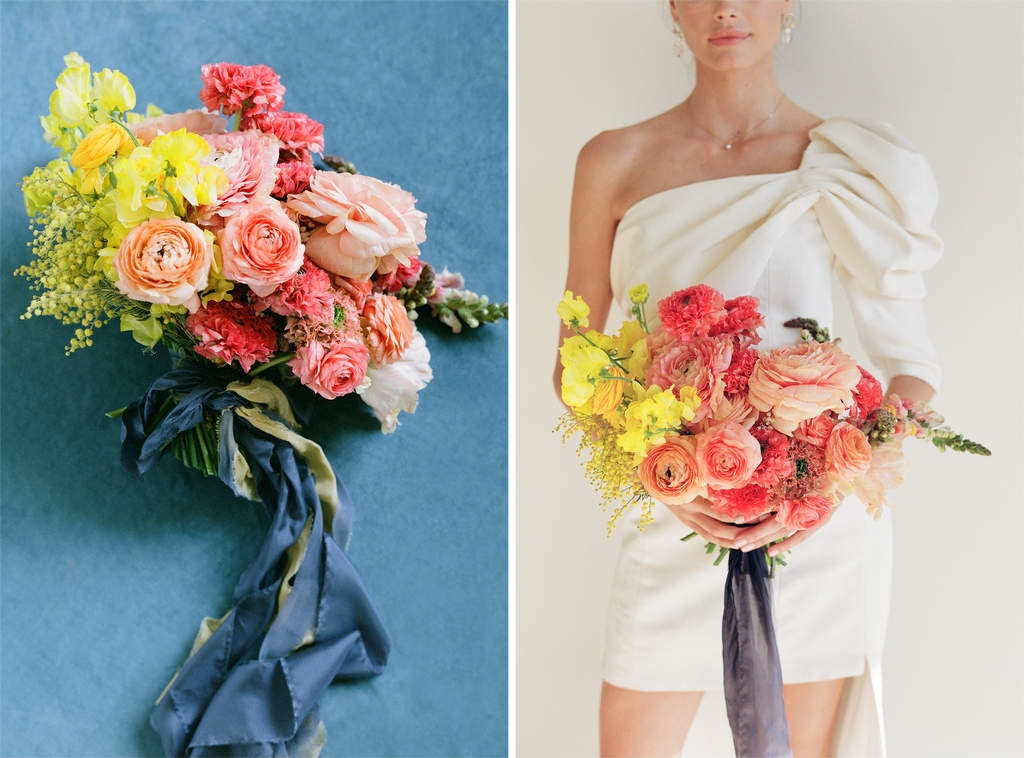 The Rainbow Dress
Breaking tradition has never been as fun as donning a rainbow wedding dress or even rainbow suit. If wearing a full rainbow just doesn't fit your aesthetic, consider wearing a dress that prominently features one bold color like an ombré salmon, pink, magenta, blue, or even lilac. If you're just in love with the traditional white, you can wear rainbow themed accessories such as rainbow speckled heels, a rainbow tie, or consider having your wedding party dress up in a rainbow of colors instead!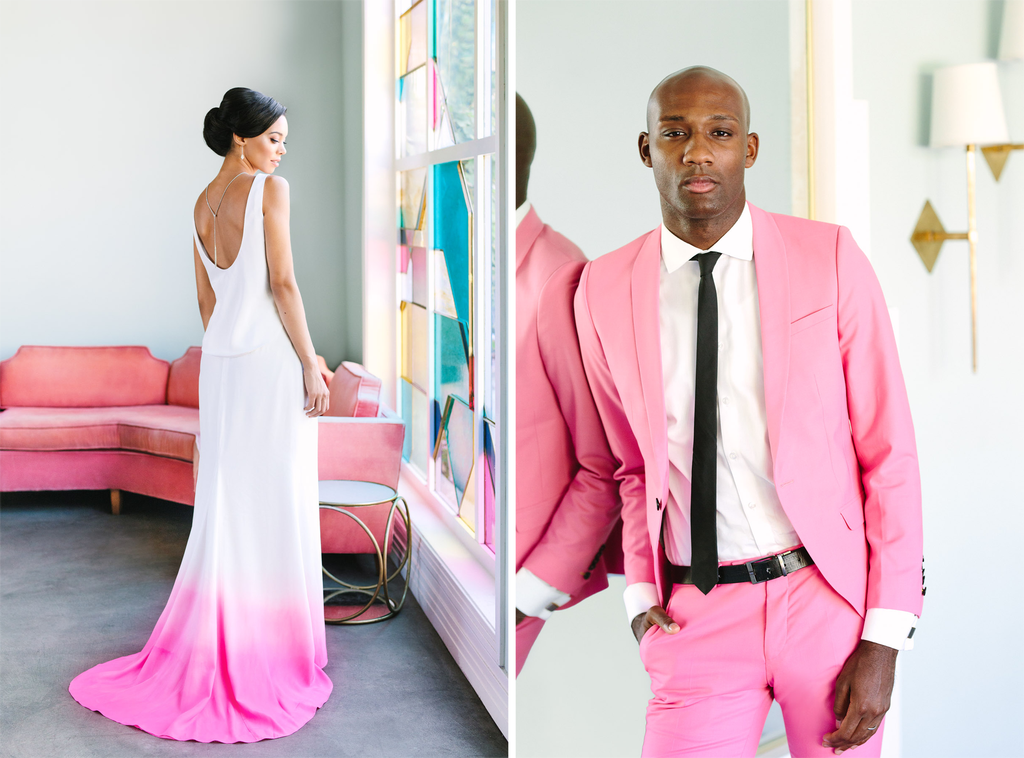 Fireworks, Color Bombs, & Confetti
Walk out with a bang! End your rainbow themed wedding in absolute style and splendor with some multicolored fireworks or rainbow smoke bombs! You could also consider rainbow confetti, colored rice, or flower petals to have your guests send you off after you've sealed the deal with your awesome new partner.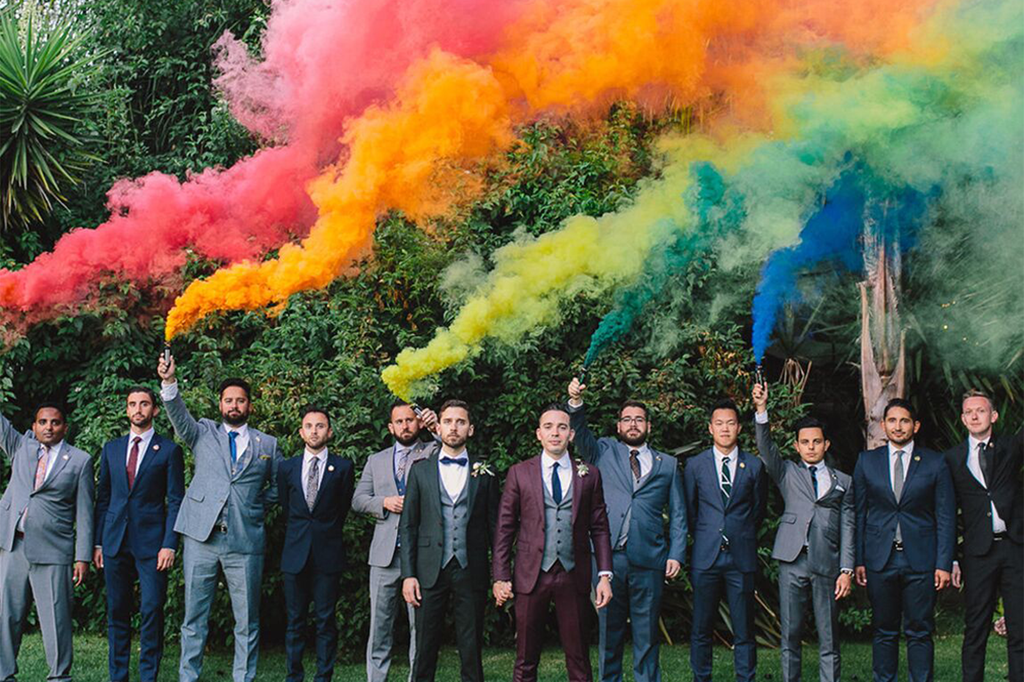 ---
Hero photo courtesy of Alexandria Monette & Jake + Necia