Your grandmother's "standard size" wedding invitations in white, ecru and cream with basic black print are quickly becoming a thing of the past.
In 2019 wedding stationery has taken a turn toward bold, contemporary and innovative. Beginning with Save The Date cards and continuing through wedding invitations, programs and menu cards, it's all about you and reflecting your personality through your choices of wedding stationery.
Go Bold
Wedding invitation in bold, beautiful colors that infuse the color story of other wedding details are on trend.
Weddings have moved beyond white stock and white envelopes with just a touch of color in the font into beautiful jewel tones, pastels and watercolors.
Colors that will be carried though bouquets, linen, centerpieces and even a couples wedding cake are all starting with wedding invitations.
All The Shimmers
Infusing wedding invitations with shimmering gold leaf and other metallics is incorporating brightness and another dimension of color.
This goes way beyond gold lettering or a gold liner in the envelope; metallics especially in geometric designs and graphic prints, which are all the rage, have become a major component in many contemporary wedding invitations.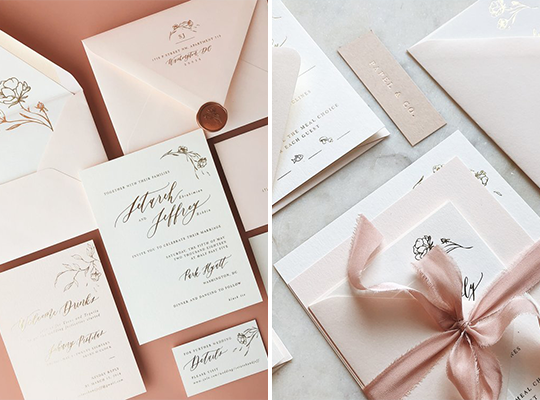 Personal Branding
Personal branding has gone way beyond monogramming with curly fonts and interlocking letters. We have seen branding taking on the form of personal logos and modern family crests. Infusing family pets, personal styling and modern colors and fonts have stepped to the forefront.
Slide To The Left
Unconventional materials are adding bold touches on classic invitations.
Rustic weddings incorporating wood, industrial weddings with acrylic and metal invitations and materials like lace incorporated in shabby chic creations all take the personalization of weddings to a new level.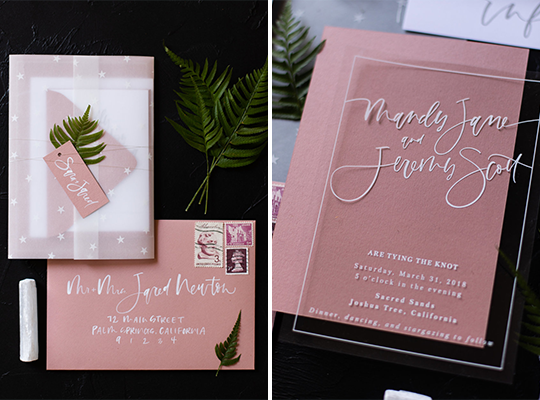 My Town
We love seeing wedding invitations that include maps and they are becoming more readily available in some fun and practical styles. One of the major responses to things wedding guests dislike was not getting enough information.
A map showing hotels, wedding ceremony and reception locations as well as fun things to do locally will be both fun and creative.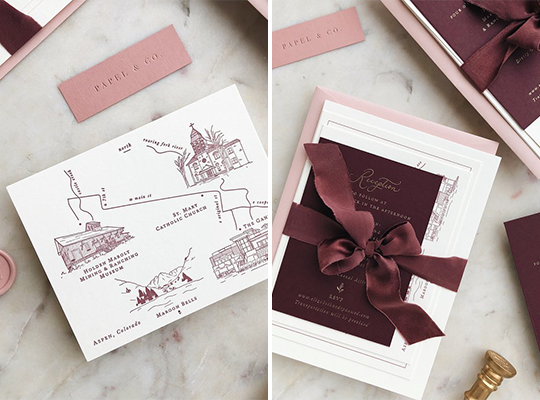 Blooming
Brightly colored floral prints to pressed flowers wedding invitations are blooming. Incorporating the colors, details and botanicals from your wedding day adds color and dimension to your wedding invitations.
Hand Lettered
Hand calligraphy has always been a luxurious detail in any wedding invitation.
Hand lettering is taking on a modern personality, moving from envelope to invitation and becoming a statement piece with fonts that are departing from old school script.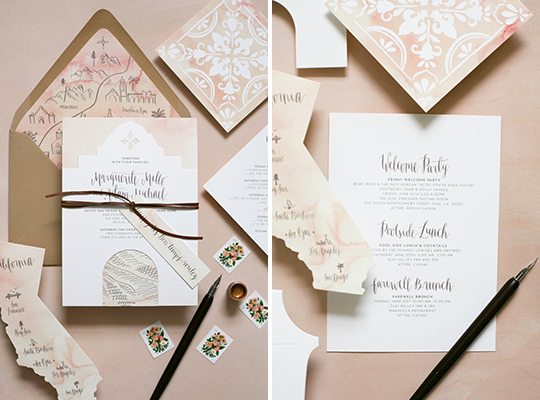 There are bold, beautiful wedding invitation options in every color, story, personality, and price point that are sure to wow your wedding guests.
---
Hero Photo Courtesy of Weddings By Scott & Dana