As wedding planners, there are few things we love more than a wedding welcome bag. Welcome bags are such a fun way to start your wedding weekend off on a celebratory foot. Great welcome bags can also set the tone for the wedding—plus, they're a perfect way to thank those who traveled for the extra miles they've put in to come celebrate with you. Today, then, we're breaking down the top items every good wedding welcome bag should have. Read on, and get ready for some serious gratitude from those out-of-town guests.
A Taste of the Wedding Aesthetic
Before we dive into specific items, we wanted to touch a bit on the look and feel of the bag itself. We love the idea of designing your welcome bags to fit the aesthetic of your wedding. Think about the colors, textures, and design elements you're using for the wedding, and figure out ways to incorporate those into the welcome bag. Is your wedding an earthy affair? Opt for brown bags boasting pretty pressed flowers. Is it full of sparkles and shine? Use metallics to create a bag that matches that mood. Are you hosting a nautical affair? Work with navy and white (and bold stripes, of course) to communicate that aesthetic. Overall, your welcome bags help to set the tone for the weekend and give the guests an idea of what to expect at the wedding—so take the extra time to ensure their look and feel matches that of your Big Day.
A Welcome Letter
While the actual goodies you include in your welcome bags will be all the rage, the letter you write welcoming guests might be the most important part. It acts as an initial thank-you to guests who went the extra mile (literally) to be with you on your Big Day. It should: welcome your guests, thank them for their attendance, offer up some local tips (i.e. tell them about that awesome coffee shop down the street from the hotel or that cafe that has the best eggs benedict), and break down what's inside the bag if necessary. You can also include a printed schedule of events and/or a custom-drawn map if your wedding is more of a weekend-long celebration than a single-night affair.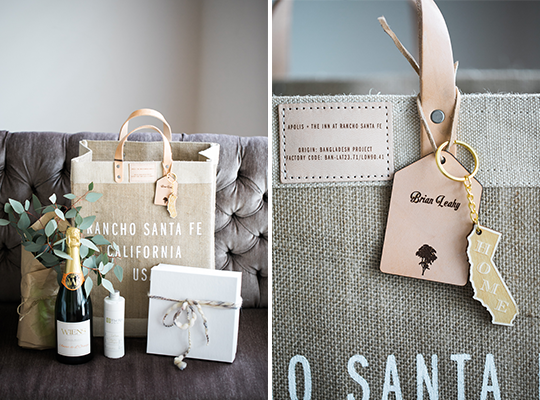 Something Custom
We love the idea of adding a custom touch to your welcome bags. Try ordering a custom stamp with your wedding logo or monogram, and then stamp tags that you attach to each bag. Or, you can even customize the bags themselves with monograms, initials or logos. For a tropical or beach wedding, custom beach towels or beach bags are always a great idea.

Some Local Flavor
Whether it's a small bag of beans from that great coffee shop you love, handmade chocolates from a local vendor, or essential oil-infused soaps from a local-favorite shop down the street, a welcome bag for traveling guests should include at least one item from the destination where you're tying the knot. It's a great way to introduce your out-of-town guests to the best the area has to offer and give them something that feels a little more personal and thoughtful than a mass-produced beach towel and flip-flops. We also love the idea of reaching out to local shops to see if they'd be willing to offer a little something extra for your guests. Let them know you're promoting their shop in your welcome bags and ask if they have a small sample they'd be willing to give you for each, or even a coupon or discount for wedding guests. (Then, include this information in your welcome letter or on a small tag/note attached to the item. "Mention you're with the Smith Wedding Party to receive a free coffee at Joe's down the street, where these amazing organic coffee beans came from.")

Something Festive
Your wedding is a celebration, and you want to get this point across right from the get-go. We love the idea of including a mini bottle of champagne, packages of sparklers, dried-floral confetti or other celebratory items in your welcome bags.
Hangover Helpers
Last, but certainly not least, are hangover-helper items. From a DIY bloody mary kit to a single serving of biscotti-and-coffee for the morning after your wedding, hangover helpers can be another fun addition to a wedding welcome bag. We love the idea of adding a little note or tag to these kits that lets your guests know to save this item for the morning after the wedding, when they'll need all of the hair-of-the-dog help they can get.
---
Hero Photo Courtesy of Sami Kathryn Photography