One of the hardest parts of planning a wedding is so often taking half-baked ideas and turning them into something tangible and visible. Not everyone sees the same thing, after all, when they think of a "boho-chic" bridal bouquet or a "beachy" up-do. One person's soft coral may be another person's light pink, just as one person's smokey eye may be another's high-glam.
It can be extremely difficult to communicate clearly exactly what it is we've dreamed up in our mind's eye, which is why mockups are such a crucial part of the planning process. From bridal hair to billowing bouquets, investing in trial rounds and mock ups are a great way to cover your bases and ensure that, when you walk down the aisle, everything looks in person exactly the way it did in your wedding planning dreams.
Below, we've broken down a complete guide to test-runs, trials, and do-overs—all in the name of ensuring your wedding goes off without a single unsavory design hitch.
When to Invest in Mock-Ups:

When you're not asking for an exact replica
If you're asking a florist to replicate an exact bouquet they have done before, you can probably forego the trial round. But, if you're dreaming up something—a bouquet, an altar arrangement, an up-do—all on your own and don't have an exact photo to show, you'll want to invest in a trial round to ensure the vendor can recreate the vision you have in mind. For tighter budgets, think of the top three things that are most important to you on your wedding day (maybe it's floral, hair, and makeup, for example), and find room in your budget (even if this means eliminating other expenses) to work in a mockup round for each.
When design is a top priority
If you consider yourself a more laid-back bride or groom who isn't super concerned with every single design detail being executed to perfection, you can probably skip mockups. But, if the design of your Big Day is top priority for you (and if you're a very visual person), you'll want to take the extra time (and spend the extra money) to ensure certain design details turn out exactly as you envisioned. If you've been visualizing your bouquet a certain way for a year—and if you know it will put a damper on your day if the bouquet doesn't turn out as you envisioned—then definitely invest in a mockup or trial round.
If you tend to be indecisive
Weddings can turn even the most sure-of-herself bride into someone who's indecisive. With so many design details to nail down, envisioning how it all comes together can be overwhelming—causing so many couples to shut down on decision-making all together. If this sounds anything like where you're currently at in the planning process, consider investing in mockups to help with visualization. Being able to see and feel something in person makes such a difference and can really help a couple make those tough decisions they've been putting off.
What items to consider mocking up:
Hair & Makeup
If you only have room in your budget for a single trial round, hair and makeup is where you'll want to spend it. After all, looking your best is the one thing you shouldn't have to worry about on your wedding day. We recommend getting your hair and makeup trial done on the same day (even if you're using two separate vendors for each), so you can see your completed look all together and make any necessary adjustments.
Not only do hair and makeup trials serve as lifesavers for the bride, allowing her to make adjustments months in advance rather than minutes before walking down the aisle, they're also super helpful for allowing the artists to get to know your hair texture and skin attributes.They may realize that your hair is too thin for the hairspray they used in the trial round, for example, and can adjust products accordingly on your big day. You can also use the trial to see how your hair and makup hold up throughout a day or night out. Maybe that twist came loose after a few hours of running errands, or maybe you saw your lips in the sunlight while driving home and realized the color was a little too bright for your taste.

Catering & Cake Tastings
If you fancy yourself a foodie, you'll definitely want to invest in a trial tasting to ensure the plates you're serving your guests suit your standards. You may discover that they use an herb you don't love in a certain sauce, or that the cake flavor you thought you wanted is a little too dry for your taste. Tastings allow you to make adjustments prior to your wedding, so that you're not left disappointed (and hungry) on your wedding day.
Floral
If floral is a big part of your wedding design, you'll want to invest in a few mockups prior to the day of. We definitely recommend investing in at least a bridal bouquet mockup. If there are other floral elements that are a key design element (such as floral garlands in place of table runners or chair swags), you might want to consider having one of those mocked up as well.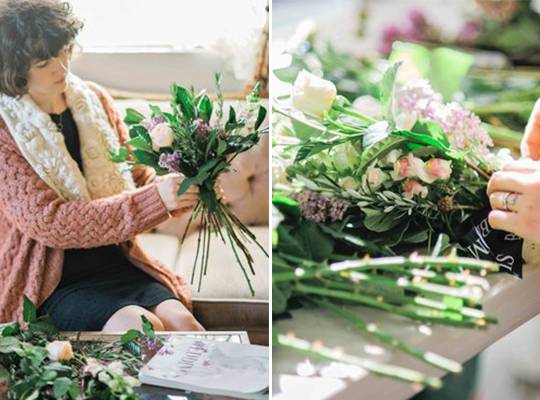 Invitation Suites
Wedding suites are certainly not cheap, which is why we recommend investing in a mockup or proof of your final invitation suite before committing to ordering hundreds of them. (This is especially true if you're going with custom calligraphy, illustrations, water color, or other custom elements, rather than just ordering from a pre-designed template.) It's always better to be safe than sorry, after all.
Tablescape
If you can make room in your budget, we definitely recommend taking the time to invest in a complete tablescape mockup. Your planner can gather all of the design details from your vendors (linens, floral, centerpieces, chargers etc.) and create a tablescape mockup for you to review and make changes to. Oftentimes, seeing things all together can make a huge difference. Maybe those chargers don't go well with that linen, after all. Maybe seating 10 guests on that 72" round won't really fit well with the beautiful place settings you've designed. Or maybe your centerpieces are too tall and disrupt the design flow of the room.

Overall, when it comes to wedding-day design, mockups and trial rounds are such a lifesaver. They may seem pricey or unnecessary at first glance, but it's so much better to spend the money on a single centerpiece or invitation and have the opportunity to make adjustments, rather than spending the money on multiple centerpieces or hundreds of invitations that don't deliver the aesthetic you were looking for. Investing in mock-ups ensures the only wedding-day surprises you're served are good ones.  
---
Hero Photo Courtesy of San Diego wedding photographer Cavin Elizabeth & San Diego wedding florist Blooms by Breesa Lee