After you've said I Do and danced the night away with family and friends, it's time to sweep away to your honeymoon with your brand-new spouse. Whether you're headed to a beach in the Bahamas or a secluded spa, honeymoons offer a space to unwind from all of that wedding-planning stress and enjoy each other's company without anyone else around. We tend to think that honeymoons are also a great time to ditch all of the heavy foundation and false eyelashes from your wedding night and opt for a more natural, skin-friendly look. Today, then, we wanted to breakdown our ultimate honeymoon makeup must-haves—everything else, you can leave far behind (with that cousin of yours who showed without RSVPing).   
BB or CC Cream, Not Foundation
Chances are your face was poked, prodded, waxed and airbrushed for your wedding day—so show your skin some love by using BB or CC Cream in lieu of foundation on your honeymoon. BB Cream (or Beauty/Blemish Balm Cream) offers more coverage than, say, a tinted moisturizer, but isn't quite as heavy as a foundation. Plus, most include SPF (which is a must for those headed to the beach) and skin-correcting elements (so it's sort of a merger between skin care and makeup). We love Dr. Jart's Air Mesh, Dior's Nude BB Cream and tarte's BB Tinted Treatment. CC Creams (or Color Correction Creams) are a spinoff of BB Creams, but offer a bit more coverage, SPF and color correction than BB Creams. We prefer Giorgio Armani's Luminessence CC Color Control Cream and Supergoop! CC Cream Daily Correct.

Illuminating Bronzer, Not Contour Palettes
We say leave your face structure as-is on your honeymoon and, instead of that nose-thinning, cheek defining contour palette, just bring along one simple illuminating bronzer. Bronzing powder—especially the type that includes some illuminating elements—is such an easy, no-fuss option for getting that sun-kissed glow on your getaway. We prefer Hourglass Ambient Lighting Bronzer, NARS Sun Wash Diffusing Powder, Givenchy Healthy Glow & Body Bronzing Powder or—our all-time favorite—the Bobbi Brown Shimmer Brick.
Eyelash Curler, Not Mascara
If you have dark eyelashes, you can go ahead and skip the mascara on your honeymoon. Leaving mascara behind means you won't have to deal with crazy racoon eyes on the beach or fuss with taking off your makeup at night (when you're hopefully busy with other honeymoon-related things—wink, wink). In place of your favorite tube of mascara, bring an eyelash curler—this will help to define your lashes and make them pop, without the headache of clumpy, runny mascara. We prefer the Sephora Collection x Utowa PRO Curler.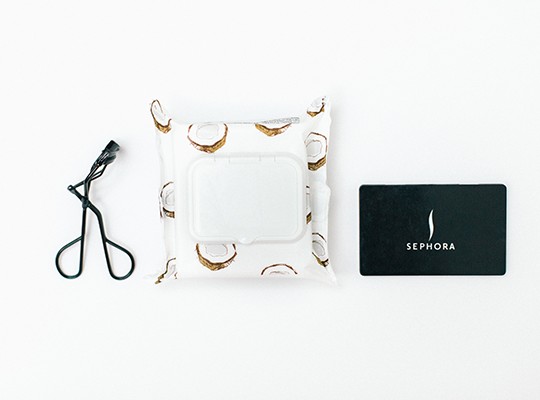 Cleansing Wipes, Not Your Entire Skincare Line
If you're only going to be gone for a short amount of time and aren't addicted to your skincare line, we say leave it behind in lieu of simple facial cleansing wipes. You won't have to worry about TSA requirements regarding carry-on liquids, nor will you have to fret about that oily eye-makeup remover spilling all over the inside of your luggage. Plus, today's cleansing wipes aren't your mother's rubbing-alcohol-saturated cleansing wipes. With options ranging from green tea-infused to coconut water-steeped, a number of high-end cosmetics companies now offer up tons of different skin-friendly options for cleansing wipes. We love Koh Gen Do's Cleansing Spa Water Cloths and the Sephora Collection Coconut Water Cleansing and Exfoliating Wipes.
Overall, when packing your honeymoon makeup bag, ask yourself two things: (1) Is it good for my skin? and (2) Will it be more hassle than it's worth? You want to focus on bringing travel-friendly items that will work to give you a healthy, beachy glow without any fuss—so you can focus on spending less time in front of the cosmetic mirror and more time with that amazing new spouse of yours.

*In the spirit of full disclosure, this is an affiliate link, which means that we may get commissions if you decide to purchase anything from any of these companies. We only recommend products that we love ourselves and that we think you'll love, too.