Not to dash any hopes of having the most extravagant and the most sustainable, environmentally conscious wedding but, the truth is, the greenest way to get married would be to head to your local Justice of the Peace. We know this isn't a reality for the majority of "soonlyweds", even those whose day-to-day lives are exceptionally eco-minded.
There are, however, dozens of ways to make your wedding day environmentally friendly and still extraordinarily beautiful and luxurious.
You're Invited
We don't see many couples who are going totally paperless for their big day, but there are a lot of other sustainable options. Look for invitations with the highest percentage of recycled papers. These days, they're everywhere, they're beautiful and they're no more expensive than any other papers. Make it a priority and ask your stationer when making your selection.
You can also lighten your load, both in work and carbon footprint. Focus instead on building a unique and info-rich wedding website. You can share a lot of wedding details with your guests and lessen the number of pieces you need to include with your invitations.
Upcycle
Grooms get off easy. Rented tuxedos are pretty eco-friendly by nature as they are repurposed and reused on a regular basis. Even custom-made suits and tuxedos are bound to be worn over and over again.
Not many brides are opting for grandma's wedding gown. I think we'd all agree that, in many cases they aren't your style, size or properly preserved. Incorporating an element from a family member's gown into your wedding ensemble, however, is a great way save a bit of money, leave a little bit less for the landfill and honor a family member, your culture or family history. Lace and satin can be used to wrap your bridal bouquet, as a ring pillow or to make a cute clutch for your wedding day.
There are many designers who are making stunning bridal creations in eco-friendly materials too! And think ahead, your wedding gown can make a beautiful baby blanket, ring pillow for future generations or a Christening gown.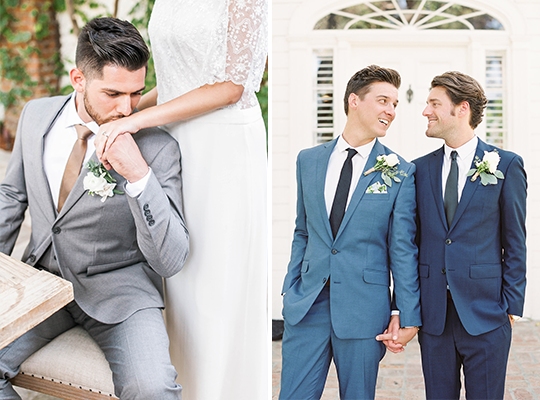 All That Shimmers
Be sure to look for jewelers who offer sustainable and ethically sourced gems and minerals. Better yet, nothing shares your family history better than marrying with heirloom jewelry.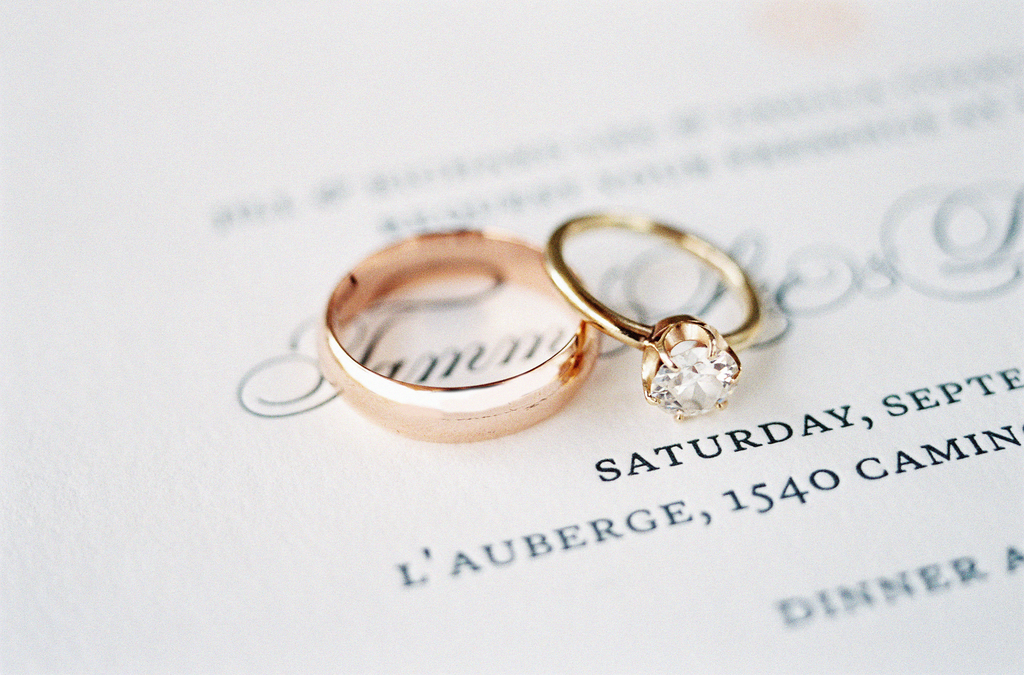 Fresh, Local and Seasonal
From your floral arrangements to your wedding banquet, working with local businesses who offer locally grown, seasonal products is better for the environment and usually more cost effective. Nothing is more beautiful than a stunning bouquet of local farm fresh flowers. Not only are you supporting local businesses but less shipping and storage means less electricity and fuel usage, which means less polluting emissions into our atmosphere.
Likewise, a wedding reception that includes seasonal produce will serve your wedding guests the brightest, freshest menu items packed with flavor. Stick to organic foods whenever possible and ask your caterer about sustainable sourcing, especially when it comes to seafood.
Giving a nod to your local brewing, viniculture and distilling scene by stocking your bar with local brews, wines and liquors is not only good for the environment but fun for your guests. Introduce those coming in from out of town to your local favorites by creating tastings or specially crafted cocktails with recipes you helped to create.
Lastly, consider donating leftover flowers and untouched food to organizations that may repurpose or serve them to veterans, nursing homes, hospitals or food banks.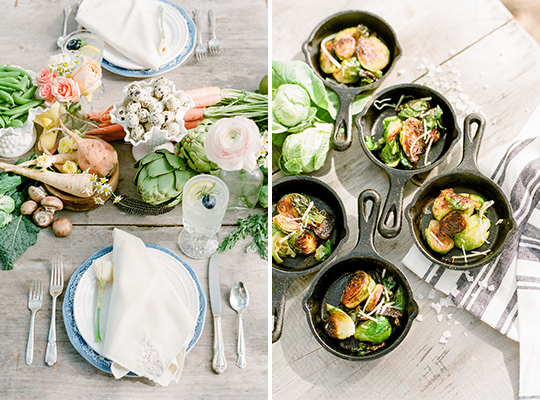 When looking at the details of your wedding, always remember that your efforts, while seemingly small in scale, make a huge impact to the care of our environment when you consider the steps other newlyweds are making to do the same. Think global, act local!