Wedding favors can be a sweet touch to round out your day of love and community. Although, there are some gifts that guests definitely don't want. When planning for the perfect wedding favor, put yourself in the shoes of your guests, but don't hesitate to add your own personal flair. We've rounded up some alternatives for commonly undesired wedding favors so that you can choose the perfect trinket for your guests!
Instead of mints or magnets, consider monogrammed wine or olive oil.
A lightly monogrammed bottle of wine with your wedding date on it is a common, yet wonderful wedding favor—perfect for a small, intimate celebration. Your guests can break it out any time and have their own party. For larger parties, try mini bottles of champagne! If your guests aren't big drinkers, then consider another gorgeous glass-bottled alternative. Small, decorative bottles of olive oil or balsamic vinegar for cooking up tasty foods is a great favor that guests will surely get some good use out of.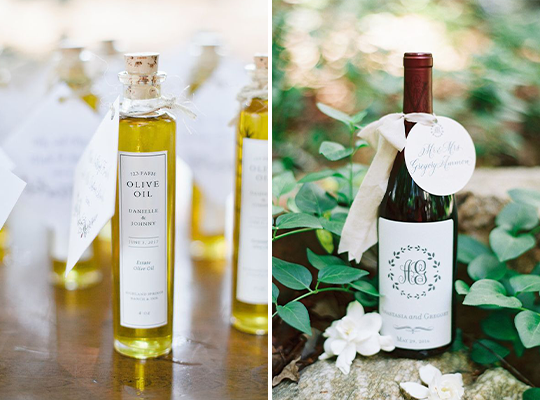 Instead of a centerpiece, consider a mini plant or succulent.
Your centerpiece might be as gorgeous as the first rainbow on earth, but no one wants to win it in a raffle at your wedding. Winning a centerpiece is fun and exciting in the moment, but then you take it home and begin to contemplate what possessed you to want it in the first place. An earthy, eco-friendly favor idea is a small potted plant. Succulents or mini terrariums are so adorable and very on-trend. But, if giving an actual plant is not your deal, consider providing your guests with the seeds to grow their own!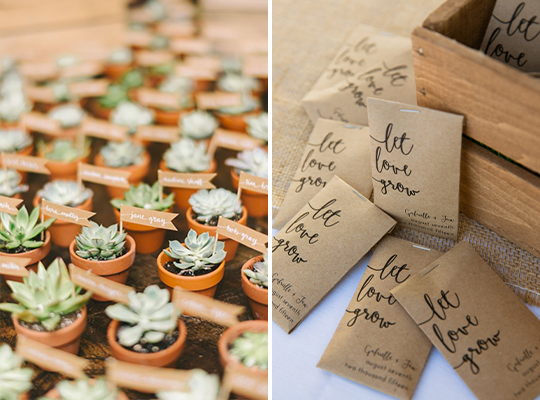 Instead of a mug or monogrammed drinking glass, consider monogrammed tea tins or hot chocolate kits.
A wedding favor should not be something that will cause clutter in the homes of your guests. It's nice to have a good glass or mug to use at home, but if that specific glass or mug has you and your spouse's initials and/or wedding date plastered on it—that may not necessarily be an attractive keepsake. Instead, provide your guests with something to drink rather than something to drink with. Mason jar hot chocolate kits or mini tea tins are an adorable and stylish alternative. They're also something your guests will use and enjoy at their own leisure.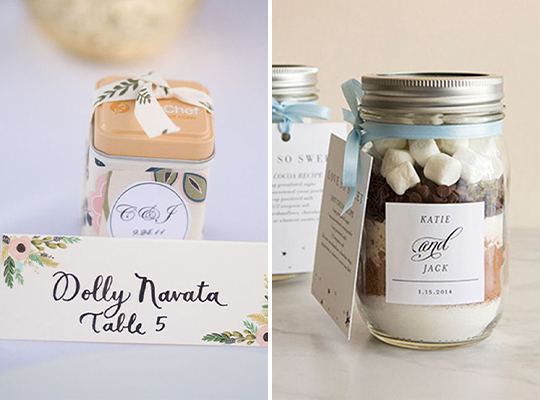 Instead of a cookie or small pieces of candy, consider a take-home sweets bar or donut wall.
Edible gifts are awesome because they are tasty and memorable. A take-home sweets bar is a great wedding favor since guests can pick out their favorites. Putting out special candy or treats on a gorgeous desk or having a donut wall or tiered cupcake trays are all stylish ways to keep the good vibes going.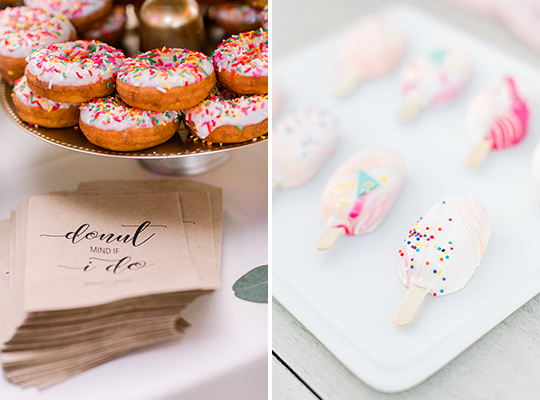 When in doubt, food is always a great wedding favor. Whether it be chocolates, olive oil, popcorn, or champagne, guests will be dying to take some of their sweet treats home!
---
Hero Photo Courtesy Wild Whim Photo