How Much Should I Spend on Wedding Flowers?
Budgeting Your Blossoms with BLOOMS By Breesa Lee
There's one question we find even the most planning-savvy brides and grooms want to know the answer to: how much should I spend on wedding flowers? Flowers are the one major decor item that every wedding has—but that most couples have no idea how to budget out. You see stunning arches on Pinterest or massive bouquets on wedding blogs, but have no idea how much any of that actually costs. You don't want to spend too much on florals and not have room for, say, good food...but, if you spend too little, you'll end up with a lackluster ceremony aesthetic or florals that are a far cry from those you've always dreamt about. Well, not to fear, brides and grooms to be! We sat down with San Diego wedding florist, Breesa of BLOOMS By Breesa Lee, to chat all-things budget regarding wedding day blooms.
Read on for Breesa's expert breakdown of wedding floral budgets, and what you get for each.
---
If flowers are high on your priority list, but you don't have a six-figure overall budget, about how much should you plan on spending?
The average medium floral budget is about $5-8k for a wedding with 10-15 tables (100-150 guests), a bridal party of about 5 bridesmaids and 5 groomsmen, and some extra personal florals for a few family members. A wedding ceremony in this budget would include an arch or two-post arbor with some heavy floral as well as aisle decor or floral pieces at the aisle entrance. The reception table options would include low centerpieces, low-and-lush arrangements or a tablescape with fun and varied elements. But there is quite a range in what you can pull off in this budget range! So, depending on exactly where the floral budget is, the floral options would vary. With a budget closer to $8k, there would be more textural arrangements with a wide variety of premium floral choices (ranunculus, hellebores, garden roses, specialty tulips, etc). If the budget is closer to $5k, the florals would still be gorgeous and lush—we would just choose from more readily available flowers like standard roses, spray roses, Queen Anne's lace, hydrangea, stock, etc. This budget also could include votive candle decor and table number rentals.
Here are some photos from a wedding with a floral budget in this range: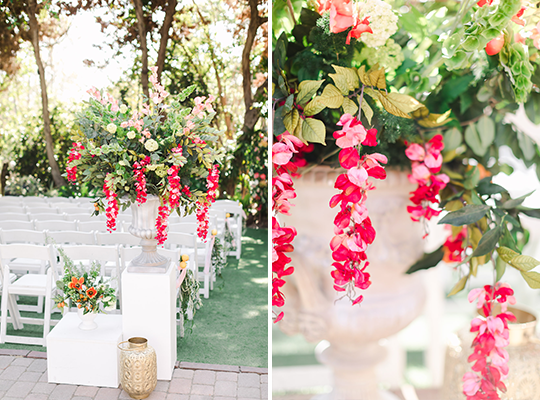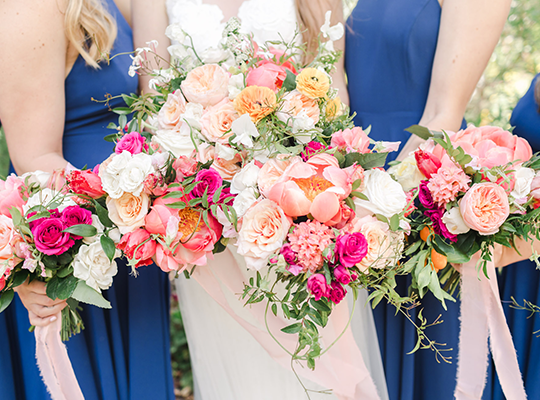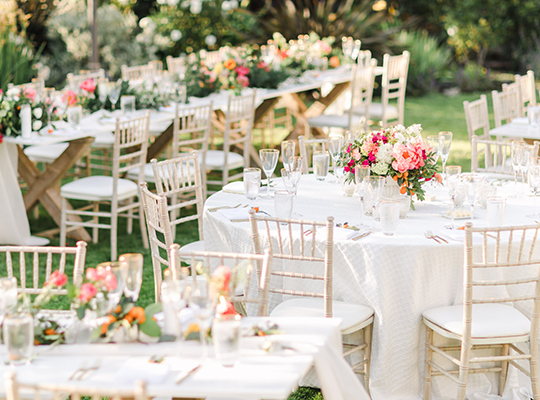 If flowers are your thing and you want to go over the top, about how much should you plan on spending?
An average high budget would be $15-20k for a wedding with about 15 tables (about 150 guests), a bridal party of about 5 bridesmaids and 5 groomsmen, and some extra personal florals for a few family members. In general, a budget of this size gives you lots of play room (think: imported "premium" flowers, field-grown garden roses, and a mix of interesting foliage options that can be harder to find). The ceremony could include a large-scale installation that probably looks something like a four-post arbor with heavy floral decor. And, you would also have the budget to have aisle decor and/or oversized arrangements at the aisle entrance with some rental decor (pedestals, lanterns, etc). A reception at this budget would include elevated, large-scale arrangements and a couple options for low centerpieces—whether it's a single low-and-lush arrangement or a tablescape with lots of different elements (bud vases, delicate plants, petite arrangements). A high budget would also allow for candle decor and some specialty rentals (different florists offer different inventory—I personally like to include table numbers, specialty table runners, and a few options for the escort card display).
If you have a modest floral budget, what should you plan on spending?
A modest budget is around $2-4k and, though small, can absolutely still be lovely! Couples with this type of budget can likely still get florals across the top of an arch and light floral decor for the aisle (like draping foliage bunches for the chair ends) for the ceremony and centerpieces that are low-and-lush or bud vase gatherings mixed with hurricane candles for the reception. Floral options would be based around more easily available varieties, like standard roses, spray roses, stock, Queen Anne's lace, alstroemeria, hydrangea, etc. And, depending on the season, more delicate options might be sprinkled throughout.
Here are some photos from a wedding with a floral budget in this range: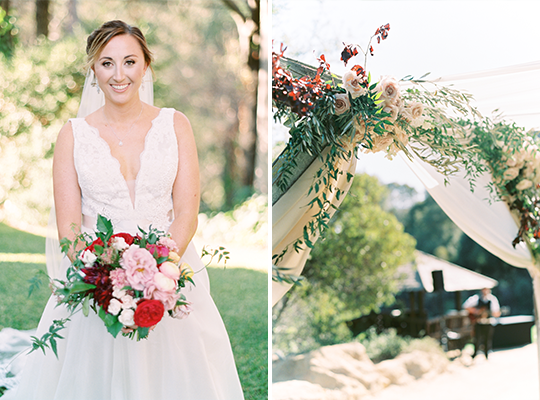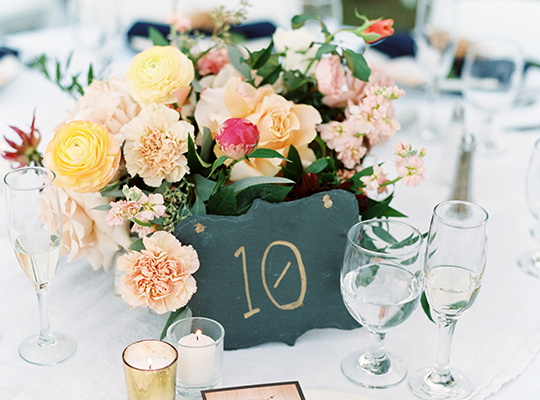 What other factors (venue, wedding party size, etc.) might affect what you can do with a budget?
Floral budget can be affected by a wide variety of factors. If the venue has a lot of rentals (votives, lanterns glass hurricanes, etc.) or an onsite arch, that can save your floral budget since those items don't have to be rented from your florist. Your wedding party is another place where a surprising percentage of the budget ends up. Bridesmaid bouquets can be pricey, and it's important they look gorgeous because they will be in most of the photos. But, these can be repurposed for the reception by placing them around the dessert table or on any extra focal points around the reception area. 
As a seasoned wedding florist, what's your biggest piece of advice for engaged couples mapping out their floral budget?
A lot of clients say they don't want to spend too much of the floral budget at the ceremony because it typically only lasts 15-30 minutes and guests don't spend much time there. I totally disagree with this. This is your guests' first impression of your event! Plus, the ceremony is the moment you've dreamt about all your life. The ceremony is what you will remember the most—you say your official "I do's," have your first married kiss, and all eyes are on you two while you dedicate your lives to each other in front of the most important people in your life. So, I can't say it enough: Make it special! Make it magical!
The ceremony is also where a ton of photos are going to be taken, so—even though you and the guests are only here for 20 minutes—it's most likely the scene that will be hanging on your wall for the rest of your lives. Another major bonus? Almost all ceremony florals can be transferred to the reception—whether they are repurposed as centerpieces, stage decor, sweetheart/head table decor, placed around lounges, draped across bars, etc.—which is how you get the most bang for your buck. Don't hesitate when it comes to spending on your ceremony—those florals will go to great use!