Wondering how to start looking for your wedding venue? You're not alone—this is a question engaged couples ask our community of wedding pros all of the time! Venue shopping can be one of the most pressing (and daunting) wedding-planning tasks, as your venue sets the stage for your entire event—so starting the process on a strong foundation is absolutely key. Today, then, we've tapped the expertise of San Diego based Morgan Wessells, the catering sales manager at The Inn at Rancho Santa Fe, to give us her top tips for items you should have nailed down prior to touring a potential wedding venue. Read on for her three must-dos!
1. Create an initial guest list. 
There's nothing like falling in love with a venue and realizing they can't accommodate your party size. Before touring a potential venue, put together an initial guest list to give yourself a general idea of how many guests will more than likely be in attendance at your wedding. Find out the guest-count minimums and maximums for each of the spaces the venue offers! If it's important to you that guests stay overnight at your wedding venue, make sure they can offer a room block as well.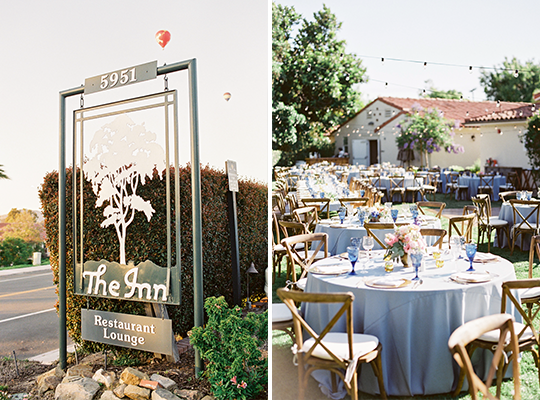 2. List your venue priorities with your fiancé.
What's most important to have at your venue? What are you "can't-live-without 'em" items and non-negotiables? Is it being the only wedding that day, or that weekend, at your venue? Is it outdoor space for your ceremony and reception, or having an indoor reception in a beautiful ballroom with chandeliers? Is it having your food-and-beverage package built for you, or having the ability to bring in your own food and beverage items? Every couple has items they must have to sign a venue. Make sure you list these out with your partner beforehand. Having a good idea of your non-negotiables allows you to cut down on any unnecessary tours, giving you more time to focus on the better fit venues!
3. Nail down your ideal venue budget.
Think of venue-shopping like house hunting: knowing what your willing to spend is absolutely key prior to touring potential properties. What is the most you're willing to spend on your wedding in total? On your venue alone? Know your numbers—and, remember, if the venue includes all of the space, staffing, food, beverage, rooms, and some rentals, there is a good chance it will take up a larger portion of your budget (but it balances out, because you don't have to spend that money outsourcing rentals or catering). My biggest tip when it comes to budget? Don't skim on the items that are extremely important to you, because you're going to look back and wish you did it differently! And don't be afraid to ask potential venues for a very detailed estimate with a breakdown of all venue costs. 
Remember these three tips, and try to narrow your visit list down to five venues or fewer before scheduling a tour. Do your best to not overwhelm yourself or your fiancé, or waste your time visiting a venue that doesn't fit your initial needs and wants. Once you do secure your venue, everything else starts to fall into place. Oh, and don't forget to enjoy the process!