Planning a destination wedding is no joke. From language barriers to cultural differences, there's a ton of nuanced things to keep in mind. Today, we sat down with the experts at Nomad Republic International to talk all-things destination wedding. Read on for expert tips on planning your nuptials overseas.
Dealing with Differences in Design Standards
Besides the time difference and legal requirements, the biggest inconvenience couples planning destination weddings have to cope with is not being able to rely on a network of trusted or familiar vendors. Producing a flawless event and creating a beautiful design becomes a different kind of team effort and requires working alongside vendor partners who are not necessarily used to American couples' standards—this can be daunting. 
Sourcing material and making your vision a reality requires patience and perspiration. Shipping decor elements such as tabletop and linen supplies from the U.S. or having them custom-made by local craftsmen is the best way to go for couples looking to work with a specific color palette or style. 

Working through Cultural and Language Barriers
Cultural and language barriers may also sometimes lead to miscommunications. Forcing American customs onto European vendors who do not understand American standards can make the process extremely difficult. For example, compared to North-American weddings, French receptions are more down-to-earth, with much less emphasis on a perfectly designed affair and more emphasis on a celebration of two families coming together, where the main attraction is the cuisine and the wine. Be aware of and prepared for this difference in cultures when planning your wedding abroad. In the States, couples tend to focus on having Pinterest-worthy designs at their wedding, but this simply isn't the main focus abroad. We recommend working with a pro wedding planner who has experience in international destination weddings to help ensure your design aesthetic is executed well if design is a huge focus for you.
Pro Tip: It's common knowledge that the French love their food! At their weddings, many couples opt for a seated dinner, which usually includes a 4 to 5-course meal. Bare in mind that typical French wedding menus often include foie gras or baby lamb served rare, depending upon the region. So, do make sure to let your caterer know about your diet habits before giving him 'carte blanche' on your menu selection. And don't be surprised if the chef asks you what alcohols you'll be serving at the vin d'honneur (cocktail hour)—French weddings always include an open bar—and if all your guests will be attending. In France, wedding guests are not necessarily invited to the whole shebang. Some get invited to the vin d'honneur or dessert only.
Navigating Work Ethic Nuances
In Italy, having to navigate work ethic nuances can be tricky, especially for those who haven't mastered the language or are not well traveled. Response times can be slower—or non-existent—and Southern vendors do not always document every agreement they make. Planning from a distance without being able to meet with people face-to-face or build a relationship with local vendors is definitely another huge challenge. Keep the differences in cultures in mind and be patient with those overseas who aren't used to the American 24/7 go, go, go lifestyle.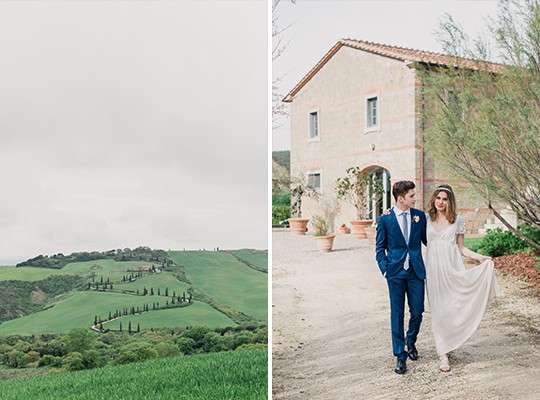 Hiring a Local Planner Will Make Planning Easier
Choosing your wedding planner carefully is also key to navigating cultural nuances. Event producers who get to work overseas only on rare occasions don't necessarily have the opportunity to find out how local vendors do things differently and are not always met with the greatest respect and cooperation from local representatives. Working with a regional specialist who will help you build a realistic vision of how a wedding in your target region looks and feels is key. At the same time, this local expert will source vendors while you concentrate on other aspects of planning.
Developing Relationships with Local Vendors
Being friendly with local vendors and meeting them halfway can also be useful in developing relationships with your designers and vendors abroad. For those who don't get to visit the region before the wedding, arriving a few days prior to the event and familiarizing yourself with the area is an absolute must. Use this time to work out any last-minute kinks, check on the status of pending items, visit the venue, etc.  Overall, while planning a destination wedding can be tedious, executing an amazing abroad wedding is also extremely awarding. You get to discover different regions and cultures, local traditions and customs, and experience new flavors. But the best part is getting to say I do in a locale like no other!