Shopping for Your Wedding Dress or Tux During the Pandemic
How Shopping for Your Wedding Fashion Is Changing for the Better
To say that the way the wedding industry does business during the COVID-19 pandemic has changed would be the understatement of the century. Weddings have been canceled, postponed, or drastically downsized to minimonies or micro weddings. Wedding pros have pivoted to help couples reschedule, redesign, and in some cases, re-plan weddings entirely. The way everyone plans and does business has changed, possibly permanently, and most likely for the better.
The Win-Win of Wedding Gowns
For ages, the process of gown shopping has been a stressful one for many brides. "Gone are the days of having everyone and your mom at a dress appointment. Everyone loves to have all their people there, but it isn't always the best situation for the bride. COVID-19 eliminated the extra people shopping with brides. This allows the bride to only have her close family or friends, and that takes the stress of having so many opinions out of the equation, allowing for the true star to shine," says wedding expert Shafonne Myers of Pretty Pear Bride.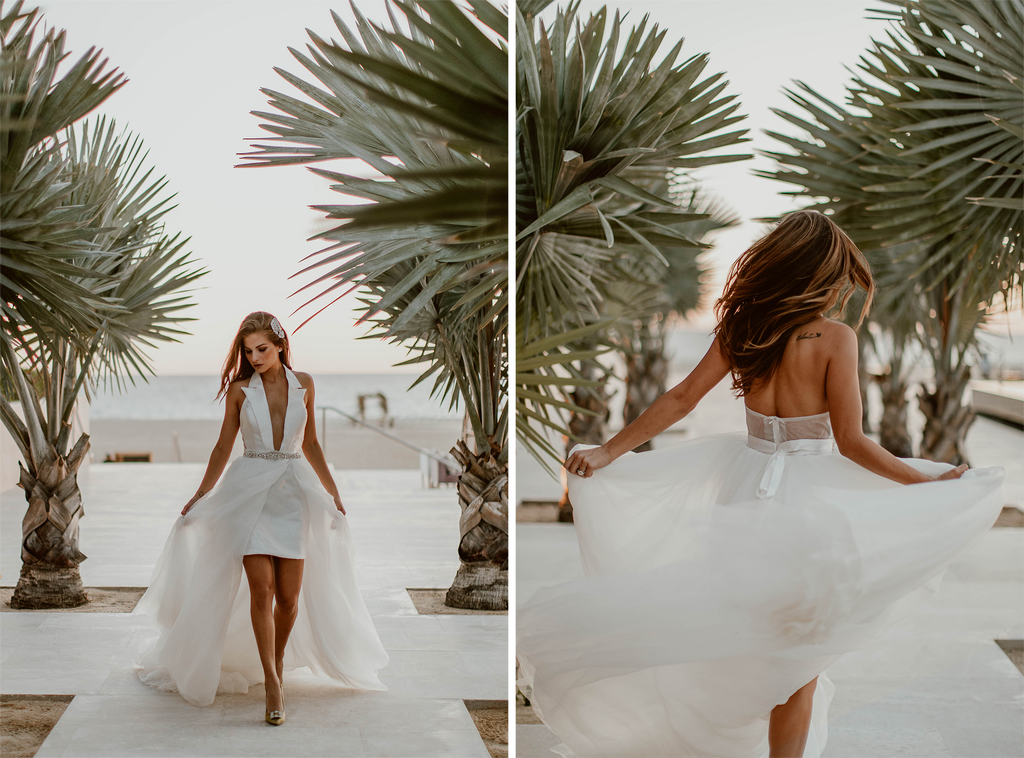 Additionally, a lot of personalized services are coming back to bridal salons. By being more reserved in the number of appointments salons are booking simultaneously, brides have more privacy, which is a huge plus for shy brides who aren't comfortable with too many people seeing them. 
Bridal Salons Online
Bridal attire has always been a dicey proposition online. What will the quality of the gown be like? How will it fit? Will it be the one? These are all questions applied to in-person shopping and often prevented the industry from growing online.
The industry has responded with more upscale salons offering high-quality designer fashions available in a virtual platform. Some area's offerings include online consultations to discuss size, fit, and measurements in your home's comfort. The option to try on a gown at home is a big game-changer, one that might be long-lasting. 
Tuxedos, Suits, & Guys Gone Digital
Grooms might be okay with food tastings or checking out the band, but tuxedo shopping is rarely high on their favorite activities list. Online consultations showing the groom's various styles and talking them through measurements got many shops through the period of closed businesses. The ease made it a great alternative as shops reopened with limited in-store appointment availability.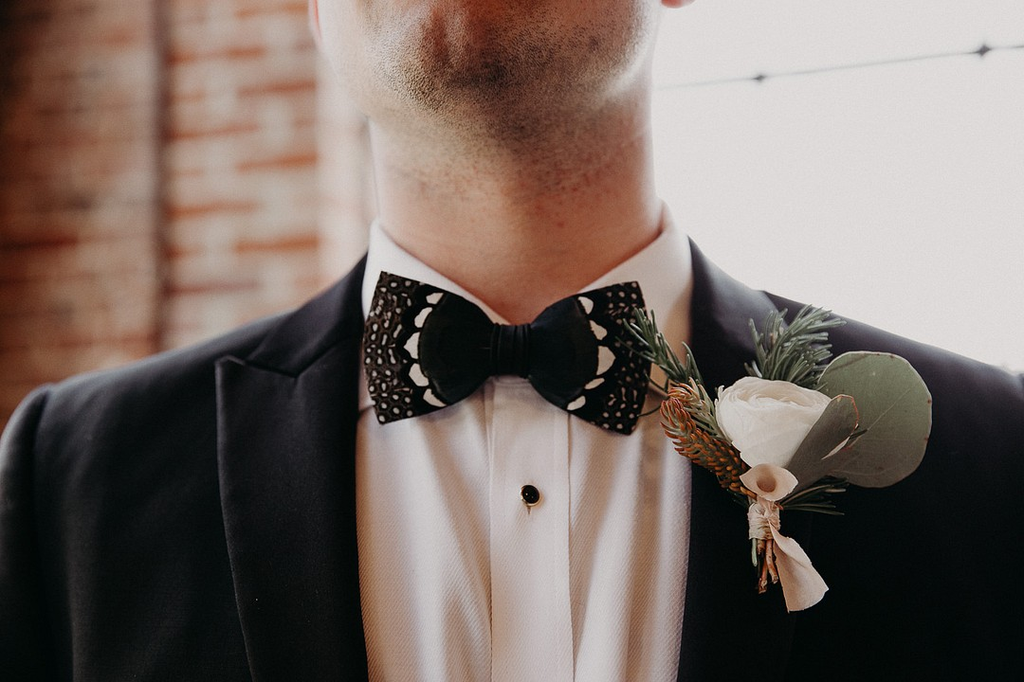 Men's formal wear expert James Buchakjian of Sagets Formal Wear sees a change in formal wear trends during COVID. "Our formal black-tie weddings were forced to postpone or change venue to a less formal option depending on location. We did notice clients making style changes from tuxedos to suits, along with reducing the members of their wedding party. Some clients wanted to keep the black-tie formal wedding in the city and just moved to 2021." Buchakjian also comments, "We've implemented a system that allows all of our grooms to pick up all tuxedos for his wedding party and distribute them to his party. We're also dropshipping complete tuxedos to our client's doorstep with a return label for shipping back to us. In the event of a minor alteration, we'll repair and drop-ship to their residence or hotel with plenty of time to spare. This will keep the floor traffic at a minimum in-store." Especially in a minimonie, with just a few family and friends that will be followed by a larger celebration, possibly in 2021, it can end up being less expensive to own a custom-tailored suit and wear it on multiple occasions than to rent a tuxedo several times.
Here To Stay
From more personal one-on-one appointments to exceptional service via online consultations, fitting sessions, and product availability, many of the changes due to COVID-19 are positive ones and may be here to stay.
---
Hero photo courtesy of Avenue Photo