When you first start looking into wedding stationery, you might notice there are so many pieces to consider for your stationery suite (place cards and invitations and accommodation cards—oh my!). From RSVP cards to thank-you cards, wedding stationery suites are completely customizable and can include everything—and anything—under the sun. To help you on your quest for pretty paper perfection, we've tapped the expertise of Caroline Curtin McGah, the oh-so creative mind behind Lovely Paper Things, to talk wedding stationery 101. Read on for her top tips on what pieces to invite to your paper party.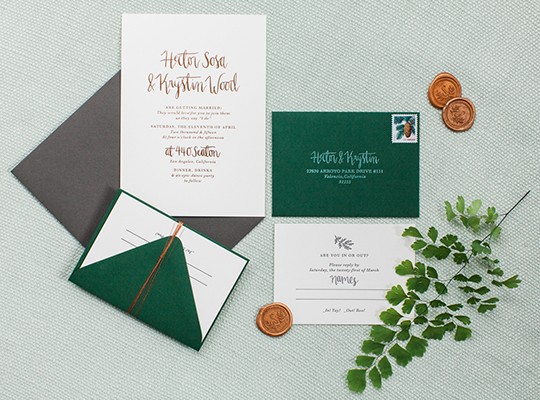 The Basic Suite: 4 pieces
The basic or 4-piece suite is a perfect option for engaged couples who want to keep their invitations simple. A 4-piece suite typically includes your invitation and envelope, as well as an RSVP card with a pre-addressed envelope. There's some wiggle room for customization here—for example, if you'd rather do an RSVP postcard without an envelope, you can then add an additional piece (like an information card) to the suite.
When working with a tighter budget, a four-piece invitation suite is a great place to start initially—and then, if your budget allows, you can branch out from there. I don't typically recommend the basic suite option for couples hosting multiple events in one weekend (a welcome dinner, a post-wedding brunch, etc.) or for those hosting a destination wedding, as you'll likely have lots of info that needs to be included as part of the invitation suite—which means you might want to enhance your suite to include a few more pieces in order to communicate details about accommodations or additional events.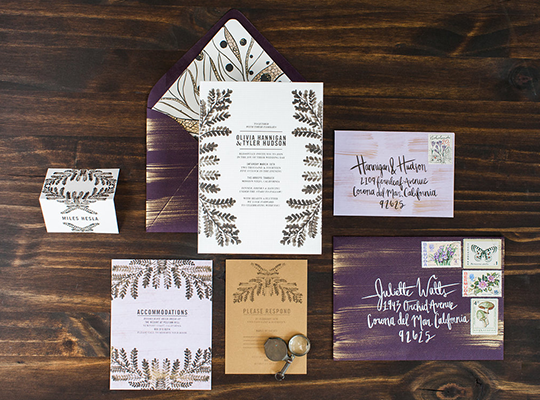 The Enhanced Suite: 6 pieces
The enhanced suite, or 6-piece suite, includes all of the basics—your invitation and envelope, as well as an RSVP card—and the addition of information cards and place cards.
This is a great option for couples who are having a destination wedding or hosting multiple events in one weekend—as the information card is the perfect place to include additional information on everything from accommodations to post-wedding brunches. I also recommend this option for couples who want to stick to a cohesive aesthetic throughout their wedding, as the addition of place cards ensures that the design of your place cards is consistent with that of your invitations.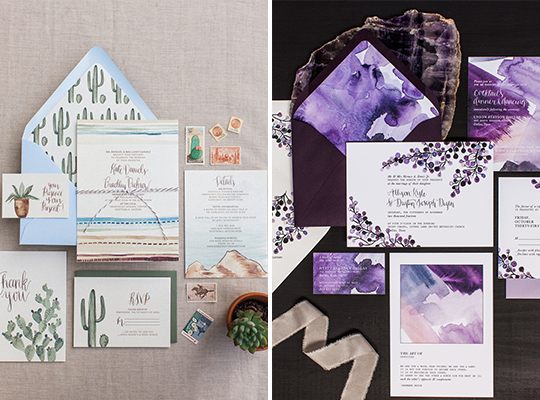 The Full Suite: 7+ pieces
The full suite is my favorite option for couples who love a great paper party and want to go all-out on their wedding stationery (who doesn't, really?).
This allows for tons of customization—like paper cut-outs (in the shape of your state, for example), additional cards with your website information, accommodation cards, and even super cute cards that tell your story or include a poem or illustration just to add to the overall invitation experience. This also allows for the addition of thank-you cards, place cards, and escort cards—ultimately ensuring a consistent aesthetic across every single one of your paper touch points. Plus, it makes your life easier, as you don't have to source your paper goods from different places. Keeping everything—thank-you cards, invitations, place cards, etc.—under one stationer's roof ensures a seamless process and can even help save you money in the long run as well.
(Psst...want even more wedding stationery advice? Check out our piece on when to send out invitations and save the dates, or read all about a swoon-worthy wedding stationery trend.)