Why You Should Consider a Day Before Shoot With Annamae Photo
6 Reasons You'll Get Striking Images From This Unexpected Shoot
From engagement shoots to wedding-day shoots to trash-the-dress shoots, there are tons of different photo opportunities to consider for your Big Day—but our newest favorite trend happens to be day-before shoots. From sneaking away to spend time with your partner before the insanity of your wedding day, to exploring parts of your wedding locale you wouldn't otherwise get to see, there are countless reasons to consider embarking on a photoshoot together the day before your wedding. Today, then, we're sitting down with one of our all-time favorite wedding photogs, Annamae Bafia of Annamae Photo, to talk her top reasons for considering this brand-new trend in wedding photography.
1. It gives you time to enjoy one another before the craze of your big day.
I hear it time and time again from my clients who embark on day-before shoots: "That was such a special time together!" Weddings are crazy and, as anyone will tell you, tend to go by in the blink of an eye. It's so important, then, to take some time to enjoy each other before the craze of your wedding day kicks in—and a day-before shoot is the perfect way to do that. With bachelor and bachelorette parties planned, tons of guests in from out of town, and an endless last-minute to-do list, day-before shoots offer up the perfect excuse to sneak away from your wedding-planning duties and simply enjoy one another amongst the great outdoors.
2. It takes the pressure off wedding photographs and wedding weather.
Wedding days go by in a flash (pun totally intended). Add in the need to get family photos, bridal-party photos, and couple photos in, and you end up missing cocktail hour and, sometimes even, a portion of your own reception. While day-before photos certainly won't replace your wedding-day photos, they do ease-up the pressure a bit. Already having a collection of photos of the two of you from the day before will lighten the load when it comes to the need to get thousands of perfect shots on the day-of. Plus, if your wedding day ends up being super windy, rainy, or smoky (which we're seeing more and more with California forest fires), day-before photos offer some great insurance for wedding-day weather woes.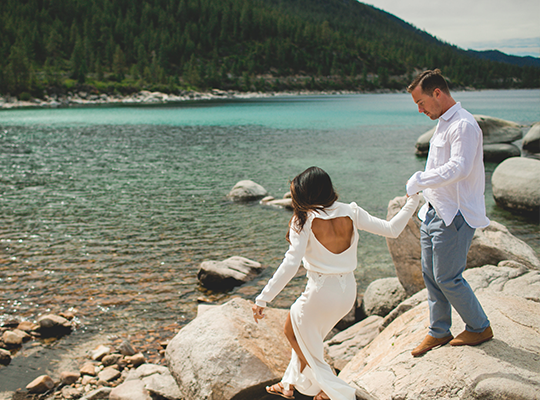 3. Day-before photos offer an intimacy that wedding photographs can't always capture.
For brides and grooms who are on the fence about a first-look, but still want the intimacy first-look photos offer, a day-before shoot is an absolute must. With relatives and friends abound, a strict timeline to stick to, and the inevitable chaos that comes along with even the most perfectly planned wedding, capturing quiet, secluded, true intimacy in photographs can be difficult. I love taking couples to unexpected, off-the-beaten-path locales for their day-before photoshoot and watching them connect as they romp around in the forest or run around on a secluded beach together—sans guests to attend to and a cake to cut. Take away wedding-day decor and background noise, and you end up with some seriously striking photos of the two most important parts of a wedding: you and your partner.
4. It offers an entirely different aesthetic.
One of my all-time favorite things about day-before shoots is they allow for a collection of photographs that offer an entirely different aesthetic than those of your wedding day. In the photos here, for example, the day before this couple's wedding happened to be an overcast, rainy day. We got up super early in the morning and roamed around Lake Tahoe, capturing these stunning images of saturated Lake-Tahoe hues under an overcast sky. The very next day was sunny, bright, and dry, so the photos from their wedding turned out completely different. I loved that I could offer them two entirely different collections of photographs to capture their wedding weekend—one that was overcast and intimate, and another that was sunny and celebratory.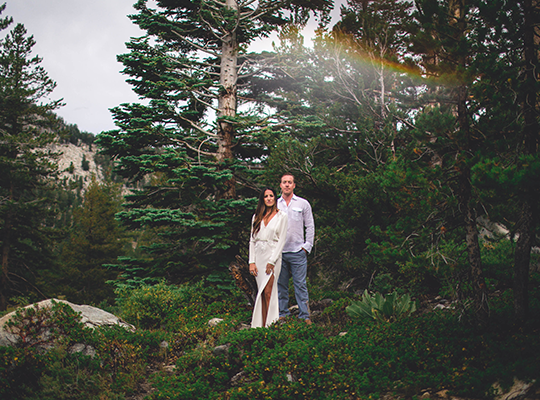 5. It allows for a wardrobe change.
Hello, ladies—who doesn't want an excuse to rock a second wedding dress? Most couples don't want their partner seeing them in their wedding-day digs before the ceremony, so I always recommend you wear something that still says wedding, but that's a bit more casual than your wedding-day gown or tux (think: rehearsal dinner digs). The bride here, for example, found this amazing Stone Cold Fox dress after she'd already purchased her wedding gown. The day-before shoot gave her an excuse to rock this awesome dress and save her gown for her wedding day. Her hubs opted for a light, linen look and then rocked a sleek navy suit on the day-of.
6. You'll explore your wedding locale in an entirely new way.
As a lifelong traveler, I saved my favorite reason for last. Day-before shoots are all about exploring your wedding locale in a way you otherwise wouldn't get to. Anyone who has shot with me knows I'm not afraid to get my hands dirty, follow an unknown dirt road, or step in some water to capture the perfect shot. I love taking couples deep into the forest, to a secluded beach at sunrise, high atop a snowy mountain, or to charming parts of a nearby town—all of which are things we wouldn't have time for on the day of your wedding. A day-before shoot means you're not relegated to a single location for photographs—we'll roam around your wedding locale chasing the best light and most secluded settings for photos that turn out as striking as ever.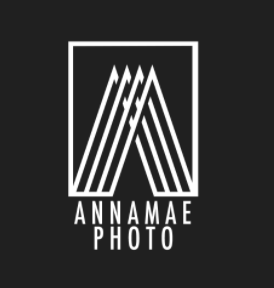 Considering Annamae Photo for your day-before shoot? Check out her portfolio of work here, or reach out to Annamae to chat about booking her services!